by Jacqui Hurley
14 April
While I must admit we've spent some time over the winter months talking about the League system and its flaws, most of those have been to do with hurling rather than football and based on the action we saw last weekend, the football league is in great shape.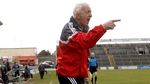 Cork booked their place in the Division one final against Dublin after their win over Armagh in Pairc Ui Chaoimh. Winning the final last year was the first building block towards Cork's All Ireland title in September and Conor Counihan will be looking to repeat the double this year.
Dublin will no doubt be favourites given their unbeaten run in the competition and their ability to score goals has also been key to their step up in performances this year.
The meeting between Laois and Donegal in Division 2 was more than just a dress rehearsal for their League final on Sunday week; it was a very good game of football between two sides who have renewed ambitions this year.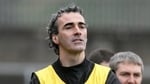 Two new young managers have clearly put their stamp on their teams and judging by what we've seen in this campaign they could have more to offer come the summer time.
For Antrim, Sligo, Limerick and Waterford the slide back down to Divisions 3 and 4 came as quickly as their promotion last year.
Westmeath, Louth, Roscommon and Longford will go into the summer knowing a good run in the Championship is even more important than gaining promotion.
This weekend see's the final round of matches in the hurling league taking place and with most counties having something to play for we should be in for another big weekend.
Despite the problems with the league's formation, we still have a final day with most counties having something to play for.
Kilkenny and Galway are the only Division 1 teams who have their fate in their own hands. Wins for both sides would secure their places in the final. Dublin, Waterford and Tipperary all still have a chance of reaching the final, but would need other results to go their way.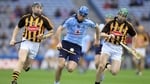 A win for Dublin coupled with a loss for either Kilkenny or Galway would see Anthony Daly's side reaching the decider. Cork are the only team who have nothing to play for, they can neither reach a final or be relegated, but I don't think that will mean they'll give the Dubs an easy afternoon in Páirc Ui Chaoimh.
At the bottom end of the table, Wexford's win against Cork two weeks ago has lumped the pressure back on Offaly. From looking like a dead cert for relegation, if Wexford can beat or draw with Tipperary and Offaly lose to Kilkenny they will be saved.
However if both sides lose it will be Division 2 hurling for Wexford next year based on their head to head with Offaly.
Limerick have really impressed me this year. Having already qualified for the Division 2 final, it's hard to know how Donal O'Grady will treat this weekend's game with Antrim.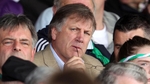 He'll be conscious that the final is only two weeks from Sunday and based on results, Antrim could well be their opposition.
Antrim, Clare, Laois and Carlow are still in with a chance of making the final against Limerick. The simplest of routes is for Clare, who need only beat Carlow to reach the final. They currently sit on 8 points alongside Antrim, but as Clare won the head to head between the sides, they would have the advantage should the sides finish level on points.
Much like we saw in Division 2 of the football league last weekend, points difference could be a major factor. Wins for Limerick, Carlow and Laois would see four counties finish on the same points and while Clare go into the weekend with a far greater scoring difference, anything can still happen.
Three finals take place this weekend, with promotion to be decided in Divisions 3A, 3B and Division 4. Derry will be hoping to go one better after losing to Kerry in last year's Division 3A final.
Their opponents are Wicklow, who are looking to gain a second successive promotion. Derry won the round robin game between the sides in Round 4.
The Division 3B final will be contested by Mayo and Roscommon, both of whom have only lost one game this year. Mayo beat Roscommon by nine points in their opening League match, but that will count for nothing in Carrick on Shannon on Sunday, with a place in Division 3A for next season up for grabs.
The Division 4 final between Tyrone and South Down takes place in the Athletic Grounds. Tyrone will be hoping to make a swift return to Division 3B after being relegated last season.
They're the only unbeaten team in Division 4 - their four point win against their opponents on Sunday one of the highlights of their campaign.
Calculators at the ready! Let's hope this Sunday gives us as much excitement as last week…