by Jacqui Hurley
29 March 2011
The clocks going forward can only mean one thing - sunshine is on its way. With it comes the smell of freshly cut grass, longer evenings and eventually the All-Ireland Championship season.
After getting over the thought of losing an hour's sleep, it was fantastic to walk in the door at work staring at the sunshine on Sunday morning. Looking at pictures coming in from the various venues it looked a glorious day around the country and it was certainly reflected in attendance figures. Going out to match on a winter's afternoon may not appeal to everyone, but once you add sun to the equation, it's a different story.
If the weather gave a boost to attendance figures, then so too did the level of performances.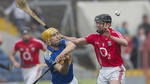 Cork and Tipperary's clash at Páirc Uí Chaoimh ended in a 1-14 apiece draw and while it effectively ended both of their Division One title ambitions, it was as close to Championship action as we saw all weekend. Tipperary have had some injury concerns and losing Paddy Stapleton on Sunday will only add to an already rising tally of sidelined stars.
Declan Ryan will be happy enough to play out their remaining games against Galway and Wexford, turning his attention to 29 May, when they'll do battle once again with Cork in the Munster Hurling Championship.
Cork, likewise, will be reasonably happy with their league campaign. Cian McCarthy proved on Sunday that he's now ready for the step up to inter-county hurling, while Luke O'Farrell and Paudie O'Sullivan are also beginning to look more comfortable in a Cork jersey. After a cracking contest on Sunday, sports fans are already counting down the days until their next meeting.
Dublin's Division One title ambitions were dealt a major blow with Sunday's loss to Galway and knowing they have to play Kilkenny and Cork in their remaining games won't ease their minds. Anthony Daly was forthright in saying they only have themselves to blame; hitting 19 wides is almost unforgivable, especially when the winning margin was only three points.
Conal Keaney has been a revelation for Dublin this season, but he will be kicking himself this week, after hitting 10 of those wides. A win would have put Dublin on nine points, with a great chance of reaching their first Division One final in 65 years, and while it still could happen you would feel now they're going to need a bit of luck with some of the other results.
Galway are now in a prime position at the top of the table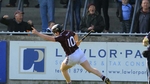 alongside Kilkenny. At home to Tipperary next week and a final round clash away to Waterford are still difficult games, but two big wins against Kilkenny and Dublin in matches that they really could have lost will have boosted their confidence no end. To reach the final without the likes of Damien Hayes and Joe Canning would be massive for Galway hurling. John McIntyre's biggest problem will be accommodating all of his returning players.
Kilkenny have been criticised in some quarters for their performances in this league campaign, some feeling that they haven't been as clinical as in previous years. I think you need to remember they've also been coping without many of their regular starters and while there may be a conveyor belt of talent down there, new players do still need to adjust to playing with each other the same way as any other county.
I think Brian Cody will be delighted with what he's seen so far. The only league game they've lost was a high-scoring thriller against Galway that really could have gone either way and they look on course to reach another final. The appetite is quite obviously still there among the players, despite last year's All-Ireland final loss to Tipperary, and while the league won't be their primary focus this year, winning it certainly wouldn't do their confidence any harm.
This weekend's game against Dublin will be interesting for a number of reasons. Dublin's win against Kilkenny in the Walsh Cup final set them up for four league wins on the trot, and despite last weekend's setback against Galway, Dublin will be up for the challenge, particularly at home in Croke Park. The last of Dublin's double-header series should bring a decent crowd, with the footballers taking on Down, while Jedward's exploits at GAA HQ have also been known to bring a few extra fans. The added bonus that hawk-eye will be tested during the games will also be a hot topic of conversation. While it won't actually be used by the referee or his assistants, the fact that it's being tested is surely a sign that its use in the league and Championship can't be too far away.
Wexford's loss to Offaly on the weekend could signal the end of their Division One involvement for next season, but all is not lost yet. They will need to take three points from their remaining two games against Cork and Tipperary though, even if they manage to get a win, their head-to-head against Offaly, should they end on the same points, would still send them down. Anything could still happen, but the most likely probability would see them playing in Division Two next season. Hurling fans are calling out for a change in the league format and eventually all these voices need to be heard.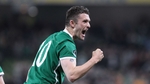 The Republic of Ireland's 2-1 win on Saturday night has sent them to the top of their Euro 2012 Group B qualifying table. A spirited discussion between Roddy Collins and Ray Houghton on Sunday once again raised the debate about Ireland's formation and performances under Giovanni Trapattoni.
His stringent 4-4-2 has been replaced for this week's game against Uruguay, but it's likely to return when the qualifiers resume this summer. The 30,000 people who went along to the Aviva Stadium will have seen some very good and some equally poor moments against Macedonia and while the view looks nice from the top of the table, the return leg doesn't look a forgone conclusion by any stretch of the imagination.
If Kevin Doyle's injury changed the complexion of the game, then it must really have changed the complexion on Wolves manager Mick McCarthy's face! Wolves face into a crucial part of the season, trying desperately to avoid relegation, and losing a player like Doyle was the last thing they needed.
The news that his injury may not be as bad as first feared is good news for Ireland, but even missing four to six weeks is too much for Mick McCarthy. The season is more or less over by the time he returns and Wolves Premier League fate could already be sealed by that stage.