by Jacqui Hurley
8 March 2011
The Allianz Hurling League returned at the weekend, where All Ireland Champions Tipperary picked up their first points of the campaign with a 5 point win over Waterford at Semple Stadium. Waterford's discipline has been questioned in the aftermath, with Shane O'Sullivan and Clinton Hennessy being sent off. But credit to Waterford, playing for that length of time with 13 players was a tough slog, and in many ways they did well to keep some dignity on the scoreline.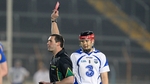 The discipline issue is one which was widely discussed across the weekend, with cards of both colours being dished regularly. While the argument can be made that Shane O'Sullivan got caught out by the lights in Semple Stadium, the same can not be said for Clinton Hennessy and many of the other cards we saw across the weekend.
Paul Flynn and Tony Considine joined us in studio for the afternoon and it was interesting to hear their thoughts on both the discipline issue and hurling under lights. Both felt that something was lost in playing hurling at night, not least for the visual issue it causes for the players, but also because of the attendance figures. Keeping the players happy is always a significant challenge for the GAA, but keeping the audiences happy is often a far greater one.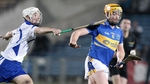 Tony Considine's point that people are voting with their feet by not going to these matches was certainly reflected in Saturday night's attendance figures. Only 4,000 people went to Thurles to watch Tipperary play Waterford…it may not be Munster hurling championship weather, but there were more people than that at the club Championship matches last weekend.
Incoming GAA President Liam O'Neill also dropped in to have a chat with us and while he also agreed there were difficulties in playing hurling under lights, he felt we could one day progress to Friday night games as well as Saturday night games. Perhaps not in senior inter county, but with an ever growing fixture list, that day is surely not too far away.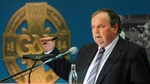 It's obvious from talking to Liam O'Neill that he feels he's about to walk into his dream job. A deeply passionate character, we asked him why he wanted to be the President of the GAA. His answer was simple; "why wouldn't you want to be the President of the GAA?" To GAA fans around the country, it's a pertinent question.
Listen to the interview with Liam O'Neill
The action itself saw wins on Sunday for Kilkenny, Cork and Dublin in Division 1. Losing the Walsh Cup final to Dublin was obviously a good tonic for Brian Cody's charges as Kilkenny proved far too strong for Wexford. Cork's victory over Galway was equally impressive. Looking at pictures coming into studio, it looked like a very good game down in Páirc Ui Chaoimh, and talking to the Cork manager Denis Walsh after the game you could sense the relief in his voice. The two sides provided a high scoring Allianz League final last year and getting back there is an obvious target for both teams.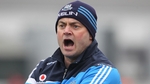 Dublin are currently the team standing in their way, another win at the weekend against Offaly has them on 5 points in the table, just behind Kilkenny, and Anthony Daly will be very happy with their season so far. Conal Keaney and Ryan O'Dwyer have made all the difference to their attack and an appearance in a League final would do their confidence a world of good. There's a feeling among the hurling public that a good year for Dublin hurling would be a good year for hurling in general and it's hard to argue with that logic. The more competitive teams we have, the better for everyone.
Talking to GAA fans it seems people also want the Limerick hurlers to have a good year. After the various issues they've had over the past few seasons, it's good to see them get back to winning ways. Last weekend's win away to Down was a difficult trip and Donal O'Grady will be delighted his side are making good progress. Three wins from three, they already look on course to make the step back up to Division one, but as he'll be telling his players, there's plenty more hurling to be done between now and then. As we've seen with Offaly and Wexford this season, the gulf between Division 1 and 2 can be a hard one to climb and winning Division 2 should be the first stepping stone toward bridging that gap.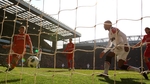 The Premier League table has taken quite a turn this week – I must admit I was forecasting a draw on Sunday between Liverpool and Manchester United, so if you told me Liverpool would win the game and Dirk Kuyt would score a hat-trick from within 2 yards, I'd have taken that bet all day.
Between the drama at Anfield and Wolves getting the late equaliser against Spurs we were in and out of our chairs all day! Chelsea's win against Blackpool has brought them within 9 points of United and with no sign of a fat lady or a song.
It ain't over yet!