by Jacqui Hurley
1 March 2011
Well we can all breathe a sigh of relief after the weekend's RBS 6 Nations action. Ireland's 21-18 win over Scotland may not have been the prettiest of encounters, but as Brian O'Driscoll said after the game: 'In years to come, all people will remember is the result.'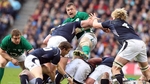 Yes, it's a concern that the performance wasn't up to scratch, but no-one will know that more than the players themselves. I'm sure they're deeply frustrated that things aren't quite falling their way, but equally it's up to them to rectify those mistakes.
Watching the game in studio with former internationals Bernard Jackman and Conor McGuinness, it was almost like watching them go the full 80 minutes themselves. O'Gara's smile after he landed his first conversion was reflected on their faces, but so too were the frustrations in the aftermath of Ireland's obscene penalty count.
It's widely accepted that, at any level, twelve penalties in one game is simply too many. Post match analysis focused deeply on Ireland's errors and our ever growing reputation as a team who are indisciplined, but as the boys explained, in a game like rugby, the line between a brilliant performance and a poor one can be extremely thin.
Rob Kearney told us this week that players like to 'play on the line' to see how much they can get away with. Are we simply trying to be too cute and not getting away with it?
All these questions are ones only the Irish squad can answer, but this week they were faced more adverse problems – dealing with the very public views of some so-called fans on the social networking site Twitter.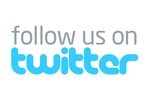 While it must be said, many fans also offered their support to the team, some of the abuse thrown their way was simply unacceptable. Cian Healy, Jamie Heaslip and Brian O'Driscoll in particular were targeted with highly personal 'rants', with language far too offensive to be published here.
One tweeter also suggested some advice to the Irish captain - @BrianODriscoll: 'Great game today!! Time to retire while we still have good memories of how good you were many years ago. Go gracefully.'
I'm all for freedom of speech, but these are professional athletes, doing their very best for our country. They are their own worst critics in any case and certainly don't need anonymous faces pointing out their faults in this fashion.
Sports people across the globe have been encouraged to set up these accounts to give fans an insight into their lives and it's also proved to be a useful tool for journalists. While there are critics who feel the likes of Twitter are a distraction for athletes, it's a distraction I for one would prefer they have.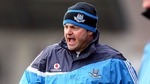 Away from the rugby we saw Dublin lift the Walsh Cup, after beating Kilkenny's hurlers by three points, in a thrilling final at Parnell Park. Trailing by twelve points at half time, it was a gallant second half comeback by Kilkenny and a hard earned win by Anthony Daly's Dublin.
He's urged his team to keep their composure ahead of this weekend's game with Offaly and that must be their focus now, with people beginning to talk them up.
In the Allianz Football League things aren't getting any better for Galway, who lie on the bottom of the Division 1 table, still without a point, after their loss to Mayo at the weekend.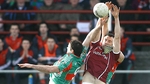 At this stage they look the most likely relegation candidate and with a trip to Kerry the weekend after next, it is doubtful things will get any better. But for a strong finish by the Tribesmen in Tuam, the result would have looked a lot worse than an eight-point defeat.
At the other end of the table the Dubs are continuing to set the League alight, another strong performance against Kerry has cemented their challenge and they deservedly head the Division 1 table after three rounds.
The top of the table clash in Division 2 didn't prove to be as close as we expected. Declan Mullan's sending off certainly didn't help Derry's cause, but Laois' fourteen-point win has laid down a significant marker.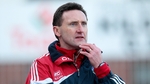 Peter Fitzpatrick's election to the Dail capped off a great weekend for Louth, who maintained their unbeaten record in Division 3. The representation of sports people in government is on the way up with Fitzpatrick, Mick Wallace and John O'Mahony all getting seats in the General Election.
We all know sports people often tend to be colourful characters and the sight of Mick Wallace's pink shirts has brought a smile to the face of many over the past few days. Let's hope the smiles continue as the country sets down a new path over the coming weeks.
Tune in to Sunday Sport with Jacqui Hurley and Con Murphy from 2pm every Sunday on RTÉ Radio 1.