All-Ireland champions Cork lead the way with 11 nominations for the 2023 PwC Camogie All-Stars.
The Rebels, who were 5-13 to 0-09 winners over Waterford in August's All-Ireland final, have nominees in every position with the camogie team broken into 10 categories.
Previous Cork All-Stars Amy Lee, Laura Hayes, Amy O'Connor, Hannah Looney, Libby Coppinger, Saoirse McCarthy, Katrina Mackey and Laura Treacy are nominated again while Meabh Murphy, Meabh Cahalane, and Fiona Keating are chasing their first award.
The Déise's historic run to the final, meanwhile, was rewarded with nine nominations.
Beaten semi-finalists Galway (7) and Tipperary (6) are also well represented on the shortlist while Kilkenny have three nominations - Claire Phelan, Denise Gaule and Grace Walsh.
The nominees for Player of the Year awards at the three grades have also been announced.
In senior, Cork duo Amy O'Connor and Saoirse McCarthy will battle it out with Waterford star Beth Carton.
All-Ireland intermediate champions Derry are represented by Aoife Ní Chaiside and Aine McAllister, while Meath, losing finalists after a replay, will be hoping that Aoife Minogue comes out on top.
The Junior award will be fought for by Ellen Casey and Caoimhe Cahill, both Clare, and Tipperary's Jean Kelly.
The awards ceremony will take place at Croke Park on 4 November.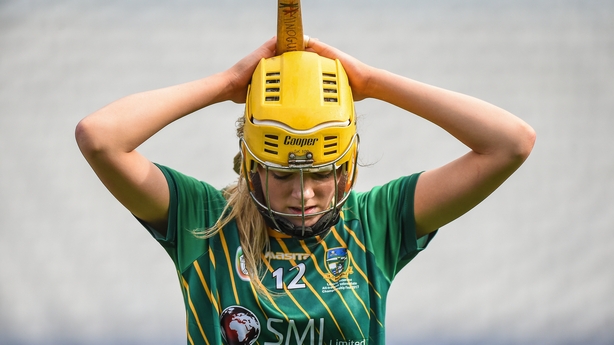 Camogie All-Stars Nominations 2023:
Goalkeepers: Amy Lee (Cork), Brianna O'Regan (Waterford), Fiona Ryan, (Galway)
Corner-backs: Meabh Murphy (Cork), Roisin Black (Galway), Shauna Healy (Galway), Vikki Falconer (Waterford)
Full-backs: Grace Walsh (Kilkenny), Julieanne Bourke (Tipperary), Libby Coppinger (Cork)
Half-backs: Karen Kennedy (Tipperary), Keely Corbett Barry (Waterford), Laura Hayes (Cork), Meabh Cahalane (Cork)
Centre-backs: Aoife McGrath (Tipperary), Ciara Phelan (Kilkenny), Laura Treacy (Cork)
Midfielders: Aoife Donohue (Galway), Lorraine Bray (Waterford), Orla Hickey (Waterford), Saoirse McCarthy (Cork), Teresa Ryan (Tipperary)
Half-forwards: Carrie Dolan (Galway), Denise Gaule (Kilkenny), Hannah Looney (Cork), Niamh Hannify (Galway)
Centre-forwards: Beth Carton (Waterford), Fiona Keating (Cork), Roisin Howard (Tipperary)
Corner-forwards: Amy O'Connor (Cork), Annie Fitzgerald (Waterford), Cait Devane (Tipperary), Mairead O'Brien (Waterford)
Full-forwards: Katrina Mackey (Cork), Niamh Rockett (Waterford), Siobhan McGrath (Galway)
Camogie Player of the Year Nominations 2023:
Senior: Amy O'Connor (Cork), Beth Carton (Waterford), Saoirse McCarthy (Cork)
Intermediate: Aoife Ní Chaiside (Derry), Aoife Minogue (Meath), Aine McAllister (Derry)
Junior: Caoimhe Cahill (Clare), Ellen Casey (Clare), Jean Kelly (Tipperary)