In 2018, few would have predicted the Cork All-Ireland juggernaut would come to a halt.
When Cork broke Kilkenny hearts in injury-time on All-Ireland final day for the second year in succession as Orla Cotter's fifth free of the day proved the winner, it was the sixth time in a decade that the O'Duffy Cup was won by the Leesiders.
Ashling Thompson was midfield that day, but the intervening years means she, and her team-mates, have been reduced to the role of spectators on camogie's big day.
Kilkenny's 2020 success was sandwiched in between Galway victories, and that particular rivalry has dominated the landscape, with the Rebels failing at the last hurdle to the Tribeswomen last year.
It has taken some getting used to.
"Yeah, it is because it's something we're not used to," Thompson told RTÉ Sport when asked whether it was frustrating watching the Cats and Tribeswomen become the dominant players.
"It's been 2018 since we've won a final, it's a drought in Cork camogie. It mightn't be for other counties but it's a drought for us.
"Do you know what though, you learn a lot from losing. I know you want to be winning but at the end of the day you only learn from your losses I think. It's been a big motivator.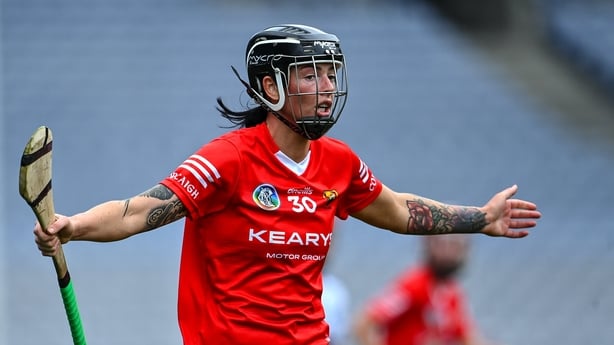 "The main thing was to get back to the final this year but unless we're pushing to get over the line on Sunday there's just no point in being there."
It has been an eventful few weeks for the Millford player.
Thompson was shown a yellow card during the Rebels' round-robin loss to Tipperary, but after the final whistle, received a straight red for allegedly using abusive language towards referee Justin Heffernan.
Her two-game suspension was overturned hours before the semi-final against Waterford. While she didn't start against the Deise, she was instrumental in the comeback victory. Introduced as 22nd-minute substitute when Cork had failed to register a single score, they powered for home after the break to record a five-point victory.
"It was a long three weeks and I think when you have to get up at six o'clock in the morning and get to the Croke Park Hotel for half 10 in the morning for a hearing, and then go on and play an All-Ireland semi-final a few hours later, it was a tough task but I don't like to make excuses for myself. I put myself into that position so it's up to me to get myself out of it.
What lessons did she learn from the experience?
"It's just part of the game. It's funny because I've actually never been in that position myself before as a player. It was something that I don't ever want to see from myself in the future as a player. Look, I honestly don't want to dwell on it. It's part of the game, it's done and dusted and now we can move.
Thompson is in search of a fifth All-Ireland title on Sunday and while the game has changed considerably since the 32-year-old personal trainer made her inter-county debut in 2006, she is hopeful that a certain level of physicality is allowed on Sunday.
There's a rule there that allows for more physicality in camogie and hopefully that's applied on Sunday
With the players fitter and stronger than ever before, the stringent application of rules can lead to some stop-start games, something the two-time All-Star isn't the case this weekend, highlighting referee's Ray Kelly's approach to their win over Waterford.
Physicality in camogie, last year's final the standard for what people want, enjoyed that?
"He let the game flow and when referees are whistle happy it just doesn't bring out the best," she said.
"I think last year was a great example in the final, the game was let flow. Granted, you'll always give out about a couple of decisions, but you can only see the best of both teams, you can only see the best of camogie, the skill, everything that comes with it when you let the game flow.
"There's a rule there that allows for more physicality in camogie and hopefully that's applied on Sunday because as I said, you'll see camogie as a sport for what it really is, in terms of physicality and the way it has grown over the last couple of years."
Watch the All-Ireland camogie finals this Sunday from 11.45am on RTÉ2 and RTÉ Player, listen live on RTÉ Radio 1's Sunday Sport and follow our live blog on RTÉ Sport Online and the RTÉ News app