Cork camogie manager Matthew Twomey is acutely aware that his team will have to avoid the sluggish start they experienced against Waterford last time out if they are to see off Kilkenny in Sunday's Glen Dimplex All-Ireland Senior Camogie Championship decider.
Twomey's side failed to register a score until the 25th minute of their semi-final against the Déise, by which time their opponents had built up a five-point advantage.
Waterford led by 0-07 to 0-03 at the interval, but Cork whittled down the lead in the second half and finished with a flourish to run out winners on a 0-15 to 0-10 scoreline.
"We had seen Waterford the week before (v Limerick), they had got great confidence from that win," Twomey said as he reflected on the penultimate round of the championship.
"We knew they were going to come at us. They have some quality forwards. They put us under severe pressure. We had two games against them this year and we struggled in both of them, so we knew what they could bring.
"We weren't happy with our first-half performance. I know it's a cliche, but if we do the same in the final we know it will be over before half-time. We have a lot to work on.
"The players know what they have to do and that the semi-final was just not good enough"
"And there was also the fact that Ashling (Thompson) was missing. And all the hoo-haa surrounding that. We have to readjust ourselves and concentrate on getting a good start. We'll have to get scores on the board.
"We were worried about the last day after 20 minutes. There is no point in saying otherwise. We had leaders on the field but we were wondering where the leadership was. We were panicking on the ball. We were making the wrong runs. We were coming too deep. You are saying to yourself, 'who is out there to turn it around?' That was the disappointing thing about it.
"We had a meeting last night (Tuesday) for an hour and a half. We had a frank chat about it. It's probably a good position to be going into the final. The players know what they have to do and that the semi-final was just not good enough. It's a good situation for us if we want to put a positive twist on it."
Cork's semi-final preparations were far from ideal as the talismanic Ashling Thompson was only cleared to play at the eleventh hour, following a successful appeal against a two-match ban picked up in a loss to Tipperary at the start of last month.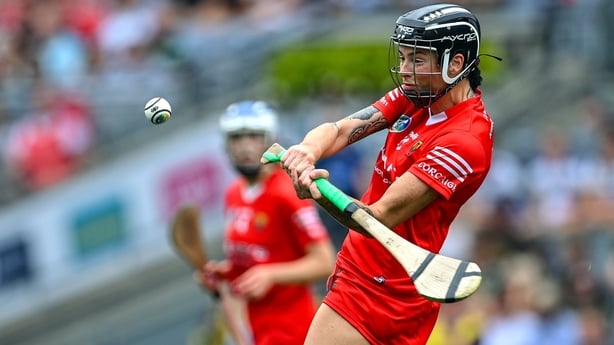 Thompson's introduction from the bench in the 22nd minute ultimately proved the catalyst in Cork's fortunes.
Unsurprisingly, Twomey was effusive in his praise for the 32-year-old, saying: "Ashling has been unbelievable. I have been involved since 2014 and she has been unbelievable.
"She's a leader, a warrior out on the field. When she came on her presence alone drove us on."
Twomey insists that the appeal process in the game must be carried out with greater urgency to give all involved greater certainty.
"It's disappointing. We had the same last year with Orla Cronin going into the All-Ireland final. We found out the night before. It was tough going. It was very tough on Orla.
"Then we had other players lined up to play and we had to tell them on the Sunday they weren't starting. It was the same this time with Ashling. We had to tell players.
"It was only myself, Davy (Fitzgerald) and Ashling that knew the third appeal was going on. We only found out about the decision as we got off the train.
"I had been on the phone to Ashling the night before and I was saying it was probably best not to start her if the appeal went in our favour.
"The way they are now training, Davy has said that the camogie players train harder than some of the teams he has had experience with"
"She was very unsettled. When she came into the team meeting, she was drained. She was ashen. I said no way could she start. But I knew after watching her for a few minutes of the warm-up that she'd be OK. It did unsettle us. There is no point in denying it.
"If we could have something like they do in rugby – a citing officer – they have a process where it's sorted out after two or three days.
"We knew there were a couple of indiscretions in the ruling. We questioned it and we brought nothing new to the table for the second appeal.
"The frustration is that it could have been sorted out two weeks ago. We should not have to wait until the last minute."
Davy Fitzgerald will be in the Cork dugout as part of the backroom team, with Twomey revealing that the much-travelled manager has been particularly impressed with the commitment and fitness levels of the Rebels.
"The way they are now training, Davy has said that the camogie players train harder than some of the teams he has had experience with," the Cork boss added.
"That's a huge boost to the girls. These are the big steps. The more we see of that, the more the game will improve. They are unbelievable athletes. What we put them through, I'm still in shock that they are able to do it, and they want more."
Watch the All-Ireland Junior, Intermediate and Senior Camogie Championship finals on Sunday on RTÉ2 and RTÉ Player from 11.45am.