It's been a topsy-turvy 12 months for Linda Collins.
It started with her helping her club Courcey Rovers to claim a first ever Cork senior camogie title. That victory over Inniscarra last September meant the club could nominate the county captain for the following year.
While Collins would go on to play for Cork as they were beaten in last year's All-Ireland semi-final, the new year would bring a new role with the Rebels.
"The last few years they haven't done it that way, but it has always been a tradition in Cork," she says of the club champions picking the county captain.
"This year they decided to go with it again. There's three girls in our team but I guess me having been around the longest and being the oldest, even though I'm only 24, they nominated me then.
"Initially I was worrying that I would have to be like Gemma O'Connor or Aoife Murray.
"But I decided I'd create my own style here. There are times when I speak, there are times when I don't. There are times when I perform - I'm just like anybody else. You've the likes of Ashling Thompson and Laura Treacy who always speak in the dressing room no matter what.
"My main thing this year was getting the younger ones in and getting them comfortable, and being able to talk to me and ask me questions, and create a bit of a bond between the girls."
While Collins has taken the captaincy in her stride, Cork haven't managed to be so successful down through the years without creating massive competition within their squads.
As such the captain is not assured of her starting place. Collins started and scored in their group victories over Dublin (0-02) and Down (0-01) as the team assured themselves of a place in the knockout stages.
For the last group game against neighbours Waterford however the Courceys forward was on the bench, managing a point from play in the 15 minutes she got in the second half.
That meant full points from the group stages for Cork, and place in the All-Ireland semi-final.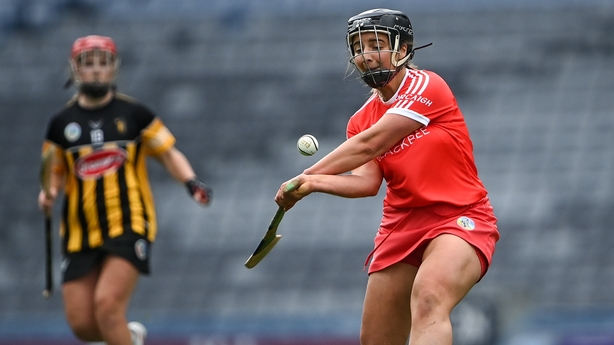 When it came to the game against Kilkenny the captain was once again named amongst the substitutes, but she said it was something she was aware might happen after speaking to manager Paudie Murray.
"Two weeks before the game they [management] were thinking about it," she says.
"I thought, 'I've played every other game so why am I not playing in the All-Ireland semi-final?' From a tactical perspective it clearly worked.
"They were discussing it but I don't think they knew the team until the Saturday because they rang me then to tell me. There is good competition for places this year so I'd say they did actually struggle to pick a team.
"For me that week was tough. I never showed it at training. I trained hard and I worked hard. I think the girls seeing my attitude to that, they all drove on as well.
"It's great that they were able to do it. Some people would think they were the captain and so they were entitled to a position. Nobody should really be entitled to a position.
"It should be the person who is working the hardest, or who is going to slot into the team and the game plan that we're going to do.
"It was tough initially but then I was able to enjoy the build-up and the training. I wasn't nervous because there was nothing I could do anyway. So I dealt with the negative thoughts and just enjoyed training."
Being a 'team player' is something that players regularly talk about when discussing selection but Collins would have undoubtedly had to make use of all of her mental strength that week to support the starting XV.
And when she was called up with 10 minutes to go at Croke Park, she certainly stepped up to the mark scoring the winning point in the third minute of added time.
Linda Collins was the hero for Cork as they de-throned All-Ireland champions Kilkenny at Croke Park #RTEGAA pic.twitter.com/SC455NBUCW

— The Sunday Game (@TheSundayGame) August 29, 2021
Cork were through, Kilkenny's reign as champions was over, and the captain had delivered.
Did she feel there was a message in that score for her manager?
"No and so many people said that to me afterwards - justice or whatever. That didn't even cross my head.
"I was in Croke Park that day to try and win a match and make an impact. My job that day was to make an impact.
"What was in my head running out onto the field was that any ball I get I'm going to do the best that I can with it, and I'm going to use it, I'm going to retain it, and try to make the right decision on it. That was what was going through my head. Make space, look for the ball, and make good decisions on the ball."
Whether it will be enough to get her back into the starting team for Sunday, Collins's attitude is remaining the same and she's living up to her ideal of being a different type of skipper.
"You want to play every game you can but I'll take whatever role. If they want me to do a similar role, or if they want me to start. All I can know is that I can perform on the pitch.
"I'll train hard and I'll work hard and I'll do whatever it takes to get into the starting 15. If I don't, that's just the way it is and I can't change it."
---
Sarah Dervan hoping Galway can add another entry in the victory ledger
---
Opponents Galway come into Sunday's game having claimed their most recent title two years ago, before relinquishing it with a defeat to Kilkenny in last year's final.
For Collins, it's a case of sticking to the usual routine, preparing for an All-Ireland final as if it was any other game.
"How I prepare is thinking about what I can do," she begins.
"I don't watch videos on Galway or anything like that; I just focus on myself. I don't watch videos of oppositions.
"In years gone by we might have done a bit of that but now management can focus on that side and we can focus on ourselves and getting the best out of ourselves.
"If I was thinking about players and where they might be, and what they might do you could lose focus on what you actually can do. It's about focusing on your own strengths rather than the weaknesses of the Galway team.
"You'd be well pushed to find any weaknesses in that Galway team," she quickly adds.
We'll all know the stronger team by 6 o'clock on Sunday evening.
Follow Sunday's All-Ireland camogie final with our live blog on RTÉ.ie/sport and the RTÉ News app.
Watch Galway v Cork live on RTÉ2 or RTÉ Player from 4pm.
Live coverage of the intermediate final between Antrim and Kilkenny starts at 2pm, while the premier junior final between Wexford and Armagh is live from 11:45.
Watch highlights of all the weekend's action on The Sunday Game at 9.30pm on RTÉ2.
Listen to live and exclusive national radio commentary on RTÉ Radio 1's Sunday Sport.