Gráinne Egan is a busy bee.
The Offaly woman is another threatened species - the seldom seen dual player.
Just over two weeks ago, she scored 3-05 for the county camógs against Dublin on a Saturday and followed that up with 1-08 for the footballers against Carlow the next day.
"It's a bit hectic at the moment," she admits to RTÉ Sport. "Monday was my only day off for a couple of weeks which was a bit mad, but I was managing it.
"I was at training every day but they were sound enough to say 'You're not doing sprints here' or 'You should manage it a bit there'.
"Saturday nights were a bit mad. I was going to the local shop and getting bags of ice so I could make a home-made ice-bath that I could get into for a while before a hot shower.
"I was just trying to do everything I could to try and recover.
"There's a reason a lot of GAA players are teachers I'm beginning to realise. The summer holidays came at a good time, I suppose, it's easier because you're a full-time sports person in a way."
Egan, who only took up football aged 21 while teaching PE in Tullamore, says she couldn't juggle both codes without the full support of managers Susan Earner (Camogie) and Gary Daly (football).
"They're balancing it very well for me so that takes a bit of pressure off," she says. "They're on the phone to each other the whole time and are managing it well and so far it has been good.
"I couldn't imagine trying to do this if there was any opposition or if people were going 'This isn't a good idea, you shouldn't be doing this'. That would be very difficult.
"There are two of us as well, Roisin Egan is doing both too. So that makes it a bit easier as well, that you're not on your own stepping out of the runs and that.
"It is obviously challenging and there will come a time when you have to choose. I'm stringing that out a bit longer than most. Hopefully kids will get that chance and will keep going with it. I'd like to think that in Offaly anyway that dual players will be still going and doing relatively okay."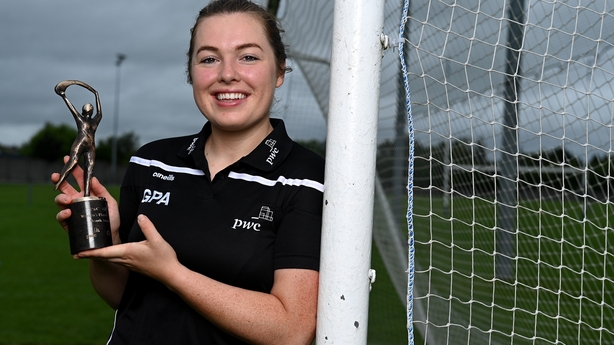 The camogie team have eased her burden a little by getting knocked out of the league at the quarter-final stage, meaning there is only the one game to worry about this weekend.
"It's like a holiday for me," she jokes. "We're playing Louth on Sunday in the (Division 4) football semi-finals. Hopefully that goes well.
"We had a disappointing weekend against Tipp and we're trying to bounce back from that. That's nearly a plus side to it as well for me that we played Kilkenny (in camogie), and took a bad beating, but the next day I was out to play a football match.
"You have to forget about it, move on and get up for the next game. You don't dwell on it, which I would have before when you just had the one. You had the whole week to dwell on that last match."
Egan, who turns 26 this month, is from Tipperary stock and plays her camogie at home with Shinrone, a village right on the border. Though don't let her hear you calling the game by that name.
"A lot of trainers that we would have come in to us are hurling trainers, and they'd often say 'come on lads' or 'we're going hurling', and then they'd correct themselves and say 'sorry, camogie.'
"It's something that always annoys me, because in my head, and I think for anyone who plays, it is hurling, and we're going out hurling and it's great hurling and whatever it is.
"I don't think that differentiation comes from the players anyway. I think we all want to be moving in that way.
"The GPA coming together has been massive already. It's visible and it's only going in the right direction, so if we can keep it going you would love to see them coming together and get rid of the skorts and start just trying to bring them closer.
"Changing the rules as well this year, the physicality in camogie has gone right up, which is great. It's made it more enjoyable to play, it's more enjoyable to watch. It's much more enjoyable and hopefully we can keep going, keep making those changes and keep modernising it."
Incredible goalscoring weekend for dual star Grainne Egan.. see her 3 goals for @OffalyCamogie yesterday and she added 1-9 today for @OffalyLGFA! @OfficialCamogie @JOEdotie @ballsdotie @RTEsport pic.twitter.com/7S8q9WXHz6

— Jerome Quinn (@JeromeQuinn) May 23, 2021
The success of Egan's two teams so far this season mirrors a wider revival in Offaly fortunes that she hopes to see extended.
"We have the Faithful Fields out the road which is the centre of excellence and for the first time now, all four teams are training in there," she says.
"So there is that bit of a buzz. You're walking out and you're passing Michael Fennelly and all the boys as they're training, and you're on the pitch right beside them.
"It's the first time in a long time there's been a bit of a buzz around Offaly GAA as a whole.
"The weekend we won both matches, the camogie and the football, the men won as well, Shane Lowry was going well, and there was kind of that 'Jesus, Offaly are coming back'.
"So hopefully it keeps going. The hurlers are after getting promotion now, the footballers are going well.
"Camogie, unfortunately we've slipped a little bit but if we can pull it back for championship it would be great for us."