This time last year, the leagues were flying round week after week and the usual debates and predictions on Kilkenny Camogie were being muttered amongst pitchside fans and barstool experts across the country.
The familiar ballad of, "missed too many chances, they'll go nowhere" was beginning to be sung again.
An opening round defeat to Clare was followed by a narrow win over Offaly before a 13-point hammering at the hands of their cruelest rivals Cork and the crystal ball prophecies looked to be fairly accurate.
But one thing no one predicted correctly was Kilkenny lifting the O'Duffy Cup two weeks before Christmas in an empty Croke Park.
"There's always all this talk of us losing in the past. There's never anything really said about the belief we show to keep coming back year after year," said the 2020 WGPA Player's Player of the Year Denise Gaule.
"There's a core group of us there that have been around since 2009 or 2010 and are after losing seven All-Irelands. It was a huge relief more than anything that I wasn't adding to that."
That firm sense of believing in themselves is something that Gaule credits Manager of the Year Brian Dowling with and feels it was particularly evident in the semi-final clash against Cork.
"Going into that game we didn't really know where we were at and in the first few minutes we could have gone the other way."
Kilkenny found themselves facing a 1-03 deficit in the opening 10 minutes and the painful memories of the 2017 and 2018 All Ireland Finals started flooding back.
"We started so bad. I just remember thinking, 'Oh here we go again,'" said Gaule.
The 2020 Camogie Association/WGPA Senior Players' Player of the Year, @KilkennyCamogie star @Gaulers91 pic.twitter.com/da07Yyuq5C

— RTÉ Sport (@RTEsport) March 7, 2021
"After the beating they gave us in the league, people had every right to write us off. But once we got to half-time and we were still in it, it was anyone's game.
"That's one thing Brian has done. He's brought a lot of belief into the squad whereas maybe before we might have had a mental block in that situation. Thankfully we pulled it back.
"It was weird. There was something so emotional about that game. I was emotional out of the pitch. It was just such a relief."
Post-match pictures from that game showed a touching moment where a group of the squad including Gaule ran up to their injured teammate Katie Power who was watching on in tears in the stand.
"Katie would be wicked emotional," she says.
"The few of us who went up to her probably grew up together from under-16 the whole way up and a few of us lived together in college. We're all very close. You'd be devastated for her that she can't be out there.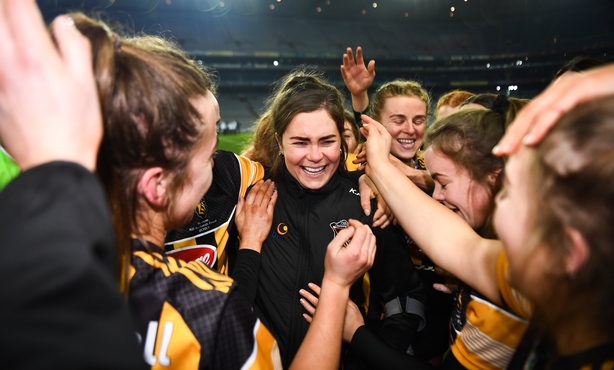 "She spoke to us before the final and she'd have us all a bit emotional. She's suffered such bad injuries and keeps coming back. I don't know how she does it."
Power's season was cut short due to a horrific knee injury in October and with stalwart Edwina Keane stepping away from the panel, that level of experience and skill is not easy to replace, Gaule admitted: "They were massive losses with big boots to fill but it gave the new girls a chance.
"The young ones that came into the squad were immense. Katie Nolan and Mary O'Connell had phenomenal seasons. They'd nearly have the older ones pulling up the socks when you see the work rate they put in.
"For the likes of us who've been there a long time we needed that freshness bringing in to feed off."
Despite having racked up a personal tally of 3-37 in five championship games, Gaule still feels she's undeserving of her All-Star accolade.
"I didn't think I had the best year myself," she says.
2020, a @OfficialCamogie season to remember pic.twitter.com/fnDvnc9Bu0

— RTÉ Sport (@RTEsport) March 7, 2021
"I'd a bad start in the semi-final anyway, I must have missed five or six shots. I'd think there were people more deserving than myself.
"I'd look at the likes of Claire Phelan and think how immense she was all year but I suppose forwards tend to get more credit than the defenders. So, it's great to see Grace (Walsh) and Davina (Tobin) nominated from the backs."
A full 1-6 of that tally was produced in the All-Ireland final including that match-defining penalty in the 57th minute to put three points between the sides.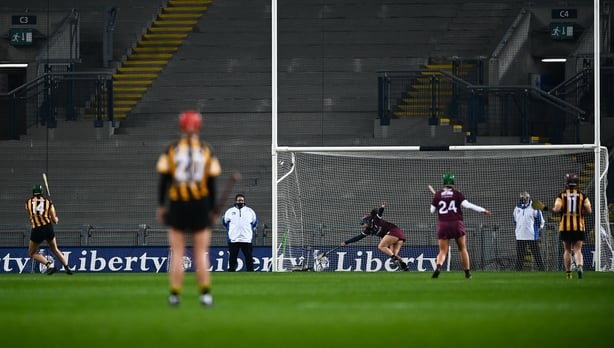 "I was only saying to Aoife (Norris) before hand about me going to the left side because I'd usually go to the right," says Gaule.
"In the Thursday training before the final I'd missed every penalty I took. I walked away thick. I was nearly wishing we wouldn't get one in the final.
"On the day I saw Sarah (Healy) holding the hurl a certain way and I knew I was going to go to that corner. All that was going through my head was, 'Please don't miss'. I'll probably never hit a better one."
With just two minutes of normal time remaining Gaule stepped up to the mark again with a pointed free and Kilkenny were crowned All Ireland champions for the first time since 2016.
One can only imagine the noise level of the loyal Cats' following had the stadium been open to spectators but the new restrictions didn't dampen the experience for Gaule.
"I actually feel that playing under lights added a bit of an atmosphere that you wouldn't get if it was played in the middle of the day," she says.
"Looking back at the photos, it looks great. Even without crowds. It was kind of nice to have it just for us."
One woman who is synonymous with Kilkenny Camogie was deservedly there to witness the celebrations.
"It's funny, we were driving into Croke Park on the bus and there was just one woman standing in the middle of the road waving like mad. We were all looking thinking, 'Who is that?'" says Gaule.
"Sure enough, it was Ann (Downey). She's done so much for Kilkenny Camogie not to mention Angela and Breda Holmes too. She'd have brought a lot of us onto the panel initially so it was lovely that she was there afterwards with us."
Having been part of the panel for over 10 years, the All-Star forward's name is just as steeped in the legacy of Kilkenny Camogie and at 29-years-of-age, she's sure to continue silencing the critics for another while yet.