With Ulster set to field eight camogie teams in 2021, including a Down side entering the senior ranks of the competition for the first time in over 20 years, the small ball is clearly having a big impact in the province.
"It's an exciting time for Ulster camogie," says Niamh Mallon, the 2020 WGPA Intermediate Player's Player of the Year.
"Ulster camogie is a small community and everybody knows everybody. The players go to college together, they grow up together. There's very little between Down, Derry and Antrim right now which is great for the competition."
Mallon's side Down were crowned intermediate champions after their emphatic win over Antrim last December yet as a result of new rules introduced due to the pandemic, no automatic promotions or relegations were in place within the Camogie Association.
"We earned the right to play senior camogie. We're good enough," says Mallon.
"We understood from the outset that the rule changes were there because of Covid but we felt that automatic promotion should be granted. It's a natural progression if you win intermediate, you play senior.
2020, a @OfficialCamogie season to remember pic.twitter.com/fnDvnc9Bu0

— RTÉ Sport (@RTEsport) March 7, 2021
"The county board were there to back us up and thankfully we had our request granted and we've been the green light now to play senior this year. It's something we're massively looking forward to."
Using Waterford as an example of succeeding through the ranks, Mallon emphasises that promotion isn't a silver bullet but more so a stepping stone to the improvement of standards and competition within the province.
"It's a long term process, we're under no illusions with that. Personally, I'd be looking at Waterford and all they've achieved," she says.
"They beat us in the 2011 Junior Final and they pushed on and put the right structures in place, brought the right people in and built on that success. Now, they're regular All-Ireland Senior semi-finalists. In another few years they'll be competing for honours.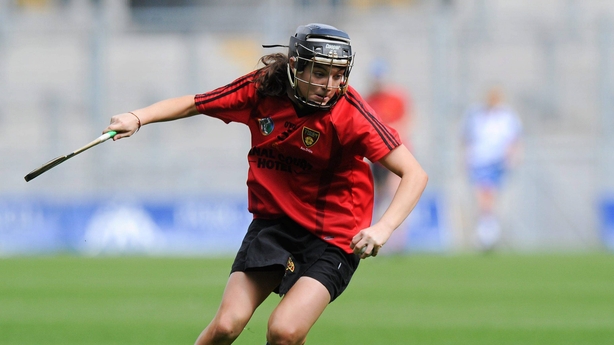 "That's something I'd take a lot of inspiration from. That's been a 10-year process for them so I know it's going to be a massive process for us.
"Our promotion will drive the standard on. Derry and Antrim will be looking at us and think, 'Why can't we go up?'
"For me, that's a great thing. If the inter-county level drives up then that filters down through the clubs, schools and underage.
"It's a real opportunity for those at an administration level to capitalise on and grab the attention of young girls," said Mallon.
A leader for the game both on and off the pitch, the All-Star forward scored 4-14 from play in four championship games last year, leaving little question about who would be crowned Intermediate Player of the Year.
But the 26-year-old isn't too focused on personal plaudits.
"As a player, getting Down over the line was far more important to me," says Mallon.
"It's nice to win of course and it's nearly more special that it's picked by your peers. The individual awards are not really on my radar at the minute; I'd be more concerned at what's coming down the line. Senior camogie is a far greater reward than any."
Another alteration made to the structure of the competition last year was the removal of all inter-county second string teams resulting in 10 teams in total being removed. This is something that Mallon feels was an injustice.
"I understand that it was a Government issue but it didn't sit well with me to be honest," she says.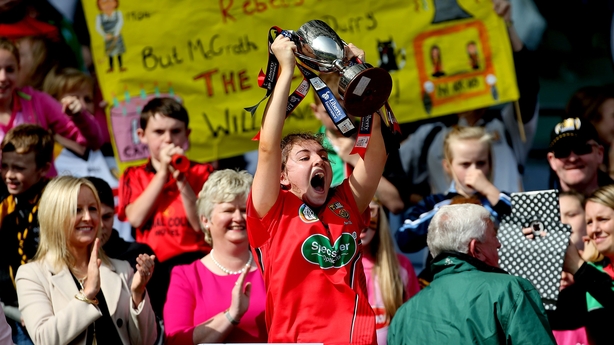 "I think every single player involved in the championship had the right to compete regardless of where they were from. I think it was very, very disheartening to see the likes of Kilkenny, Galway and Cork have players pulled from the championship.
"Those players involved put every bit as much effort in as the senior players in those counties do. I massively felt for them. I imagined being in their shoes and being told your championship is over and how disappointing that would be."
As a result of the new rule, Down's fixture against Kilkenny was pulled and it was an opportunity missed, Mallon felt.
"It affected all the plans that we had in place. It was a game we'd really targeted. Kilkenny away would have been a massive turning point for us but that was taken away unfortunately."
Instead, it's the All-Ireland senior champions that are now coming down the line and Mallon is relishing the opportunity.
"It's exactly where we want to be," she says.
"It's great for young girls from my own club Portaferry or Ballycran or wherever to go to Newry to see the Grace Walshes or the Collette Dormers of the world. That's exactly what they need to see.
"The whole campaign for 20x20 was 'Can't see. Can't be', and that's absolutely true. That's exciting going forward. If we can be a small part of that then absolutely, happy days."