Two-time All-Ireland winner Anne Dalton has called time on her glittering inter-county camogie career.
RTÉ Sport has confirmed that the six-time All Star and standard-bearer has made the decision to step away just weeks after winning her second All-Ireland senior medal with Kilkenny.
Dalton (32) was one of the finest player of her generation winning Player of the Year awards in 2009 and 2018.
Aside from those two All-Ireland wins, she also experienced great success with her club St Lachtains, winning the first of three All-Ireland club senior titles with them at the age of just 16.
At minor level she also won at All-Ireland level and added three Ashbourne Cups with Waterford IT in 2009, '10 and '11.
There was much heartache in her career too with six All-Ireland final defeats in a Kilkenny shirt, including three narrow defeats on the spin in 2017, '18 and '19.
Now Dalton bows out with a legacy that ensures her status as one of the greatest the game has ever seen.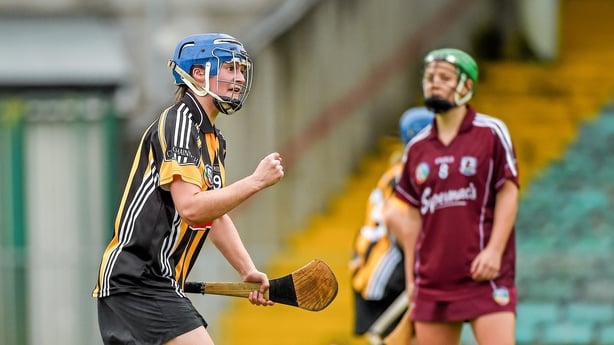 In typical fashion there will be no statement or fuss around her farewell as she wants all the focus to remain on the current Kilkenny players and their drive for back-to-back championships under manager Brian Dowling.
With three children under the age of two at home, Dalton simply feels the time is right to slip away from the biggest stage of all.
Life won't be any quieter without the inter-county game for her or her wife, the former Waterford All-Ireland winner Karen Kelly. In 2018, their son Tadhg was born followed by the arrival of twins Ada and Seán last October.
For the past two seasons they have balanced the demands of family, work and camogie and, following three All-Ireland defeats on the trot, Dalton could well have been forgiven for calling it a day after the 2019 heartbreak.
Instead she and her team-mates retained a ferocious drive to regain the O'Duffy Cup in 2020 and they did just that. Her semi-final display against Cork will live in the memory for a long time to come as she showed ferocious hunger to drive the side to victory.
And so ends a relentless pursuit of excellence and success.
When Kilkenny finally won an All-Ireland title in 2016, their first All-Ireland title in 22 years, the feeling was they would embark on a run.
There was a run alright but not what the team wanted – they lost those three finals in a row, two of them by just a point but the win of late 2020 surely has applied balm to those sores.
Dalton's loss to the team and the game will be colossal but her retirement is fully deserved.