"These games have given us such special memories it just brings a smile to your face that no one or nothing can take away." - Kate Kelly, four-time All-Ireland winner with Wexford and key member of the three in a row side of 2012.
Wexford completed a historic three-in-a-row of senior camogie All-Ireland titles on 16 September 2012 - a match that is now available to watch on the RTÉ Player.
Having denied Cork a similar triumph four years previous the Slaneysiders emerged seven points winner following a truly pulsating decider in front of more than 15,000 at Croke Park.
Kate Kelly lined out at midfield that day and recalls the game as being the best of their three in a row finals:
"It was a game which encompassed all the elements - intensity, skill, excitement and attacking flair."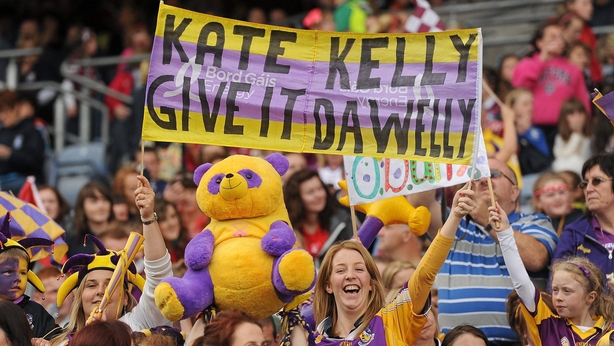 Wexford were favourites against Cork, who were back in the final first time since 2009.
They got a first quarter goal from Katrina Parrock and after 23 minutes Wexford led 1-05 to 0-02.
However Cork, who had been and still to this day are the game's long-time standard-bearers, rallied in the final minutes of the half and goals from Aoife Murray (penalty) and Síle Burns left the sides level at the break, Wexford 1-07 Cork 2-04.
Kelly recalls manager JJ Doyle "letting rip at half-time".
"He was usually very composed and focussed but was mad that we'd let slip a position of dominance in the game."
Wexford had lost to Cork in the league final some four months previous and also suffered a heavy championship defeat to Galway earlier in the campaign.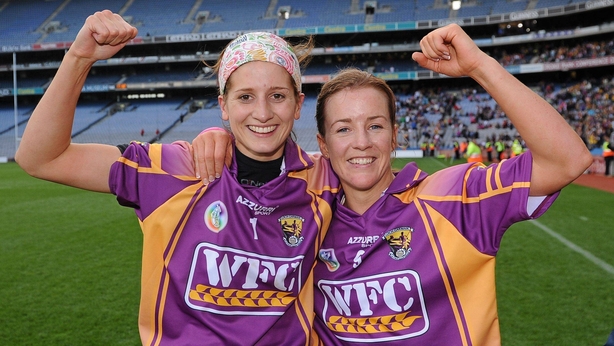 "We knew we had to refocus and not be afraid coming out for the second half," said Kelly.
If the first half produced open, free-flowing camogie, the second is a perfect advertisement for camogie.
"Both sides simply went for it – we needed to adapt slightly and we played like the Cork, Tipp and Kilkenny sides who regularly won two and three in a row of titles."
The game ignited into an inferno midway through the second period – Ursula Jacob fired in Wexford's second goal only for Cork to respond immediately with a three-pointer from Katriona Mackey.
Jacob then produced a real moment of magic with her second goal in as many minutes, which flew dagger like to the back of the Cork net.
Kelly recalls it as "just another goal at the time but looking back now it was a wonder strike off the ground. She just let fly and Aoife was never going to be able to anticipate it".
JJ had kept us grounded all through 2012, we never really spoke of the three in a row. I didn't let the pressure of it get in on me
Kelly continued: "The closing moments of the game were tough but we played some of our best camogie in that half hour and thankfully it was enough"
History was made that afternoon as Wexford won their sixth O'Duffy Cup, three in a row was in the bag and it was their fourth success in just six years.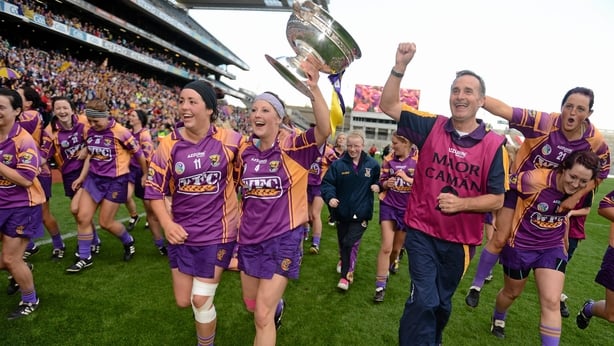 "JJ had kept us grounded all through 2012, we never really spoke of the three in a row. I didn't let the pressure of it get in on me. After the final whistle there was just sheer joy and the historic part of it still wasn't a factor.
"Looking back now I can appreciate it – it was a wonderful group to have played with and to have achieved what we did. No one can ever take it away from us."
It's hard to fathom that would be Wexford's last All-Ireland final appearance, as many of the team retired soon after and manager JJ Doyle also chose to move on.
Wexford camogie have yet to play a game in 2020 due to a combination of bad weather and the ongoing Covid-19 restrictions, so i'ts good to recall the glory days.