Katie Taylor has brushed off any talk of retirement after confirming a rematch with Chantelle Cameron is being lined up for November.
The Bray boxer suffered a first professional defeat to the undisputed super lightweight champion in a sold-out 3Arena last week.
Amid a partisan atmosphere and huge expectancy for her long-awaited homecoming, Taylor came up short against Cameron having struggled in the first half of the bout.
The English boxer won 96-94 on two cards, with another judge scoring it a draw, giving her a majority victory.
Taylor has revealed she has regrets over her preparation for the fight and has plans to alter her approach to the next fight.
Boxer Katie Taylor has brushed off any talk of retirement after confirming a rematch with Chantelle Cameron is being lined up for November | Read more: https://t.co/NkZVwP9PkI pic.twitter.com/wYrsf6cv3R

— RTÉ News (@rtenews) May 28, 2023
The Dublin homecoming brought a great deal of media commitments and attention to Taylor, while an emotional ring entrance was also perceived as lengthy and perhaps energy-sapping.
Speaking exclusively to RTÉ, Taylor said she has not considered calling it a day and will instead prioritise invoking a rematch clause to face Cameron.
"I don't even know what retirement means. I definitely don't feel like it's time for me to retire. It will happen one day in the future, but now my sights are set on securing a rematch with Chantelle.
"I take it fight by fight and year by year, but right now I'm not going to end my career like that. I'm excited to step back in there and perform. This is my passion and I'm so grateful to be doing it every day.
"I haven't looked back on the fight yet. I think the right person won. I have to take the loss and move on from it. I'm just excited to get back to America to start training again for the rematch.
"There is definitely a lot I would do differently. That is part of a loss. You have to learn from it. You always learn more from your failures and disappointments [than your victories]. That is where the growth happens during those moments.
"I will learn from this. I definitely didn't feel myself in there. I did feel very, very tired straight away. I'll just have to go back to the drawing board."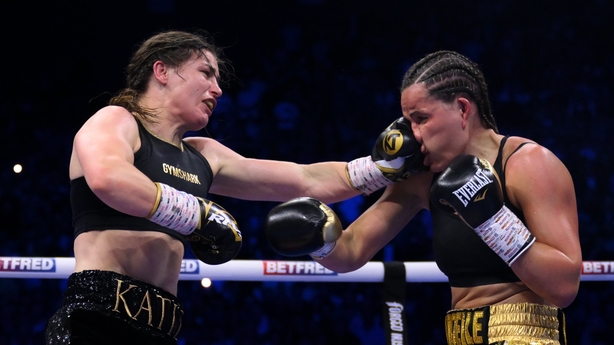 Taylor's options also consist of a second fight with Amanda Serrano, or even a simpler fight this winter to prepare for another duel with Cameron in 2024.
The undisputed lightweight champion is adamant she will head straight into the rematch.
A deal has yet to be agreed, but it is likely to be in Dublin given the gate receipts it can generate for the fighters.
Taylor added: "That's the only fight that matters to me now, the rematch with Chantelle Cameron. I think we're looking at a November date.
"To bring another big event back to Ireland would be very, very special. Hopefully it can happen. I'm very excited at the thoughts of it. I'm very hopeful of the future, that I can rectify this. I have a chance to get revenge and revenge would be very, very sweet.
"Obviously it's been a very, very disappointing week since the defeat. I've been in this situation before. I know I can come back from it.
"Life is all about ups and downs. Setbacks make you stronger. I'm determined to come back stronger and looking forward to the rematch, please God, if it happens.
"I'm just excited for the next step. It isn't what I wanted [a defeat], but I'm going to be fine and I'm just determined to get back to winning ways."
Katie Taylor was speaking a Gymshark event to support the grassroots boxing scene in Ireland