Croke Park commercial director Peter McKenna says it's a shame the stadium won't be hosting Katie Taylor in May but blamed the boxer's promoters Matchroom for refusing to cover security costs.
Matchroom chief Eddie Hearn said last night that the Bray world champion's anticipated rematch with Amanda Serrano would likely take place in Dublin's 3Arena on 20 May rather than Croker as "the cost of hire, the cost of everything involved with the event is three times nearly more than staging it at Wembley Stadium".
McKenna said that the GAA had quoted only slightly higher rent than Wembley but that it would require a stronger security presence than the London venue, which he believes the promoters should pay for.
"We would love to have the fight here," he said at the release of the GAA's annual report and financial results.
"The last time we talked to them properly was before Christmas. Our rent was coming in around €400k. I think the rent for Wembley is about £250k/300k (€280-355k). We are not colossally more expensive than Wembley.
"The real issue here is about security costs, which we felt the promoter should carry.
"I think the surprise was that our focus on security and attention to detail was far more than they would have expected in a Wembley scenario or Bethnal Green scenario. You're talking about bringing 60-70,000 people into a stadium for a fight that's late in the evening with quite a bit of alcohol taken.
"We looked at the risk analysis on the event and we felt that the amount of security that you'd need would be at the top level and that is not inexpensive.
"So I think maybe there's a worry there they wouldn't quite get the attendance and also the costs associated with hosting an event at a certain standard, that we would be very proud that we would hold to, has caused a little bit of jitters."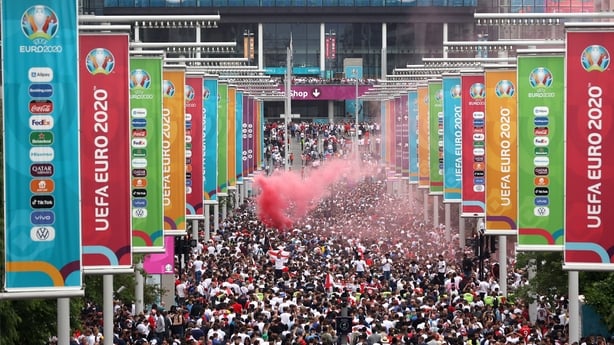 McKenna referenced crowd trouble at the Euro 2020 final in July 2021 as something that would be far less likely to happen here as gardai are on-site in advance, which also comes at a higher cost.
"The costs quoted are far less than we'd normally charge because we would have loved to have had Katie Taylor. The eyes of the world would be on us.
"What you have to do though is bear in mind the Euro 2020 scenario. If you look at what happened in Wembley at the Euros, there was carnage there and and a public inquiry. Baroness Casey was scathing on the lack of stewards, the police didn't deploy until too late.
"Police don't deploy for Croke Park or the Aviva or anywhere else - they're actually here. You're not waiting for them to arrive.
"So we, and I think everyone in the event industry based in Ireland, would pride ourselves on the fact that we run very, very safe events and if that costs then that's a cost that we have to do.
"The eyes of the world are on us for these type of events and we're not going to change our position on that.
"We run events very well from my view – 400,000 came to Garth Brooks and we had no issues. There's an awful lot of work goes into that, preparing the plans and a lot of agencies involved. There's the gardai, the fire brigade, Dublin City Council, all contributing to a plan that's cohesive."
"I'd say the Government did everything that they could"
The 3Arena venue would only accommodate around 9,000 spectators as opposed to 70,000+ on Jones' road.
McKenna believes that Hearn's suggestion the government should have intervened to ensure the fight takes place at the larger venue is unfair as they had been supportive but were not presented with any concrete requests.
"I don't think that's fair because I went and met with the minister with Matchroom," he said.
"I think they were very, very supportive but they needed something on paper, something that said, 'Listen, this is what we want and this is why we want it' and it really wasn't forthcoming to be honest. You can't really walk in and say, 'Give us a cheque'.
"All of us in sport, and particularly during Covid, were kept alive by Government taxpayers' money but you've got to be respectful to the office and bring something more formal than just a fireside chat.
"I'd say the Government did everything that they could and probably their door will still be open but it needs to be done in a far more formal way."
Hearn suggested that Taylor could still fight at Croke Park in September, which McKenna said was possible if the issue of security costs could be resolved.