Katie Taylor felt that her victory over Amanda Serrano was the biggest night of her career, following her split-decision victory at a sold out Madison Square Garden.
The undisputed lightweight champion put it all on the line against the hard-hitting Puerto Rican and in the end, maintained her unblemished professional record.
A career filled with success from her five world titles and Olympic glory in the amateur ranks, to becoming world champion in the pro game, winning every belt available in the lightweight division, however, Taylor felt that the New York event even topped the gold medal that she won at the London 2012 Games.
But it was far from easy, as Taylor found herself in real trouble midway through the fight in the fifth round when her opponent appeared to stop her in her tracks and land several devastating blows with the champion offering little in return.
Taylor survived to the bell and then proceeded to work her way back into the contest over the next few rounds before finishing in style to impress in the final stages.
On such a historic night for women's boxing and for Taylor's crusade to promote the sport and take it into the mainstream, Katie admitted that she needed to dig deep and produce a career-defining performance to ensure that she came out victorious in the bout that was labelled "For History".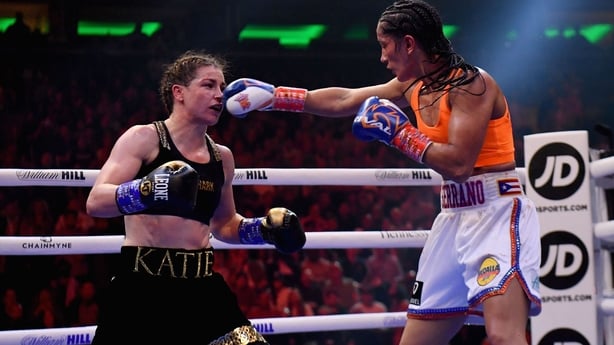 "I think the most important thing is always to come out the winner, regardless of how I perform," said Taylor, speaking at the post fight press conference.
"Tonight was fantastic. I had to dig deep and produce a career-defining performance to actually win.
"What an amazing champion Amanda is, she's a phenomenal fighter and we definitely got the best out of each other. Coming into this fight, they were saying it was the biggest fight in women's boxing, but I think it exceeded it.
"It was a special, special moment, the best night of my career.
"I was not sure if anything could reach my Olympic gold medal moment, but tonight was absolutely the best moment of my career."
Taylor admitted that she was dominated in the fifth round, as a result of standing and trading with her dangerous opponent. However, she stressed that she wasn't as troubled as many people felt she was, and believed that she bounced back in the subsequent round to get back on top in the contest.
All three judges actually scored the sixth round to Serrano, however, by the time the seventh came around, there was a sense that Taylor had definitely weathered the storm and it was no surprise to note that she won the final three stanzas on all three scorecards.
"I don't think I was as hurt as people may think. I just stood there a bit too long and made it into a bit of a tear-up as I always do, unfortunately. I was boxing very well in the earlier rounds and I just got in a fight with her. I just love a tear-up every now and again.
"I wasn't worried. I knew it was a tough, tough round and it was Amanda's round. But I wasn't concerned and knew I was ok and stable coming back to the corner.
"I just had to regroup, reset and I actually won the next round, I believe. So regardless if it was a tough round for me or not, I always come back and show the heart I need to actually come through them."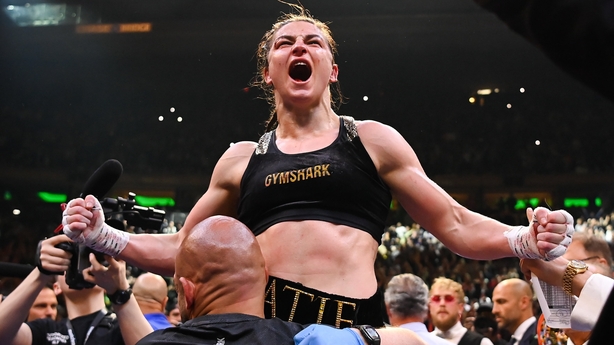 The lightweight champion also stressed that she felt her performance came from her champion's mentality and dedicated training regime, which allowed her to claim the 21st professional victory of her career.
"I dug deep when I needed to, I was in the trenches again and those are career-defining moments.
"My corner said I need the championship rounds, and I did what I had to do and I showed a champion's heart, and time and time again I show that champion's heart when I need to."
"I think the courage and the strength comes from the hard work that I put in in training camp over the last few months.
"I don't just show courage on fight night, I show courage every single day in training, day after day, in hard spars, week after week, and that is why you train hard for when you're in the trenches."
Taylor admitted that she looking forward to spending time with her family and a few weeks not getting punched in the head, however, talk of a rematch was immediately on the agenda with Katie pondering the possibility of staging it at a sold out Dublin venue.
"We all want to see the best versus the best," said Katie, when asked about another bout with Serrano.
"A rematch would be absolutely phenomenal and if it was in Dublin, we could sell out Croke Park.
"We saw something special tonight, imagine what could happen in front of 80 or 90 thousand. Absolutely it could happen."
"It would be a great shame if she didn't get a chance to fight in Ireland during her career, so if we could do that, back end of the summer," added promoter Eddie Hearn.