Having vowed to keep his often outrageous personality out of proceedings ahead of the biggest ever fight in women's boxing, in the end, Jake Paul just couldn't help himself.
The Hulu Theatre at Madison Square Garden was the venue for the pre-fight press conference two days out from Katie Taylor's highly anticipated world title showdown with Amanda Serrano, and the midtown Manhattan venue was buzzing hours ahead of the live stage show.
And the day couldn't have started better for the travelling Irish media who were well received at the agreed hour before noon with the promise of an early encounter with Katie ahead of the live event.
Half an hour was no time at all to wait – especially with a table full of free Dunkin Donuts and coffee – for a 20-minute sit-down with the star of the show.
A round-table affair in one of the theatre dressing rooms; not for the first time this week, Katie took centre stage, and enthralled the assembled crew with an open, interesting, honest, and unexpectedly humourous exchange.
A wide-ranging chat spanning Saturday's fight, Katie's Olympic highs and lows, paying tribute to her "Irish brother and sister" sparring partners Myles Casey and Amy Broadhurst, while also paying homage to the great Irish fighters, Barry McGuigan, Steve Collins and Wayne McCullough.
As predicted, Katie said that Serrano was a respectful fighter and was unlikely to bring the trash talk to the live event – she didn't – however, the Irish star unintentionally brought her own bit of trash talk to the chat as she threw up some air inverted commas as she spoke about a Jake Paul "fight".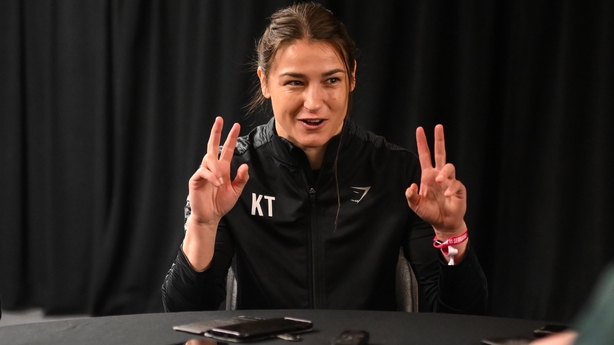 She then admitted, still laughing, that it would be her biggest fear to be on the undercard of a Jake Paul main event, before adding that he was actually a great bloke who she got on very well with.
And then, just like the sign on the whitewashed corridor walls of the Manhattan theatre, Katie exited stage left.
Back outside in the buzzing venue, the atmosphere was building as the undercard fighters, managers, coaches and promoters were sprawled about the stage area conducting a wide range of interviews in what was essentially a free-for all.
Katie Taylor's team were in attendance as coach Ross Enamait entered the arena alongside Katie's Mam Bridget, who arrived into New York last Sunday, as always her daughter's number one fan.
Twenty years watching Katie fight yet the excitement and natural mother's trepidation still very much in evidence.
Katie's manager Brian Peters, who will be part of the team in the corner, as usual, on Saturday night was deep in conversation with renowned boxing journalist Steve Bunce, who is over with the BBC Boxing Podcast team for the week, highlighting the worldwide interest in the fight.
When the live press conference eventually got going and the main players took their place behind their respective place cards, the magnitude of the historic bout really took hold.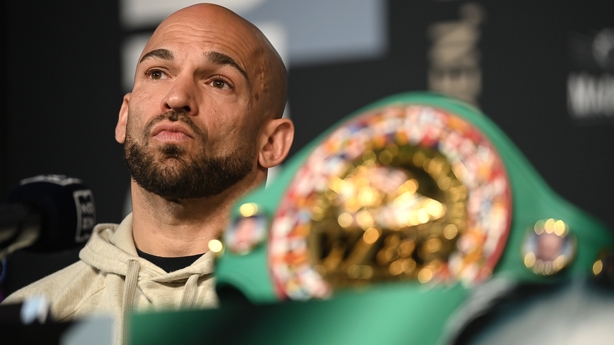 Even the main players, like Eddie Hearn, Katie's promoter, and others from Madison Square Garden, appeared somewhat in disbelief that the dream was about to become a reality.
Ticket sales, media interest, celebrity endorsement; this was no longer the biggest female fight, but rather one of the biggest and most important boxing matches this year, period – to throw in a local colloquialism for authenticity.
"I have definitely tried to take a back seat and let the ladies shine, and be more of a promoter or a professional," Jake Paul told RTE Sport in a recent interview.
"Because I am used to promoting my own fights and I have my way of going about that, but promoting someone else's fight is definitely a more chilled professional side of Jake that we see," he added.
However, on such a momentous occasion, the former YouTube star could not help himself, as he first bigged-up his boxer, before taking it up ten notches by constructing a million dollar bet with promoter counterpart Hearn.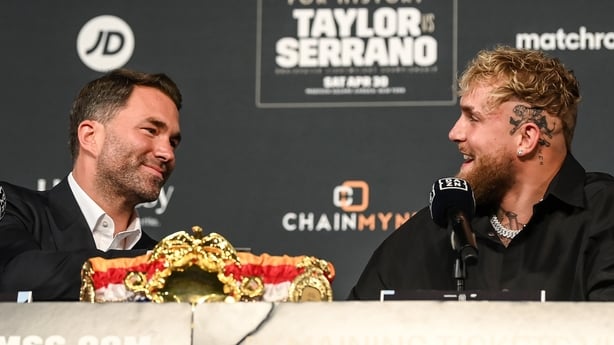 To Paul's credit, he stressed that should a rematch take place, he expects the two fighters to take home a lot more money – stating that it should be an eight figure purse rather than seven figure one that they are currently guaranteed.
Amidst the hype, Taylor's trainer, Enamait, got back to the business of the actual fight and attempted to silence the doubters, claiming that Katie was going to be at her absolute best in this fight, stressing that the best sportspeople perform on the biggest occasions.
As for Jake Paul, he plucked one final play from his ever-evolving playbook as the new face in boxing, and one that even left Eddie Hearn speechless.
"When Amanda wins, I'm giving your million dollars to her."
Jake Paul with the last words at the press conference, but roll on Saturday night to see who has the final say inside the ring.
Follow Katie Taylor v Amanda Serrano with live updates on RTE.ie/Sport and RTÉ News app from Sunday at 2.30am
We need your consent to load this rte-player contentWe use rte-player to manage extra content that can set cookies on your device and collect data about your activity. Please review their details and accept them to load the content.Manage Preferences