Katie Taylor is not concerned whether she enters the ring on Saturday night as favourite or underdog as she puts her world titles on the line against Amanda Serrano.
The undisputed lightweight champion's only concern is that she sees her hand hoisted victorious at the end of the bout to maintain her unblemished career in professional boxing.
And the former Olympic champion said that she in great shape heading into what she describes as a "mega fight" against the seven-weight world champion.
A fight that many are describing as too close to call, there is a suggestion that challenger Serrano will enter the ring as the slight favourite with the bookmakers, however, Taylor said that it is one side of her career that she has never paid any attention to.
"It doesn't matter to me to be seen as an underdog or the favourite," said Taylor, sitting down with the travelling Irish media ahead of Thursday's high-profile press conference at the Hulu Theatre in Madison Square Garden.
"I don't take any notice and I couldn't tell you whether I was underdog or favourite in any fight I've had.
"I couldn't care about what others think about the fight, what matters is what I think about the fight and what my mindset it. That's all that matters to me.
"I feel in great shape and I am ready to put on a great performance, and it's just great to make history."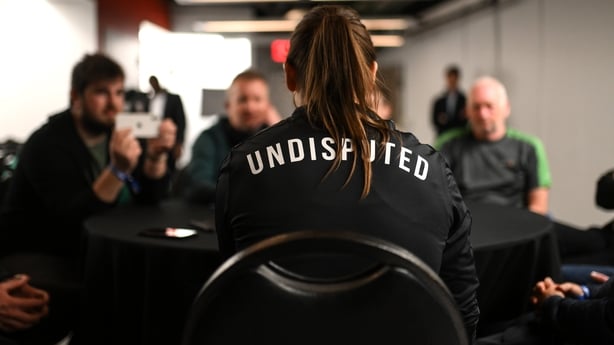 History making indeed, the fight between the Irish legend and the Puerto Rican New Yorker sees female boxing headline the iconic New York venue for the first time in its 140-year illustrious history.
The fight promoter believe that the arena is set to be sold out by the time the action kicks off on Saturday night, while over 4,000 travelling Irish are making their way to New York for the historic occasion.
And while Taylor has yet to taste defeat in the professional ranks, she is under no illusion in relation to the challenge that await in Saturday's main event, as she takes on a fighter, like the champion, considered one of the best pound-for-pound punchers in the women's game.
"Of course, I'm expecting the decision on Saturday night," said Taylor.
"I don't go into any fight expecting to lose. I train to win and I'm expecting to come out victorious, and if anything didn't go my way, that would be a very disappointing night.
"I'm aware of the challenge ahead of me and I'm prepared for a tough challenge. She's a great fighter and a great champion. These are the sort of challenges I love in the sport.
"These are the fights you dream of as a kid, it's champion v champion. Headlining Madison Square Garden, this is exactly where I want to be."
And yet, it is a fight that almost failed to materialise, being years in the making, delayed by purse negotiations and pandemic postponements, during the height of the Covid concern.
But Taylor is delighted now that the fight was never agreed and it now takes its rightful place in a suitable arena for such a high-profile encounter.
"The fight fell through a couple of times before and it would have been a shame if it didn't happen," said Taylor.
"I was afraid that the fight would never happen, and it was going to be one of those Floyd Mayweather, Manny Pacquaio fights that take years, but it's great that it's actually happening.
"I don't know if she was avoiding me, but I'm glad now that the fight fell through as we are in a position where we are making history now with this fight and obviously making a lot more money now that we would have been a couple of years back.
"The fight has been growing over the last two years and its' history making.
"I think initially it was meant to take place in Eddie Hearn's back garden, so now it's happening in Madison Square Garden, with a packed 20,000 arena is a bit better."