Before a punch has been thrown in anger in New York, Katie Taylor's promoter Eddie Hearn is already pondering a future fight that could see the Bray native finally fight in front of her home crowd.
Taylor has fought 20 professional fights since turning to the paid ranks, following the disappointment of her last amateur outing at the Rio Olympics, and yet, all of the encounters have taken place outside the country of her birth.
Fighting out of the Matchroom Promotions stable, it was only natural that Taylor would primarily fight on big cards in Britain, and so it transpired as she featured on world title events in London, Manchester and Cardiff.
Liverpool's Echo Arena is about as close as Katie has come to fighting in her native county of Wicklow with later fights moving further afield to Boston and New York.
And again, fight number 21 will take place in the iconic Madison Square Garden this weekend, across the Atlantic Ocean from her birthplace, and while there will be a large Irish contingent cheering her on in the much-hyped fight with Amanda Serrano, in reality, Taylor will be the away fighter as her opponent grew up a stone's throw away in neighbouring Brooklyn.
Too close to call for many, there has already been talk of not just a rematch, but a trilogy of fights between two of the most respected women fighters in boxing, and should they meet again following Saturday's fight, Hearn hinted that it might be the right time to take the fight to Ireland.
"I just think it would be very disappointing if she never got the chance to go to Ireland and let her have that moment," said Hearn, speaking to the press at the media workout at Madison Square Garden on Wednesday.
"We will see what happens. It's too early to comment on anything that has happened," added Hearn, when asked if it would be an easier eventuality in relation to the closing down of MTK Global. "But if she beats Serrano maybe we could do the repeat there."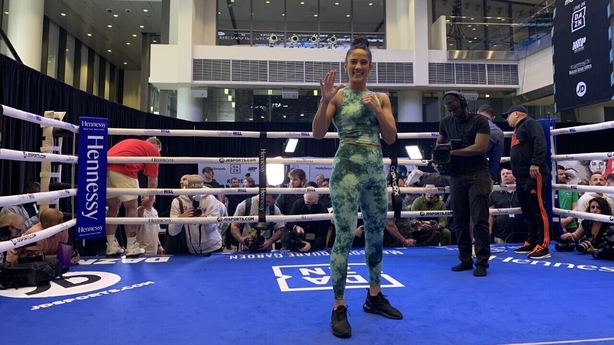 Looking ahead to the fight, Hearn said that he was confident that the venue would be sold out – a capacity of around 20,000 is the norm for boxing cards at the New York arena – and he still believes that Taylor will take care of business despite the fact that bookmakers are now giving Serrano a slight odds advantage.
"We have sold 14,000 tickets, we are going to sell the whole thing out," said Hearn.
"It is only Wednesday and it is quite unusual in boxing to get such a feeling of good will for an event to do well.
"I have got to know Katie over the years. I know this week she isn't messing around," said Hearn.
"I think Katie is going to stop her, I know it is not a popular pick as you always go Katie on points, but she has got look in her eye.
"I saw her in the head-to-head yesterday and she is here to fight. This is her "Garden", this is her house, and these are the moments you see her at her very best.
Taylor's Puerto Rican opponent looked strong, sharp, fit and focused in the media workout on Wednesday and in a sense, took over proceedings, egged on by YouTuber and promoter Jake Paul, who raised her hand in victory following her work in the ring.
And Hearn admitted that the challenger will prove a real handful for Katie going into Saturday's highly anticipated encounter.
"Serrano looks great too; really strong and you can see the power of her punches," said Hearn.
"She is going to be very dangerous. It is going to be a thriller."
Follow Katie Taylor v Amanda Serrano with live updates on RTE.ie/Sport and RTÉ News app from Sunday at 2.30am