Kellie Harrington has achieved two significant milestones in life in the space of a week and she knows that timing is going to be everything in the bid to become a double Olympic champion.
Days after getting married, Harrington moved into a new home in Dublin with her wife Mandy, before returning her immediate focus to boxing.
With the World Championships just a month away, and struggling to get time off from her day job in St Vincent's Hospital Fairview, there can be no time to stop and reflect on "amazing" moments such as her wedding day.
The Dubliner has allowed herself some breathing space from the constant demands of maintaining weight, but that now comes to an end.
Harrington is two years out from the Paris Games. Qualification will come into focus next year so the upcoming tournament in Turkey is not the be-all and end-all even if it is to regain the world title she first won in 2018.
Speaking at a Spar promotional event, she said the tournament is all about being in the right place physically and mentally for the Olympic qualifiers.
She said: "I'm not saying that I'm not exhausted or anything like that, but I've kept training. And yeah, I've been eating all around me, that is the only thing. But I have kept training and I'm enjoying the grub. I've started to tone it down though this week with the food and now just focus, focus, focus on what's ahead of me.
"I've had a little bit of time off. I've just been tipping away and I want to be really hungry next year for the start of the qualification. I'm not going to be something completely different than what I have been already. If I can be 1% or 2% better than what I was, I'd be happy with that.
"I know that I am the women to beat [in Turkey]. I know that the target is on my back. But I do just see myself as a contender. I know that sounds really crazy, but that's what I do see it as, as a contender.
"And I also see these World Championships as massive, but it's preparation for next year when the qualification system starts. I'm not really sure what way the qualifying is happening, but this is just preparation.
"What will happen will happen. What will be will be and I'm going out there to make weight (60kg) and hopefully get a few fights under my belt and to see how it goes. It's about preparation to see where I'm at and then, hopefully after world championships, I've left enough room to be able to take it up a few levels for next year."
Harrington returned to the ring after the Olympics by winning in the Strandja tournament, taking a unanimous victory over Serbian opponent Natalia Shadrina in the lightweight final.
As well as maintaining her momentum, she was able to assess some of the new talent coming through in this Olympic cycle.
That will also be a factor in the upcoming Worlds. An open draw, without any seeding, leaves a lot of possibilities.
"[Strandja] was like a mini World Championships, you know, like there was really tough competition in it. I was boxing world class girls. I boxed three new opponents.
"After the World Championships, I'll know where I am at, what I need to do, what I need to work on.
"I'll also see who's in the 60kg category because with a lot of new girls coming through all over the world now I'll be able to look at them and see [what I could be facing in the future].
"The qualifications is, I think starting next year, so I'll be able to look at them and see what type of styles is out there for me.
"At the moment it's a kind of aggressive type style. Everyone's kind of aggressive. I seem to be coming across a lot of forward or aggressive fighters. So yeah, let's say I'm not worried about who I meet or anything like that."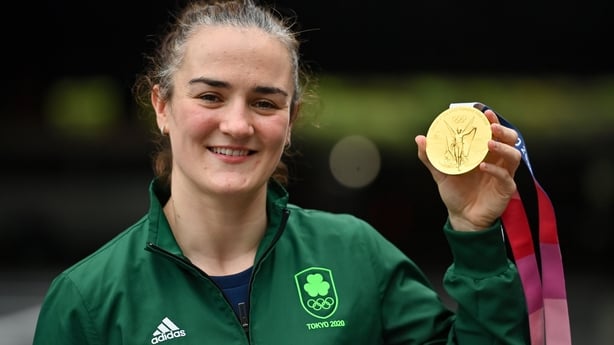 Many Olympians have fallen short in the bid to retain the title four years on from their initial win. Harrington is bringing an open mind into her short-term future, with learning just as valuable as any winning feeling right now.
"For 2023 [winning] is the main priority because if you don't get it right in 2023, there is no 2024.
"You know, 2022 is preparation. It's getting back up on the saddle and taking off again, and just getting it right. It's all about the building blocks and getting the foundation in and we'll see then help how it pans out for 2023.
"I'm the type of person who just takes it day by day and what will be will be and I'm not afraid of losing. And that's not saying that I want to lose because I really don't want to lose. But I'm not afraid of it because I know what loss is like.
"And I think it's in a loss where you're able to grow. And if I am going to lose any fights, hopefully it's before the qualifiers next year where I can grow from it then and get ready for the qualifiers."
The motivation for the Olympic gold medallist is not just reaching the top of her sport again.
The next two years will be among the busiest of her career, with championships and qualifying events yet to be scheduled.
Having come through the process before, and a busy period outside of the ring, her mindset has evidently never been clearer.
"I'm not a person who's like hungry for success. I'm a person who just wants to box. I just want to do something. I just want to get up out of bed in the morning and have a purpose and have a name. That's exactly what I want.
"Success is great. But with success comes a lot of other things. A lot of good things and a lot of bad things. And I enjoy success.
"But I just want a purpose. After the Olympics was over, I was like, 'Right, now what? What's my next life purpose? What's my goal?'
"Not everybody is going to win an Olympic medal or make it to the Olympics and that's fine.
"I'm happy enough competing because that gives me a purpose some some structure in my life."