Jason Quigley was stopped inside two rounds as Demetrius Andrade delivered a devastating defence of his WBO world middleweight title in New Hampshire.
Donegal man Quigley boasted a 19-1 record heading into the bout, but he had no response to a ferocious start from the undefeated American and the referee stopped the contest after two minutes and 24 seconds of the second round.

Andrade started with his customary fire, with a blistering attack at the end of the first round flooring a stunned Quigley – another challenger to hit the canvas at the start of an Andrade world title defence.
"I feel disappointed," Quigley said afterwards. "I'm disappointed that it was over so quickly. I was put down, yeah, but it was like a flash knockdown and I felt as if there was a lot more in me and a lot more to give.
"I feel very disappointed for all of the fans who travelled over and came to support me. They didn't get the right chance to have a better atmosphere.
"I was put down, but I wasn't hurt. Everything the ref asked me to do, I did it: 'take a step left, take a step right', I was almost doing it before him.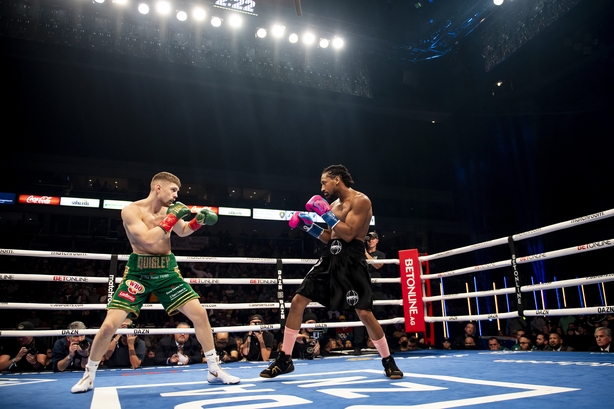 "It was a special atmosphere. It's a bittersweet one because it was special with the atmosphere and the support, which was unbelievable. I'm just so disappointed that I didn't get the chance to make more of an atmosphere after travelling all this way.
"I'm looking forward to spending time with my family and having a good time with them over Christmas. I put a lot of time and dedication into this fight. I'm not even going to think about what's next. I want to spend some time with my family first."
For Andrade, it was mission accomplished.
"I did what I said I would do, I looked good and felt good," he said. "I delivered a message tonight – what's next and who's next.
"Every time I get in the ring, I do something different, and I can do it all, and whatever I need. Patience. So many times, you see people get knocked down and then they knock the other guy down. So, I keep patient in there and wait for the shots to land. But you asked for KOs, and I give you KOs, so let's go.

"I'm 31-0, Olympian and world champion, so what more do I need to do?"