Kellie Harrington has revealed a conversation with fellow Olympian Michael Conlan was not enough to change her mind about turning professional, after the Belfast boxer tried to tempt her into his new management stable.
Conlan and his brother Jamie recently brokered a deal for Tokyo star Kurt Walker to sign with Top Rank as he exited the Irish amateur boxing field.
The brothers have eyed up a number of events in Belfast under their management and promotional venture and Walker – their first signing – will be a big draw as he begins his new career.
Walker showed his talent by reaching the quarter-finals of his weight category at the Olympics but he lost to American Duke Ragan in a heartbreaking manner on a split decision.
With women's boxing more popular than ever – as well as more lucrative – Harrington has admitted she did receive contact from Conlan, with a view to following Walker's path.
The gold medallist has concerns over the traps which can come from turning professional.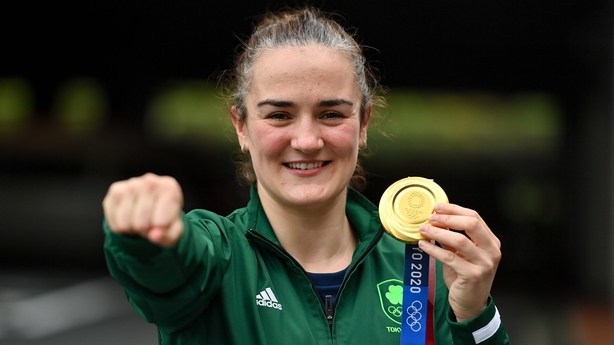 While Conlan was a figure she could have called upon as someone she knows, the overall goal of leaving a legacy behind for future generations of amateurs was one of many reasons for maintaining her original stance.
She said: "I've spoken to Michael, but I've no intention of turning professional. I think everyone respects and understands that. I do think if I was to turn around and say, 'You know what? I think I will turn professional', I think I could turn pro in the matter of… that day.
"It's always nice to have offers. It's nice to feel like, 'Oh they actually think I could be a pro.'
"It's nice to hear that but at the same time, when I think of it, what I've done is great but if I walk away now and go professional, I wouldn't have any space to come home and try and negotiate things for the next generation coming up."
Harrington feels Walker will make quick strides in the professional game and the loss of the quality he brings to their high performance team will not be easily overcome.
She cited differing circumstances for the paths they've chosen and is understanding of why he took Conlan up on joining Top Rank.
"I'm absolutely delighted for Kurt to turn over in the pro ranks.
"What Kurt has done is great for him. I actually cannot wait to follow him, in his career, because I think he's going to do massive, massive things.
"He was so unlucky not to medal out in Tokyo. It was skin of his teeth to not get that medal out there. I think things are going to come for him. He's class.
"He has a fiance and has a young child now. He has to do what's right for him. That's where the business end of it comes in.
"When you have a young kid and you want to provide for them when they're older, that's when you have to start looking at different options.
"He's absolutely top class. Having him in the gym, he will be missed. Success breeds success, iron sharpens iron, and we've had a little piece of iron that's after leaving now.
"We're sad to see him go, but we're going to love watching him growing in his next moves."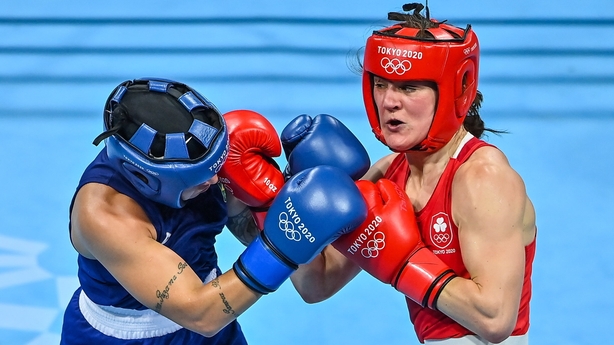 The Dubliner had been preparing for the World Championships next month in Turkey but an increase in Covid-19 cases in the country has seen the event postponed.
The news came through as the Irish team were concluding a camp Sheffield.
Harrington had temporarily cast aside plans to work with IABA and sports bodies to increase the investment in youth boxing on the back of her Olympic success in order to prepare for the event, but with the Worlds off the table for a while, she has changed her focus.
Discussion will begin with Dublin City Council to extend the number of avenues for children looking to use boxing to change their direction in life.
"For me it was a welcome postponement because I've had a very busy year. I was sad though for other girls coming through, but the way I look at it is it gives those other girls coming through a lot more time because we've a lot of new people on the scene.
"I am hoping to work with Dublin City Council – I'll put it out there because if I put it out there it'll more than likely possibly happen – to open a club. It wouldn't be to open a boxing club, but a boxing gym where kids from the community can come at certain times.
"They'd have to do their homework and get a hot meal and a training session. We'd also take some kids from school, but my vision is we won't be taking fifth class and sixth class, it'll be leaving it to the schools for who they put forward for training sessions.
"It would be people who come from a disadvantaged position where they are going down the wrong pathway like I was in life.
"They could go down to the club and train there without having to worry that they have to fight or compete. It would be something totally different.
"It's not a boxing club so the boxing clubs in the community don't have to pile up on me and say 'she's opening up a club down the road'.
"It will be something for kids to take themselves down a different pathway. Myself and Joey O'Brien (boxing coach) are looking to do that with Dublin City Council.
"Fingers crossed, that gets off the ground in new year. I'm going to throw everything into that. From where I come from and how I got into boxing, this is what I'm passionate about."
Kellie Harrington was speaking at an event which confirmed a new three-year partnership with Spar to support her ahead of the 2024 Olympics.