Eric Donovan says the results from an independent investigation into the Olympic boxing competition at Rio 2016 were "alarming" but hopes it is the starting point for a cleaner future.
The head of the investigation commissioned by the International Boxing Association (AIBA), Professor Richard McLaren, determined that an informal bout manipulation system existed, with Michael Conlan's match against Russia's Vladimir Nikitin among those deemed "suspicious".
The report states that "approximately nine bouts" were "suspicious beyond the two raised in the media at the time" - one of the latter in reference to Conlan's controversial split decision loss to Nikitin in a bantamweight quarter-final and the other being a gold medal heavyweight match between Russia's Evgeny Tischenko and Kazakhstan's Vasily Levit.
The Belfast fighter's match is cited as one of two bouts that were "the catalyst for the house of cards to come crashing down" in terms of the negative publicity and subsequent action regarding the officiating of boxing in Rio.
"Some of the findings from the report were really alarming," the professional boxer and former Irish amateur champion told RTÉ Sport.
"It's no real surprise to the boxing people because we kind of knew there was suspicious behaviour going on for quite some time.
"AIBA really needs to get its act together. I think that's why they are forthcoming and proactive in getting this report up and running because they want to save their place in the Olympic Games and hopefully they can right the wrongs and clean up their act."
Closer to home, the road to Paris 2024 begins with the National Elite Championship finals on Saturday.
None of the seven Olympic boxers will be on show, with Jake Rapple (54kg), Amy Broadhurst (60kg) and Aoife O'Rourke (75kg) all receiving walkovers.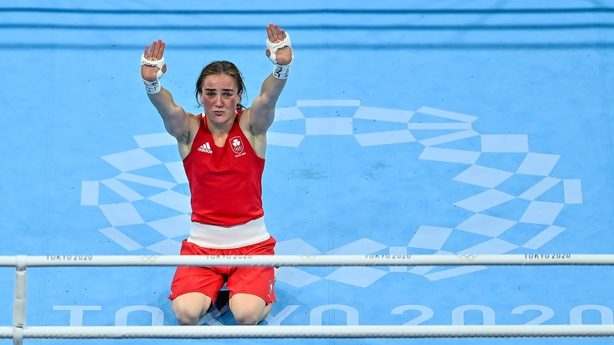 Is the event diminished somewhat by the absence of gold medallist Kellie Harrington, plus Aidan and Michaela Walsh, Kurt Walker and Brendan Irvine?
"It is," says Donovan. "As a five-time national senior elite winner, I know how hard I had to work to win all those titles, and how proud I am in winning them. When I won them, I had the best of the best in the division.
"When you have the number ones not weighing in, and choosing to opt out, it does take the gloss off the titles.
"I know there is moves going on within Central Council to try and make that mandatory."