Oleksandr Usyk revealed he sacrificed his dream of studying theatre arts at university in order to pursue boxing – and the Ukrainian is now just one win away from becoming world heavyweight champion.
Usyk has previously talked about wanting to pursue acting when he ends an already distinguished career in boxing, where he followed up winning Olympic gold at London 2012 by becoming undisputed world cruiserweight champion.
The unbeaten southpaw is now set to challenge Anthony Joshua for the WBA, IBF and WBO heavyweight titles in front of more than 60,000 fans at Tottenham Hotspur Stadium but divulged his life could have taken a different path.
"After I finished school I wanted to go to the theatre arts university, but I was already boxing and I won the junior championship of Ukraine," he said, via a translator.
"Because I realised that I won the championship in Ukraine, it might be a step for me for something so I decided to enter physical education in higher education.
"But I like theatre, I write poems, I learn to play guitar, I like different things in life."
As for whether a lucrative career in Hollywood beckons once he has hung up the gloves, Usyk, who insisted he would play himself in any film of his life, said: "Money is good but it's not the best thing in life.
"I have everything to be happy in my life, I've got my family, my wife, my team, my friends. I'm a very lucky man. I think (acting) is in the future."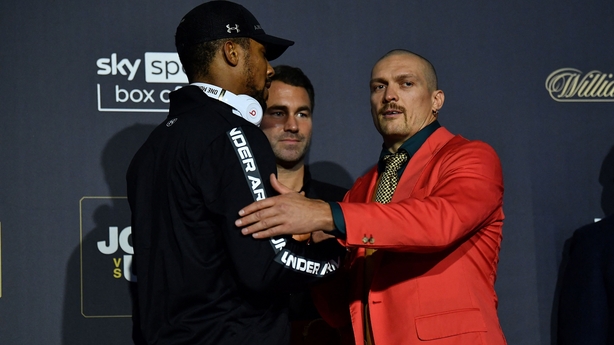 He brought a sense of theatre to Thursday's press conference, having adopted a distinctive look in the build-up to this bout by shaving his head and sporting a handlebar moustache in what he said was a nod to his Cossack ancestry.
While Joshua arrived at this weekend's venue wearing a black tracksuit and cap, with headphones around his neck, the eccentric Usyk attracted attention with a garish three-piece red suit, with orange waistcoat and yellow tie.
Asked if he was trying to channel notorious Batman villain, the Joker, Usyk, whose surname translates to moustache in Ukrainian, said: "Joker is not a positive hero. I'm a positive hero, it's not the Joker, it's me.
"Are you interested in my suit? That's why I put it on. My look and this (pointing to his moustache) and this (pointing to his head) is 17th Century, it's Ukrainian warrior, Cossack. It's my ancestors.
"I'm a really unpredictable guy so you need to write about something, you need some new things to look at, to talk about. I will work on that."
While there was an intense staredown between Joshua and Usyk, the pair cut relaxed figures during their media engagements and shook hands before the final press event and after coming face to face.
Joshua will have the advantages in height, reach and almost certainly weight on Saturday night but Usyk is uninterested in changing opinions leading up to the fight.
"People always like to talk about what they want to happen, they say what they want to be their strengths, so if people say that Anthony is stronger than me and I'm weaker, that's what they want to believe," Usyk said.
Neither is Usyk occupied with the weaknesses Joshua has shown in his professional career, most notably when the Briton rose from the canvas to beat Wladimir Klitschko at Wembley four years ago.
"Everyone has got vulnerabilities. You can show them or you can hide them but we all have them," Usyk added.
"And the Anthony who was fighting with Klitschko, I don't make a connection to the fight that is going to happen now because it is a different fight."