Katie Taylor steps into the ring tonight to defend her undisputed world lightweight against one of the trailblazers of women's professional boxing.
While Jennifer Han may not be a household name even among boxing fans, she has been plying her trade as a professional fighter since 2009, when Taylor was still competing as an amateur and well as turning out with the Ireland international soccer team.
The 39-year-old Han is the mandatory challenger for Taylor and having held the IBF featherweight title for five years, the American boxer makes the move to 135lbs.
With a record of 18-3 and one draw over the course of her 12 year career as a professional fighter, this showdown with Taylor is easily the biggest of a career spent fighting mostly in her home city of El Paso, Texas and Mexico.
Han has plenty of experience on her side but has been out of the ring for close to two years and with Covid-19 putting her fight plans on hold, she gave birth to her second child unsure if she'd ever return to the ring.
However when the call came from Taylor's camp to make the fight, Han had no hesitation in saying yes and the 16-1 long-shot is hoping to cause the biggest upset of her long career.
"I worked my entire life for this kind of opportunity and I'm excited to be here," said Han.
"It's already been life-changing and I've overcome many obstacles to get to this point, but I've never fought on this kind of stage. I do have a lot of respect for what Katie has achieved."
Han was originally scheduled to fight on the undercard of Taylor's proposed fight with Amanda Serrano last May.
The pandemic put a stop that show and what would have Han's highest profile fight to date, but the Texas native is now facing up to an even bigger bout and it's one she believes she can win.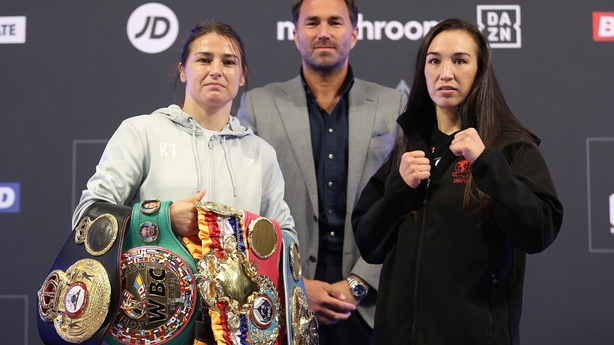 "This is huge, it's the biggest fight of my life and you can't get bigger than Katie Taylor," she said. "I'm going to be fighting for all her belts, this is the greatest opportunity that God has blessed me with, I've worked my whole life for this, and I am ready.
"Katie has amazing strengths, an Olympic gold medalist, Undisputed World Champion, she's beaten a lot of talented fighters, but they are not the same as me, and I think what I bring to the table she hasn't seen before so I hope that I surprise her with my technique.
"I hope she underestimates me and takes into consideration all the things that are stacked up against me. I hope she hasn't trained hard; she's taken me for granted, that'd be sweeter for me.
"I was hoping to just be on TV and become a two-weight World Champion, but this is the biggest platform possible for me. I'm not going to take anything away from her, but she's beatable. Believe me, my camp and I are studying her inside and out. We have plenty of strategies."
For her part, Taylor insists she is not looking part despite the fact that are higher profile opponents still waiting out there for her in the shape of Serrano and Jessica McCaskill.
There's always the danger that a wiley veteran like Han could produce a major shock for Taylor but the Bray fighter is aware of the danger that her opponent brings and insists that complacency will not be an issue as she looks to defend her crown.
"This is a huge fight for both of us and I don't overlook anyone", Taylor said.
"I can't afford to get complacent, in any of my fights. If you start to get complacent, that's when you start losing. I have prepared for this like I would any other, I'm expecting a tough challenge Saturday and I'm prepared for that.
"For all my fights, I always expect my opponents to bring their very best, better than they've ever performed before. I think she's a very good fighter, very technical with a good amateur background, so I'm ready."