Life is slowly beginning to return to normal around Kellie Harrington's homelands and the streets of north-east inner city Dublin, and things are also starting to calm down for the Olympic gold medal-winning boxer.
A rollercoaster few days for Harrington since her return to Dublin from Tokyo, which included an open-top bus parade and a continuation of the Portland Row street party.
And now the world and Olympic champion is taking time to put her feet up, indulge in the odd coffee slice or two, and catch up with all that is going on around the mean streets of Carrigstown – the fictional Dublin suburb that is home to RTE television's Fair City soap opera.
Harrington joined an elite group of Irish athletes by securing an Olympic gold medal, and an even more intimate circle of three who have landed the top prize in amateur boxing.
Michael Carruth did it in Barcelona in 1992, Katie Taylor brought home the gold from the London 2012 Games, and now Harrington's name will be synonymous with Tokyo 2020.
Harrington beautifully boxed her way past Brazil's Beatriz Ferreira to secure the historic result, and while the Dubliner has been taking in the atmosphere back home, she has yet to ponder the significance of the achievement within her sport of choice.
A return to boxing has certainly been hinted at by Harrington, but she has yet to decide if she will resume within the amateur ranks on the road to more Olympic glory in Paris 2024, or whether she will hang up the headguard and move into the professional game, a route well-travelled by many Olympic medal winners before her.
"I'm not even off the plane a week yet, and I genuinely don't know what I am doing, whether I go pro, or whether I'm not going pro," said Harrington, speaking to RTE Sport.
"At the moment, I have my feet up on the chair, eating biscuits and cakes, so if I do stick around I may have to move up a weight. I saved all the Fair City epiodes when I was away so, I'm catching up with the ones that I have lost in between the final and today."
"I've had some offers [to go pro], but I don't know what to do yet," she added.
"I'll be coming to that decision sooner rather than later because I want to get back training.
"It's a big decision to make, and I have to make sure I make the right decision not just for me, but for my family and for [partner] Mandy."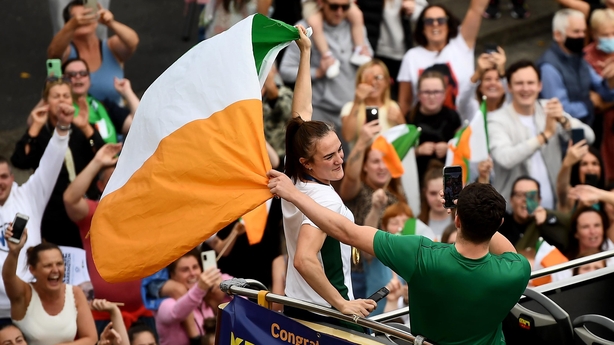 And should she join the paid ranks of the sport, the comparisons with Katie Taylor will continue to follow, however, Harrington stressed that Ireland's other female gold medallist and current lightweight champion is not in her thoughts.
"Katie Taylor is a phenomenal athlete but she does her thing and I do my thing. And at the moment this is my thing and this is my time.
"I'm not thinking of Katie Taylor, I'm not thinking of fighting Katie Taylor, she is not even on my radar.
"She hasn't been on my radar. She will continue to do great things, and I'm sure whatever I do will be great for me."
For the time being, Harrington is basking in the knowledge that she has lifted her local community, and the entire nation thanks to her exploits in Japan, and is just happy to see people out and about enjoying themselves and mingling freely following a tough time throughout the Covid crisis.
"It hasn't sunk in what I achieved in boxing, but it has definitely sunk in what I have achieved to lift the nation and the community, making people smile and be happy," said Harrington, speaking in her role as an ambassador for Team Ireland sponsor FBD Insurance.
"People have been curtain-twitching for the last two years with Covid, all of a sudden being out on the streets, shoulder to shoulder with their arms around one another, crying and hugging, that's really special to me and I don't know if I'll be able to explain how I feel about that but that's an achievement in itself.
"And it's not half-hearted, they've got big smiles on their faces, you can even see their teeth. People will forget what you have done but they will never forget how they made you feel."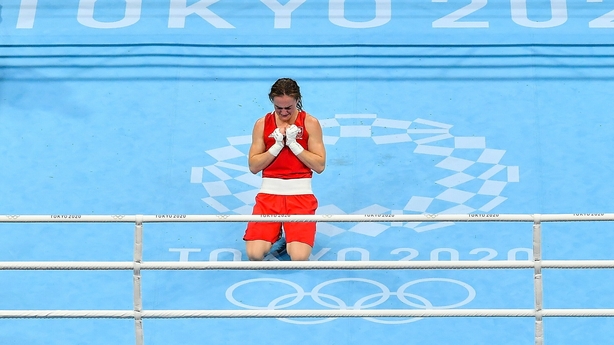 Going into the gold medal encounter, Harrington felt that the pressure was already off as she had been told of what her achievement had created back home. And she felt that she was already a winner before stepping foot inside the ring to box for that coveted gold medal.
"It felt like another normal fight, because everything else was a bonus. I didn't know what was going on at home, but I did know that I had the support of the nation.
"I felt, 'no matter what I do, I've already won', because I had won the hearts of the nation, I won the smiles of the nation, the tears of joy of the nation, and I just thought, 'that's a win, that's golden'.
"It's so genuine, it's not fake. That's an Olympic gold medal to me in itself."
Harrington wants to use the opportunity to help bring much-needed funds into the locality to support youth clubs and improving boxing facilities, and while she joked at turning her parents' Portland Row abode into a cafe to fund her coffee slice habit, she has a serious message for those in power to loosen the purse strings and divert funds to places that require it most.
"We are going to get a lot more people through the doors of boxing clubs, but we need a lot more funding to facilitate them. The facilities in some boxing clubs are quite run down so we do need funding to go in there.
"We also need funding to go into the local youth clubs, because for young troubled teenagers, they will end up in youth clubs.
"And when I was in a youth club and wanted to get into boxing, they brought people down from the Dublin Docklands boxing club to speak to us about boxing. They help you find your pathway outside the youth club.
"This needs to be the start of something big for boxing, because we have been hit really bad. Some clubs have closed down because they cannot pay the bills and the funding is not there.
"It's better going into boxing, youth clubs, and sports clubs than some of the places that it is going."