Aidan Walsh guaranteed Ireland at least one more medal at the Olympic Games with an assured performance in the welterweight quarter-finals although it later emerged that he had suffered a "slight strain" to his ankle.
The 24-year-old was composed throughout against Merven Clair of Mauritius, repeatedly catching his opponent on the counter and landing some punishing straight right hands.
Southpaw Clair had occasional joy with his looser style but Walsh led on three of the five judges' cards from the first round and was able to sit back and pick off his opponent in the second and third.
Three judges gave the fight 30-27 to Walsh, one 29-28 and the last scored it 29-28 to Clair, meaning a 4-1 split-decision win for the Irishman, who will take home bronze at least.
Walsh now meets Britain's Pat McCormack at 4.03am Sunday (Irish time) for a place in the final and a guaranteed silver.
However, after the fight, Team Ireland confirmed that the boxer suffered a "slight strain" but "they're looking forward to the fight on Sunday."
The injury appears to have occurred as Walsh celebrated his victory in the ring although he was able to take part in media duties afterwards.
OFI chief executive Peter Sherrard told RTÉ's News at One: "He's fine, just a little bit of a scare.
"They've had a good look at it and feel that he'll be ready and fighting fit so that's the important thing and great news ahead of that big fight."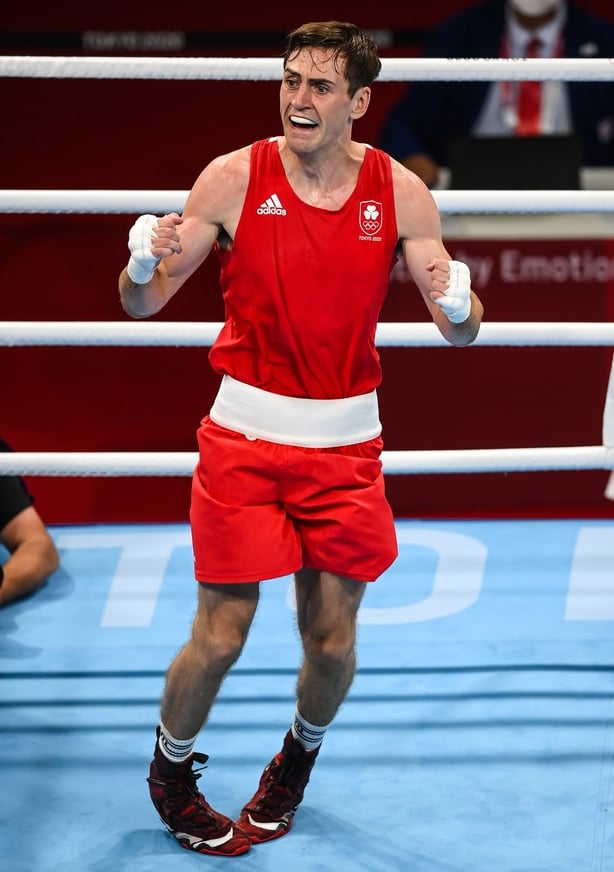 "It's incredible," was the 24-year-old's reaction to becoming the latest Belfast boxer to win an Olympic medal for Ireland.
"I watched those guys in the gyms all the time. Paddy Barnes, Mick Conlan... seeing them coming back to Belfast on the big buses.
"The amount of training I've put in and the amount of sacrifices... my coaches, my club coaches, my family and girlfriend, everybody has given me so much support and I'm just so grateful.
"I just do what the coaches tell me. They come up with a game plan and you just do it, just listen. Boxers say it's like a computer game, they're playing a computer game, I'm just the operator in it and doing my best to do what they're telling me to do.
"I'm happy with my performance but I want to progress on. You want to be the best and I feel like I'm improving all the time."
'He's fighting Ireland's Aidan Walsh!' - @aidanwalsh997 is looking forward to his semi-final bout against Britain's Pat McCormack on Sunday after securing bronze#boxing #olympics #tokyo2020 #RTESport

📺 Watch live - https://t.co/lLKXNhKPkF
📱 Report - https://t.co/alWqad7ePY pic.twitter.com/Jru9Ez64xV

— RTÉ Sport (@RTEsport) July 30, 2021
When told he would face Britain's McCormack next, who has beaten him in three previous meetings, Walsh responded: "He faces Ireland's Aidan Walsh, that's the way I'm looking at it.
"It's just going in there with the belief that you can beat anybody, with the right tactics and coaches. I'm getting better and better every fight."
Walsh also paid tribute to "my best friend" and older sister Michaela, who also competed in Tokyo and was in the Kokugikan Arena to cheer him on.
"When I was younger, everybody was afraid of my big sister, it wasn't a big brother!
"I would do anything for her and she would do anything for me.
"If it wasn't for her I wouldn't be here because I would have stopped boxing. When I was younger, running about the streets, she was the one who told me 'wind your neck in' and saw the talent I had."