After becoming the seventh Irish boxer to qualify for the Tokyo Olympics, Emmet Brennan highlighted the positive environment within the camp.
Brennan had to go to a box-off after losing his quarter-final bout at the European Olympic qualifiers against Croatian Luka Plantic on Sunday.
It meant the 30-year-old Dublin light-heavyweight's Olympic hopes rested on a face-off against Liridon Nuha of Sweden at Le Grand Dome but he held his nerve, edging an extremely close encounter to become the seventh Irish boxer to make the Games along with Brendan Irvine, Kurt Walker, Aoife O'Rourke, Kellie Harrington, Aidan Walsh and Michaela Walsh.
"It's pure elation; all the sacrifice and hard work has been worth it," Brennan told RTÉ Radio 1's Morning Ireland after securing his ticket for Tokyo.
"I'm over the moon, and over the moon for my family as well. I was confident I won the fight even though I got points took off in the last round, which made me a little nervous. It's pure elation; I'm still pinching myself.
"Over the next few days I'm just going to relax. I'm coming back from France tomorrow and then will go back training on Monday. It's about resetting and going again. I have had a few injuries coming up to this tournament and I'm only going to improve in six weeks."
In paying tribute to his colleagues on the Irish team, Brennan added: "This group is a bit special; there are no egos in the group.
"We have World champions, we have European champions, we have European Games champions. No one is better than each other and it just makes for a better environment."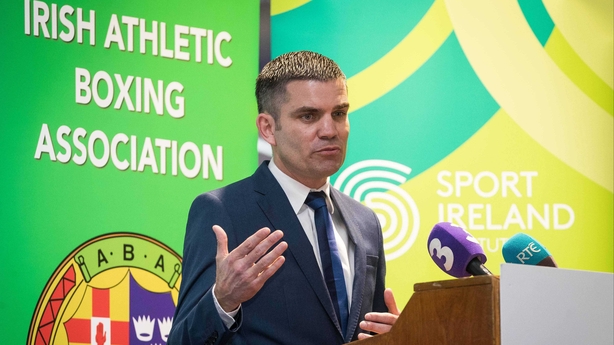 Also on the programme, IABA high-performance director, Bernard Dunne (above) said that a return of seven boxers quailfied for Tokyo was testament to the hard work put in by the septet.
"I wouldn't say we exceeded expectations. We came out here with a plan for all our athletes to have an opportunity to qualify. I'm extremely happy for the seven that were successful.
"It's been a long journey to get here, they've had to show real resilience to keep going throughout the last two years, especially. They have worked hard, stayed driven, and have been focused. I am delighted for the athletes, they have put so much into it. They have got just rewards in fairness to them."
Dunne refused to be drawn on a recent document distributed to the board of the IABA which is critical of his stewardship of the high-performance unit.
"To be honest, I don't see most of it," he replied.
"My main focus is that the athletes are not distracted by it. My job is to serve them, serve the coaches and to make sure they have all they need to perform in terms of having the right strictures and right processes in place.
"As we have seen out here the team has performed. They have now won 21 international medals in the last two-and-a-half years."