Stevie McKenna returns to the ring later this month, and the Monaghan prospect has been getting world class sparring ahead of his eighth professional fight.
The 24-year-old has just finished a camp in Las Vegas, helping world champion Josh Taylor (WBA, IBF) prepare for his highly anticipated unification encounter with Jose Ramirez (WBC, WBO) for the undisputed super-lightweight crown.
McKenna is unbeaten in his first seven fights in the paid ranks, with all victories coming by way of stoppage, and having fought three times in the last four months of 2020, including two consecutive weeks in December, McKenna is looking to make a real statement in 2021.
"It's great to be a part of Josh's preparations for his fight with Jose Ramirez and it's fantastic work for me to get in there with someone of Josh's calibre, a man who is a unified world champion and going for all the titles," said McKenna.
"It's brilliant experience for me and I couldn't be getting any better work in the gym than with him and I'm really in top form for my fight on 22 May."
And while McKenna has been racking up the rounds in training camp, having sparred 40 rounds with Taylor, the Smithborough native will still look to get the job done as quickly as possible when he steps back into the ring in Coventry later this month.
The Hennessy Sports-promoted 'Hitman', who is attracting attention as a knockout artist, fights on the undercard of Sam Eggington's WBC Silver Middleweight Championship clash with Carlos Molina, and is still working his way up the levels on the professional circuit.
However, he already believes that he has what it takes to trade at world level having sparred champion Taylor and previously with the other super-lightweight belt holder Ramirez.
"Just sharing the ring with Josh, he's a different style of fighter to Ramirez, he's a southpaw and very sharp.
"I have many different ways of fighting different guys, southpaw or orthodox, I can box when I need to box and fight when I need to fight, it's just about learning from Josh and seeing what level I'm at to be sharing a ring with him.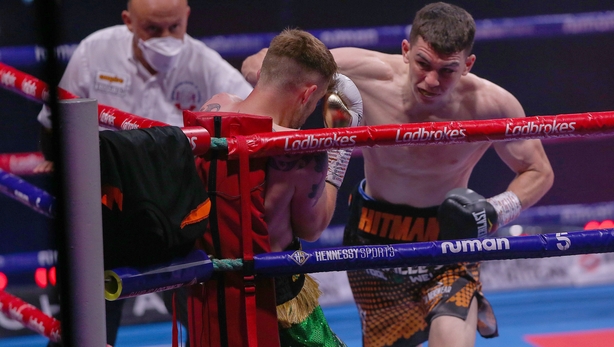 "I'll be heading back to Ireland on Sunday. On this trip we've been to Mexico, LA and finished in Vegas.
"I'm in the best shape of my career, I've improved so much, I just can't wait to be back in the ring and live on Channel 5.
"I know that I can go in and mix it with these guys and I'm up there at that level, I'm just really looking forward to getting up to the next level and then fighting for world titles."
And looking ahead to that Taylor-Ramirez world decider, which takes place on the same date, 22 May in Las Vegas, McKenna is in the perfect place to make a call on its outcome having sparred with both.
However, it is too close to call according to the Monaghan man as he knows the quality that both fighters possess.
"I've also sparred with Ramirez for a few training camps so I've been in the ring with the both of them.
"They're two different style of fighters and it's going to be a cracking fight and a fight of the year contender, no doubt about it, I'm really looking forward to it.
"It's hard to say who's going to win it but all I know is that it's going to be a great, great fight.
"With Josh I've done nearly 40 rounds and with the two training camps with Ramirez, nearly 80 rounds, so I I did a lot of work with Ramirez also, he's a great fighter, the same with Josh."