Katie Taylor's intensity was too much for Natasha Jonas in Manchester, according to Eric Donovan.
The undisputed lightweight champion took her pro record to 18-0 as she secured a victory on an unanimous decision from the judges on Saturday night.
But it wasn't all one-way traffic, as her English opponent held her own - particularly in the middle of the fight - to make it a real contest.
Speaking on RTÉ's Sunday Sport, Donovan said that Taylor was able to up her performance when things looked like they might be going against her.
"It was an incredible fight [but] a little bit too gung-ho for my liking," he began.
"Katie, time and time again, she just loves having these wars. She loves digging deep and throwing it all out there. She did have to empty the kitchen sink in rounds nine and 10 because [Jonas] did come back into that fight.
"It was pretty comfortable from the start for Katie. I gave her the first two, comfortable enough. There wasn't a lot happening and I didn't think Katie was looking very comfortable. She wasn't really in her flow - it was a bit of an edgy start.
"In round three Jonas got a bit of confidence and let her hands go. (Rounds) four and five Katie got back on top.
"Then in round six Katie did something a little bit silly. She hung in the pocket for too long - stood square. It was like she was stuck between ideas [and] didn't know what to do. She walked straight onto a left hand from Jonas.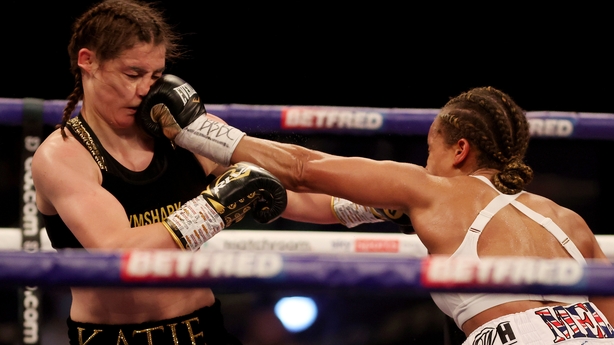 "Jonas started to believe in herself and it wasn't anything she'd done - it was more a kind of access route that Katie gave her - Katie opened the door for her.
"Joe Gallagher (Jonas' coach) tried to inspire her in the corner. The good thing about the arenas is that we can hear what's going on in the corners. We can hear everything that is being called in.
"Joe started to say, 'she (Taylor) is all over the place, she's sloppy, she's wild, has her chin up in the air - come on, you can do this, we've seen this before' - he tried to inspire her.
"Then the momentum seemed to swing in the fight. Rounds six, seven and eight I gave to Jonas and then suddenly the fight is in the balance."
From there though, Taylor showed why she has been so successful at nearly everything that she has put her mind to, as she was able to stop Jonas' flow and get back on top.
"Katie, is there anyone better than her at digging down?" Donovan asked.
"That's what she did in nine and ten - she dug down. She overwhelmed Jonas in the end with just sheer force and volume. She wasn't even landing with every punch but it was just that sheer resilience and output of high-volume punching.
"She got the win in the end and deservedly so."
Reflecting on why Taylor might have been caught in those middle rounds, Donovan suggested that it might have been because of some of the pre-fight talk.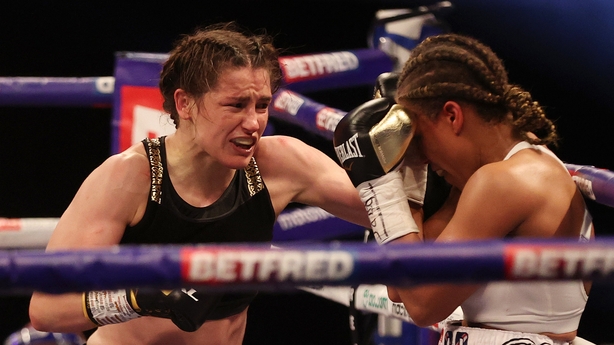 Jonas had suggested that she would knockout the Bray boxer. Taylor hasn't managed a stoppage herself since she beat Rose Volante in March 2019 and it might have been something that was playing on her mind, according to Donovan.
"Katie might have been thinking, going in, about how it has been two years since she got a stoppage.
"Jonas has been knocked out by one of her previous opponents (Viviane Obenauf) who wasn't very elite at all. Katie could have been subconsciously thinking that she'd like a stoppage.
"The way she was throwing her shots she was really forcing things instead of getting behind and into her flow, doing her feigns, making Jonas miss and making some lovely shots. Katie was reaching a lot with her back hand.
"These are things that boxing experts would notice, but for fans it was absolutely entertaining and thrilling and they were loving it. But there was little small things that a coach would pick up on.
"I think Natasha Jonas was probably expecting a tougher test from Katie Taylor and then realised that Katie had opened the door for her and given her a few opportunities to get into this fight.
"Fights are like stories - they have different chapters. Katie started very well, but then Jonas had a chapter where she said, 'hey, I'm in this fight - I can get something out of this.'
"But I think Katie's determination, her work ethic, and all of her years of hard graft - she had to dig deep and draw on them in nine and ten.
"That was a time when Jonas was feeling the pace because she was putting a lot into it in the previous rounds. At some stage the tide turns and you can't keep up that intensity, that pace, that volume of work ethic for so long. You have to take a dip.
"Katie came back on strong then and finished it out in style."