James Tennyson powered his way to the top ranks of the world super-featherweight division, however, by the time the Belfast boxer got to fight for a world title, he realised it was time to punch out.
A smashing fight with Martin J Ward secured Tennyson a European belt and a Stateside shot at IBF champion Tevin Farmer, but the Boston bout would end prematurely due to some stinging body shots
Dropped in the fifth round by another, referee Arthur Mercante, called time on the plucky challenge and held Tennyson tightly telling him "there's another day, kid, there's another day".
It's been over two years since that fateful fight at The Garden, and while Tennyson's day has not come yet, there is a sense that it is on the horizon.
Rejuvenated in the heavier lightweight division, Tennyson has been lining them up and knocking them over in the 135lb ranks, with two big wins in 2020 against Gavin Gwynne and Josh O'Reilly.
Six straight victories since the Farmer defeat, and Tennyson's last two performances show that he is ready to dine once more at the top table.
The next move planned was a meeting with renowned, albeit ageing lightweight, Jorge Linares back in Belfast, however, the former champ has managed to inveigle another shot at glory and will take on WBC title holder Devin Haney later this month.
As a result, Tennyson was meant to fight former three-weight champ Ricky Burns, however, the bout with the Scottish veteran fell through, resulting in tonight's match-up with Jovanni Straffon.
Third time the charm as Tennyson steps into the ring tonight to take on Mexican Straffon in a world title fight for the lesser-spotted IBO belt, which is occuring on the undercard of the Sky Box Office heavyweight clash between Dereck Chisora and the Andy Lee-trained Joseph Parker. Katie Taylor is also fighting at the Manchester Arena event.
The International Boxing Organization (IBO) belt is rarely cited when it comes to true world champions, with the main boxing belts remaining with the WBC, WBA, WBO and IBF, as well as the Ring Magazine ranking.
However, for Tennyson, a victory will push the 27-year-old up another rung of the ladder and should open the door for a potential encounter against one of the main belt holders.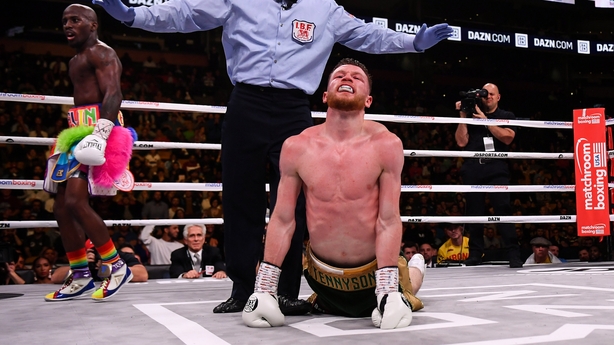 Moving up to lightweight catapulted Tennyson into what is perhaps the most exciting division in boxing with the current lightweight version of the Four Kings making serious waves in the game.
Teofimo Lopez, Gervonta Davis, Ryan Garcia and the aforementioned Haney are the main attractions in the division, with Vasyl Lomachenko also expected to come back from his unexpected defeat last year.
The double Olympic champion lost a four-belt unification bout in 2020 to Lopez, but is back in the ring this summer. Ryan Garcia is currently regarded the interim WBC champ, while Gervonta Davis holds another of the WBA belts.
Tennyson is expected to beat his Mexican opponent tonight, and while he was outclassed in his first world title attempt, he admitted that he just felt too weak at the weight.
Bigger and better, as he has proven in recent fights, Tennyson is renowned for his knockout reputation, however, he believes that he can adapt to whatever situation he finds himself in, and is very aware of the importance of a strong defence at the top level.
"When you move up the levels the opposition gets bigger and better, you have to be a bit more careful and a bit more defensive," said Tennyson, speaking to RTE Sport earlier this week.
"Those are things we are working on behind the scenes as things heat up we may have to bring them into play.
"If I need to switch things up a bit, box move, defend, I can do it, but what I have been doing so far has been working, and long may it continue.
"If I can entertain and get the win, brilliant, but I'm aware not every fight is going to be like that. There will be times where I might have to switch it up."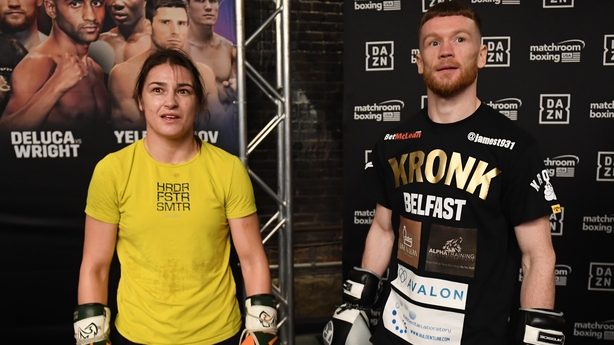 With promoter Eddie Hearn in Tennyson's corner, the Matchroom fighter will surely get the opportunities that he deserves, however, he may have to bide his time as manager Mark Dunlop feels that the "fab four" are too busy fighting boxers who are past their sell-by date.
"These lightweights they are calling the fab four, there is not one of them has fought anybody anywhere near their age for a long time," said Dunlop.
"They're all being matched against guys 34-38 onwards. None of them are fighting an up-and-coming contender like James Tennyson, and James Tennyson is exactly that, he is 27 years of age he is fresh as a daisy and he is learning every fight.
"We believe he is a class above and he is entitled to a big fight. He had Jorge Linares ripped from under him by Devin Haney. Everyone knows he was meant to face Ricky Burns, but that's not happening, and we got someone in late notice."
A knockout artist inside the ring, Tennyson likes to keep his head down once outside the ropes and rarely gets involved with the customary verbals that accompany many top-level fights.
But Dunlop is confident that his fighter will do the talking in the ring tonight and serve notice to the "fab four" that Tennyson is ready to travel across the universe and take the long and winding road to another shot at world glory.
"This kid has worked his socks off and maybe he isn't a mouthpiece, he doesn't say what he can do, but what he does in the ring is what he is getting paid for," said Dunlop.
"That's what people are tuning in to watch. People want to see action, not someone running because they are in the home corner. You are going to see a really good fight on Saturday night as always and that's why he is a Matchroom fighter."