Few fights have had a bigger sense of inevitability about them than Katie Taylor's forthcoming title defence against Natasha Jonas.
From the moment that Jonas announced her intention to follow Taylor into the professional fighting ranks back in 2017, the questions about a potential prize fight with the Bray boxer were being raised.
The history between the two goes back a decade to their first clash as amateurs in Bulgaria when Taylor claimed a convincing judges victory, but it was their bout the following summer in London that helped to rewrite the history books.
Jonas and Taylor met in the quarter-finals of the women's lightweight boxing event at the 2012 Olympics in what was an historic event.
Taylor would go on to become one of the first women to win Olympic gold in boxing while Jonas had to content herself with being the first ever British female boxer to compete at the Games, after Taylor eased to another compressive victory over the Liverpool fighter.
"Genuinely, at the 2012 Olympics, I believe she was the only person at that Olympics who could have beaten me," Jonas said recently as memories of their fight from 2012 resurface.
"It's just unfortunate that I drew her so early and I do think she was just the better boxer. She was the only one who I didn't want to draw because I did, deep down inside, know that she could beat me."
While Taylor got all the headlines and accolades in the wake of her gold medal triumph, Jonas has been every bit as dedicated to the sport, even if she has not always made the same impact as her Wicklow rival.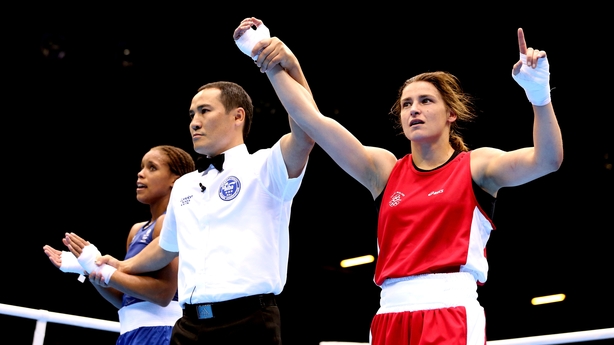 Flitting between lightweight and light welterweight during her days as an amateur, Jonas secured a World Championship bronze and bronze and silver at the European Championships.
Jonas surprised many when she retired from amateur boxing in 2015, opting not to chase qualification for the Rio Olympics, admitting that her mind was wandering in other directions and that she no long had the hunger or dedication to achieve more in the amateur ranks.
However two years later, after giving birth to a baby girl, Jonas announced that she was returning to the sport as a professional.
Immediately the prospect of another bout with Taylor was raised. From the initial press conference where Jonas confirmed her return, she was peppered with questions about a potential showdown with the Bray fighter.
Taylor was only four fights into her professional career and had yet to win a title, but already the prospect of a rematch of their Olympic fight was tempting Jonas.
"I think a rematch with Taylor is what everyone would like to see," she replied was asked about the possibility in 2017.
"It was one of the best nights of boxing I have ever seen but I'm on a personal journey and if that mean us meeting in the end then we'll see."
Perhaps the most surprising thing about Saturday's fight is that it's taken so long to be made.
Jonas' professional career met with the same early success that Taylor's did with six wins from six, five coming by way of knockout and she won the vacant WBA international super-featherweight title.
However a shock fourth round KO defeat to Viviane Obenauf in her first title defence proved to be a setback for Jonas and it took her two years to force her way backed into title contention as regrouped and rebuilt for that loss.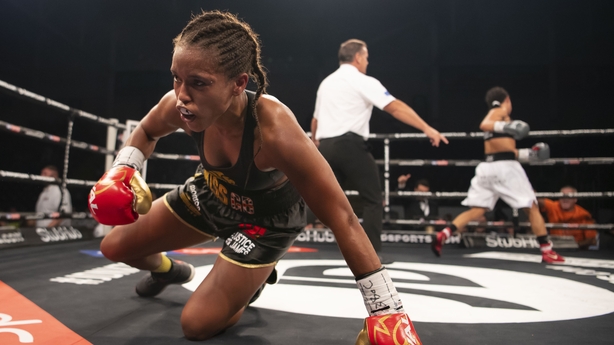 Three safe and straight-forward fights in her hometown of Liverpool followed for Jonas and she sought to get restore both her pride and credibility as a potential world champion fighter.
Three victories against those weaker contenders on smaller cards gave Jonas the time to rebuild and last summer she was rewarded with a fight against WBC and IBO super-featherweight champion Terri Harper, in what was easily the biggest challenge of her professional career.
Harper just about retained her belts as the two fought to a thrilling draw, with Jonas finishing the stronger and leaving the much younger Harper hanging on for dear life before the judges scorecards were unable to separate the two and Harper held onto her titles.
That fight and the performance both reenergised Jonas and has given her a real platform to build up for her showdown with Taylor.
Jonas has coupled media work with rebuilding her career post her Obenauf defeat and through her work with Sky Sports has had a ringside view of most of Taylor's recent fights.
The Liverpool fighter was in attendance as a fight analyst in Taylor's second title defence against Delfine Persoon and was already plotting a potential showdown with the champion then.
Jonas made a playful grab for Taylor's belts in the aftermath of that match and claimed that she saw gaps in Taylor's performance that she could exploit, should the match be made.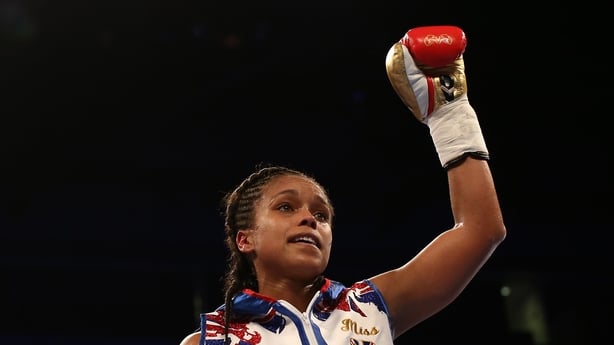 "Twice now Delfine Persoon has shown chinks in her armour and I think she just didn't have the power and power is something that I've got," Jonas warned last August.
She'll get the chance to back that up on Saturday and while she may be the underdog going into the fight, Jonas believes that Taylor's two fights with Persoon have not just exposed a few cracks in the champions' game but have given Jonas real belief that she can walk away with all the gold.
"I know that I'm not boxing the aura that is, the legacy that is, the legend that is Katie Taylor, I'm just boxing another human," Jonas said. "Everyone's got weaknesses, everyone's human, and I will be trying to capitalise on them and put my best foot forward.
Katie Taylor's been my unfinished business since 2012
"Everyone mentions the Persoon fights but styles make fights and I'm not Persoon, but what I think Persoon did was make her look human."
At 36-years-old, Saturday's showdown looks almost certainly Jonas' last chance to get one over on her old rival and for the Liverpool fighter it's an opportunity she's fully convinced she will take.
"Katie Taylor's been my unfinished business since 2012," Jonas admitted. "To come back and not only beat her but to win her titles and go out undisputed, what more could you ask for as a professional boxer?"