Katie Taylor is box office once again on Saturday night, and while her fight may not be the headline act at the Manchester Arena, the undisputed lightweight champion believes her clash with old foe Tasha Jonas could steal the show.
The Bray native once more puts her unblemished professional record on the line, not to mention the four world title belts, as she renews rivalries with English boxer Jonas.
The two fighters famously faced off at the London Olympics where Taylor proved victorious en route to securing the gold medal, while the noise levels recorded at the ExCel boxing were the highest recorded during the Games.
Taylor ran out a 26-15 winner after the four rounds, forcing Jonas to take two standing counts during the fight.
"The Irish fans brought up the decibels in the arena that day and it was a great week for me to achieve a childhood dream," said Taylor, speaking to RTE Sport ahead of Saturday's fight.
"It was the first time that people saw women's boxing on the global stage, and many people feel that the fight between me and Tasha was the fight of the tournament, the atmosphere was electric and we showed everything in that fight, the skill, the heart."
"I had no idea that nine years later we'd meet again, but here we are. We had a great history together as amateurs and now we're facing each other in the pro ring for the very first time so it's very exciting."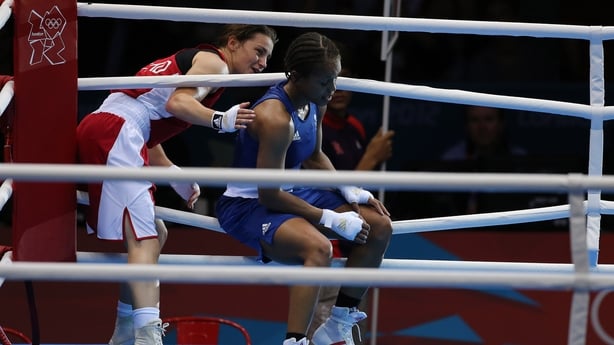 It was over four years between that glorious Olympic campaign and turning professional, and while Taylor's amateur days did not finish in a blaze of glory at the Rio Games in 2016, the record books would soon be re-written.
Seven fights was all it took for Taylor to be crowned world champion, and by the time fight number 14 had taken place, the lightweight division had been unified.
It's now 17 unbeaten heading into Saturday's fight, and while Taylor acknowledges that there is a certain amount of pressure that comes with every time she steps into the ring, she believes that it is a privilege to be in that position.
"There is pressure as I know that I am the favourite going into these fights, but pressure is a privilege, and I feel privileged to be in a position where I am now, winning fights and I know my record as a fighter is a good one."
The pay-per-view showpiece on Sky Sports Box Office is headlined by the heavyweight meeting of the bad boy of British boxing, Dereck Chisora, and the Andy Lee-trained Joseph Parker from New Zealand.
And while Jonas suggested recently that if Katie Taylor is on the card, then that fight should automatically be the main event, Taylor does not appear too fussed by her ranking, rather she senses that the female fight will prove the most memorable.
"I'm always open to being the headline act, but regardless of whether we are headline act, this fight could be the show stealer of the whole night," said Taylor. "It has the potential to be that sort of fight.
"When we fought twice as amateurs, they were both edge-of-the-seat type of fights and it could be the same on Saturday night. I'm just happy to involved in such a big fight that people are excited about."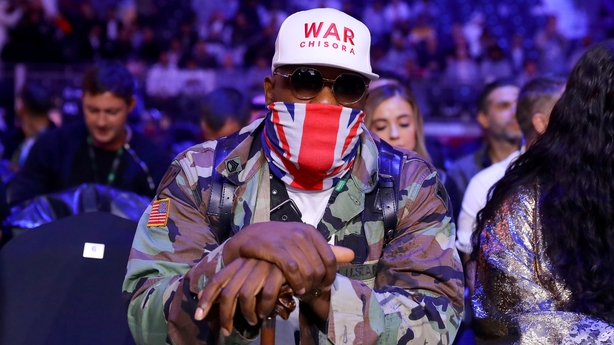 Looking ahead to the contest, Taylor is well used to boxing in the pandemic, having already fought twice since the Covid crisis took hold in the early stages of 2020.
She has not been interrupted too much during this camp, as things have started to open up in recent times Stateside, where she has been able to use the gyms for the past few months.
And while Taylor has only come up against one southpaw in her professional career, she remains confident as she has maintained the same training camp, with just a change of sparring partners to help plan for Jonas' left-handed style.
"Thankfully, where I am based in Connecticut, it has opened up the last couple of months so it hasn't been that hard to get back into the gym.
"My preparation hasn't changed, just the sparring partners change, so I've had some southpaw sparring over the last few months so that's not an issue.
"We're both very different fighters, so that's why you can't really draw much from the fight in the Olympics. What works in the pro game won't work in the amateurs, and vice versa.
"I feel in good shape and I'm ready to go. I'm looking forward to a great fight."
Taylor continues to set the standard for women's boxing, and while the former five-time world amateur champion is happy to take on that responsibility, she is quick to remember those who went before her and paid tribute to the female fighters that first pushed opened the door in the male-dominated sport.
"The bar has been broken. People are really excited now about female fights and there is always a big female fight on every card now. They are serious fights that people are excited about.
"This generation of fighters have achieved a lot, but we're all still standing on the shoulders of many great fighters, the likes of Deirdre Gogarty, who is a hero of mine, Jane Couch, Laila Ali, and others who have paved the way for us.
"So I just want to continue to tear down the barriers and make it easier for the next generation of fighters."
Taylor's Olympic glory was recently chronicled on the archive RTE television show, Reeling in the Years, and while the fact that she featured may suggest her career is close to an end, the 34-year-old has no plans of hanging up the gloves in the near future.
Big fights remain on the horizon for the Wicklow woman, and while she feels there are several worthy opponents around her weight division, she all-but ruled out a head-to-head with the sport's other global superstar, Claressa Shields.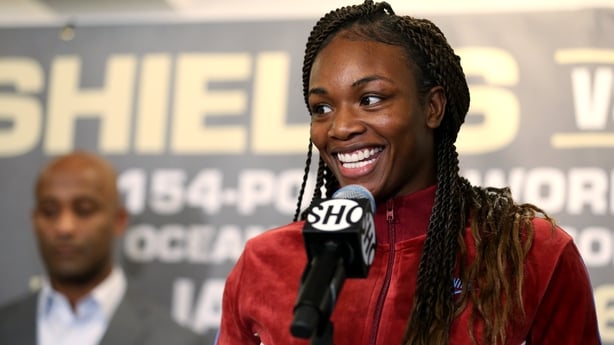 The fellow London Games gold medallist – Shields also won gold at Rio 2016 – primarily fights at four weights above Taylor, and the lightweight champion admitted that the fight would be a mis-match.
"It would be like Lomachenko [lightweight] fighting Golovkin [middleweight]," said Taylor.
"I can't really go over 142 lbs. There are plenty of fighters in and around the lightweight division I'll be focusing on.
"I don't think I'm thinking about retirement, but I can't do it forever. I know I only have a few more years left in the sport, but right now I feel fresh and quite good and I still love my job and that's what motivates me.
"I'm still not tired of getting up in the morning and doing the road runs, for example, I just want to continue to improve."
Jonas comes into the fight full of confidence, having performed admirably in a world title encounter last August against two-time world champion Terri Harper in a super-featherweight contest, which ended in a draw.
The Liverpool fighter believes that there is some unfinished business from her end, while Jonas' coach Joe Gallagher believes that Taylor is vulnerable and can be hurt.
"I don't think anyone can get under my skin, I'm not that type of person," said Taylor when Gallagher's comments were mentioned to her.
"It has to be settled in the ring by the sweet science of boxing, it won't be settled on what is said beforehand, so I'm just focused on the fight itself."