Eric Donovan says he's preparing for the biggest fight of his career next month.
Donovan is set to take on Mario Alfano for the European super featherweight title on 14 May. The bout will take place in the city of Brescia in northern Italy.
The Kildare southpaw has seen his last few months disrupted by events outside of his control.
Firstly a title fight against Haithem Laamouz never happened after his Maltese opponent tested positive for a banned substance and that was followed by a planned fight in Belgium last month being cancelled at short notice.
Laamouz actually beat Alfano in December but his subsequent failed doping test saw him stripped of the title. It means that both fighters head into May's contest as challengers for a vacant belt.
And Donovan says that this upcoming fight is the reason why he came out of retirement five years ago.
"It's the biggest fight of my career," he told RTÉ's Sunday Sport.
"The fight that fell through in Belgium was supposed to act as a warm up fight for me to get a couple of rounds under my belt for the big one coming down the line. I didn't get too upset about it because I knew what was coming and all that training I had done was not going to go to waste.
"I said coming back after three years of retirement that a dream of mine would be to get a European title and here I am within touching distance of making that become a reality.
"Fingers crossed I get the job done."
At 35 years of age Donovan is aware that such a chance might not present itself again.
He won the Irish featherweight tie in March 2019 after beating Dubliner Stephen McAfee in the National Stadium. But last year saw him lose out to Zelfa Barrett in an IBF intercontinental title fight as part of Matchroom promoter Eddie Hearn's Fight Camp.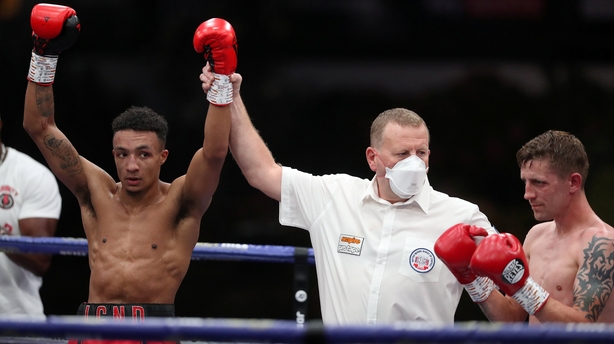 Despite some further set backs in 2021, he is determined to take everything he can out of the year as he thinks about his life after pro boxing.
"There was a simple reason why my British opponent couldn't make it over [to Belgium]. He had an issue with his medical. That's out of my control; there's nothing I can do about that.
"My teammates are here from Celtic Warrior Boxing Club. My coach Packie Collins is here. We're using this as an opportunity to help out the team and I'm using it as an opportunity to learn about coaching.
"Maybe I'll go into coaching in a year or two when I finish up my own career. So I've used this time as an opportunity. The break from Ireland was nice too, and I was able to get a haircut!
"But it's back to to business now. The next six weeks are going to have to be meticulous for me and I'm going to have to stay really focused.
"This is a 12 round fight. I've never boxed 12 rounds in my life. I've never boxed more than eight rounds, and I've only done that on three occasions."
Looking at his Italian opponent Donovan backs himself to come out on top, noting that he is more capable than Alfano in many areas.
"My footwork would be superior to his - my boxing IQ and hand speed as well.
"He's a very strong individual. Even in his shape - he's smaller than me but he's much broader. He's like a little tank. When he gets you in his grasp, or when he gets you in that pocket he can really go and do a number on you. So I'm going to have to be so smart and tactically sound.
"He has 15 wins, two losses and one draw. I've 13 wins and one loss so our record is not a million miles away from one another.
"It's going to be a good one."