Dennis Hogan's bid to earn a world title shot fell short in Newcastle, New South Wales today as the Kildare man was beaten by Australian prospect Tim Tszyu after a fifth-round stoppage.
For Hogan, it is a bitter blow to his world title dreams. It was a brave showing the stage deserved but ultimately, not enough to overwhelm a heavy-handed sharpshooter.
At Monday's press conference, Tszyu's manager Glen Jennings spoke fondly of his memories working with Tszyu's father, hall of famer Kostya, at the same arena and his hope that the city would adopt his son in a similar way.
The message evidently landed as a raucous arena roared the 26-year-old on to a performance that proves the hype is real and a global stage awaits.
The Irishman started eagerly, demonstrating little ring rust from his 15-month absence. A sharp spinout hook found its target. Tszyu soon commanded centre ring, pressing and prodding without ever exposing himself.
Both fighters' patience persisted into round two. Slowly, the Irishman tried to exert himself and a big right hand off the ropes drew blood. If Tszyu was in any doubt about the size of the test before him, here was the moment that proved he was facing an opponent with advanced ability. Yet in each exchange, he established he was capable of matching it and then more.
The next few exchanges set the tone for the 36-year-old.
A sustained attack saw Tszyu force Hogan to the ropes and finally the home crowd has reason to roar. The body work that the Australian demonstrated in abundance during his 2020 victory over Jeff Horn was on display once more as he swung with a left hand that stung.
Hogan's first obvious error came in the fourth. After a typical tussle in the centre ring, his back was briefly turned and the Sydney native pounced with a flurry.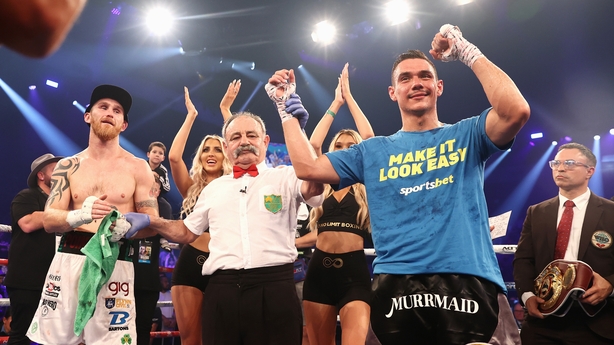 From there, Tszyu set out to ensure the round was his as he pushed the pace and continued to work the body.
In the fifth, Hogan finally wilted. It took a monster uppercut to drop him but the damage was significant as he stumbled towards an inevitable conclusion.
The subsequent onslaught was unrelenting. Hogan has made his name because of his teak-tough nature but resistance was futile. His corner intervened with the towel and his night was done. Today's star is Tim Tszyu.
It is hard to determine the full impact the chaos of the previous few days had on Hogan. He had to scramble out of Brisbane after a recent Covid-19 outbreak forced the city into lockdown, suffered a nose injury during camp and was without his new trainer, Wayne McCullough, due to the nation's border closure.
Nevertheless, time is not on his side and it will take a remarkable piece of fortune to resurrect his career
In 2019, he was cruelly denied a world title. Since the moment he left Ireland for Australia over a decade ago to his countless ventures stateside and beyond, he has done it the hard way. Tonight was no different.