It has been 15 months since Dennis Hogan last fought in a ring.
Fury at an appalling world title decision. Resolve to get back to the same stage again. Retribution and aspirations stewing for over a year.
This morning the Brisbane-based Kildare native 'Hurricane' Hogan makes his long-awaited return against Australia's best boxer, WBO No 1 super welterweight Tim Tszyu in Newcastle, New South Wales.
For the victor, the bout will open the door to a world title shot - a mantle that Hogan maintains should already be his. In 2019, he marched into Mexico and outboxed Jaime Munguía only to lose after a questionable decision.
In a bid to push for a title, later that year he moved up to middleweight to take on juggernaut Jermall Charlo Stateside, but he was stopped in the seventh round.
Once again, he enters as a rank outsider. Tszyu is the son of Hall of Famer Kostya and undefeated in 17 fights. Yet this time the circumstances are entirely different. Hogan is at home on the other side of the world, having been based Down Under for over a decade. His prep has been infinitely better because of that.
"Preparing for this has been an absolute treat," he says with a smile.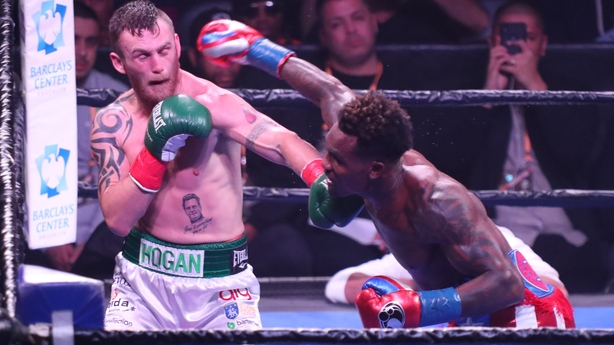 "My last fight against Charlo, I flew over to the US seven weeks before the fight for promo and flew back again. I had to fly back again four weeks later for the fight. It was incredibly taxing. For this fight I have been in one place. Totally focused, getting everything right, ticking all the boxes. It is going to pay big dividends next Wednesday night.
"Charlo was a massive leap. I believe he is the best middleweight in the world. I finished that fight on my feet against a man who punches like a mule. Of course, there are two losses on my record and that is not good.
"I even feel like the Munguía fight was a positive. I went over with my team and we did something big… nobody was giving me a chance. I have been in the States since in camp with Wayne McCullough. All these people come up and say 'wow, you should be world champion. sorry for what happened to you.'
"That wasn't the end. I am still going; I have not quit. I am getting better and I believe the title will come to me. It will be some story."
Charging headfirst into back-to-back blockbuster contests away was always going to take its toll. As the world ground to a halt with the outbreak of a pandemic, so to did Hogan. His legs started to break down. Tightness was a near constant during training, the 36-year-old often felt like he was "stuck in mud" in the middle of sparring.
An inevitable meniscus injury gave him time to take stock. His devotion to the sport was constant ever since he was introduced to it by his grandfather, Paddy Burke, the founder and a coach at Naas boxing club. It was a case of adjusting technically and maintaining the commitment.
In May, he changed trainers, linking up with Irish boxing legend Wayne McCullough. They began to rebuild with a stint in Las Vegas and then he returned to Australia.
Border closures mean McCullough can't travel to the country this week, but he has been closely advising throughout camp. Every sparring session is recorded and dissected. McCollough lists a series of modifications and skills to be incorporated and Hogan hones them on the bag before they are unleashed in subsequent sparring sessions.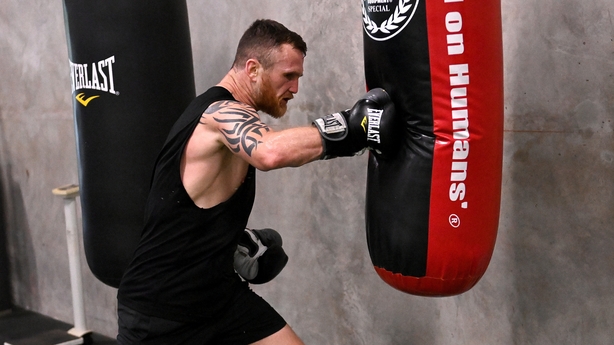 It is all geared towards securing an upset victory. The underdog tag is familiar. That doesn't mean it sits comfortably.
"Tim is the son of a legend. He has had some big wins lately. I am coming off two losses, so I am not going to be the favourite. On paper, that is what it is. But the margin, that just astounds me. It is absolutely incredible.
"Maybe it is just my own confidence, where I think I am and what I know I can do. It just astounds me. I can't believe I am seen as that much of an outsider in a fight like this. I think I was 11/1 in Ireland before Munguía, we all saw what happened there. Why would anyone really underestimate me again?
"It doesn't bother me; I am just amused by it. I have a family to feed, beautiful kids, a vision to be world champion. That is all the motivation I need."
In the build-up, Tszyu upped the stakes when he publicly announced his intention to end Hogan's career. "This is your last fight," declared the young prospect.
Just another stirring snippet Hogan will hold as fuel.
"That sounded put on. I mean he is shy. He is a shy person. It looked like he was reading off a teleprompter.
"I think he is rattled. I have met him face to face. When I do there is a nervous energy off him. He knew when he was fighting Jeff [Horn] that Jeff was over the hill. His fight before that was at welterweight. He has not faced anyone like me before.
"I am at another level. He knows that," he says with the unmistakable conviction that pretty soon, everyone else will know it too.