Eric Donovan made a tough decision to change managers in March 2020, and it reaped rewards, as his stock soared in what turned out to be a breakthrough year for the Kildare native. 
Having dominated the domestic scene in his first 12 fights as a professional, Donovan realised that he had perhaps set the bar too low and craved a challenge on a bigger stage, which led to a partnership with Belfast-based promoter Mark Dunlop. 
Within a few months, the new partnership led to a live performance on Sky Sports on one of the high-profile Matchroom nights, which took place in promoter Eddie Hearn's back garden in Essex. 
Donovan moved up a weight to take on one of Hearn's up-and-coming prospects, Zelfa Barrett, and the 2010 European amateur bronze medallist almost tore up the script by dominating the first half of the fight. 
The genial Donovan struck an immediate relationship with the world-renowned promoter, while his performance in the opening six rounds had Hearn's fighter in real trouble, unable to deal with the movement and shot selection of the Irish fighter. 
Inexperienced at that level in the professional game, however, Donovan would ultimately get undone by a devastating left hook in the eighth round. 
Donovan took the defeat, just like Barrett's knockout blow, firmly on the chin, bounced back with a morale-boosting win in Belgium in December and ended the year as the mandatory challenger for the European super-featherweight title. 
So a positive start to 2021, but looking back, Donovan pondered the question as to whether he had any regrets about that defeat in August, having comfortably won the first six of the scheduled ten rounder. 
"To be honest, I only think about it every minute of every day," said Donovan, speaking to RTE Sport. "It's a picture that lives in my mind, over and over again. 
"We didn't go in for the knockout initially, we went there to outbox him for ten rounds and we were very close to doing it. 
"But in hindsight, I really could have let go or let rip that time when I rocked him in the fifth round, because he definitely was rocked. He was buzzed. 
"It comes down to the inexperience that I had at that level, and maybe the next time I'm in that position, I'm going to have more of a killer instinct and go for it."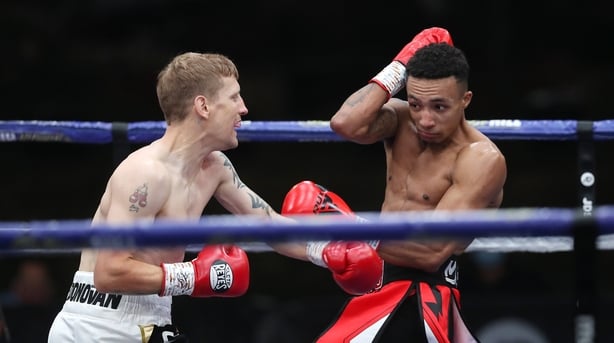 And the former Irish amateur champion has made another big call ahead of that European title fight, as he has teamed up with new coach Packie Collins. 
Dublin-based Collins, brother of former world champion Steve, has a wealth of experience in the professional game and currently trains middleweight contender Spike O'Sullivan, amongst others, at his Celtic Warriors gym.
Donovan has been coached by long-term friend and former amateur team-mate Kenneth Egan, but felt that he needed to work with a mentor or a father-figure, and following a chat with Collins, he knew that it was the boxer-trainer relationship that he was looking for. 
"I knew I needed to make a change and if I didn't make a change, I'd be going forward with regrets," said Donovan. 
"I'm the kind of boxer who likes to make a connection with my coach. I like the relationship to be sound and solid. 
"I'd done a bit of sparring over in Packie's gym, and I liked what I've seen and heard from Packie, in terms of watching him with his boxers and coaching his boxers.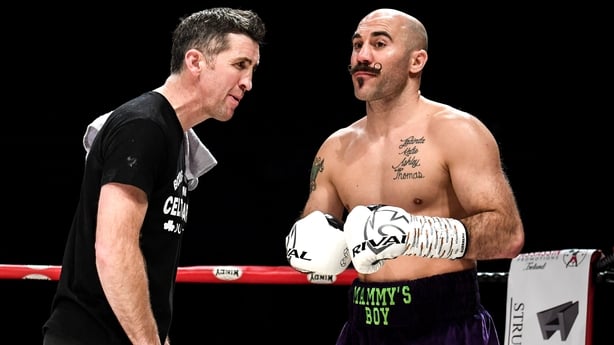 "I knew after the Barrett fight that I needed that professional experience, I needed that wealth of knowledge and with someone with the wisdom like Packie, who has over 20 years of professional experience." 
"So the next time I'm in a big fight, I'm going to be prepared to a much higher level to get over the line this time." 
Donovan believes that Collins is a great reader of fights and the perfect man to have in the corner, when decisions need to be made, which can ultimately decide a close contest. 
And it was that guidance that was missing in the Barrett fight, where Donovan's tactics proved a touch one-dimensional, which allowed the English boxer to remain in the contest. 
"You want your coach to be like a mentor, someone that you look up to. With Packie, he has that authority and maturity, when he speaks, you listen to him, and he is a leader as well, offers the mentorship and cares deeply about you. 
"I like his approach, because that is what I grew up with in my amateur career with Dom O'Rourke, who was like a father-figure to me. 
"When I sat down with Packie after the Barrett fight, I really liked what he said, he said some things that made so much sense. 
"He said 'you could have afforded to take a round off'.
"I never thought of that, and I could have taken a round off, sit on his chest, tie him up. Sometimes you need that wisdom in the corner and I think Paschal has a great read of a fight, so the next time, I'll be much better prepared."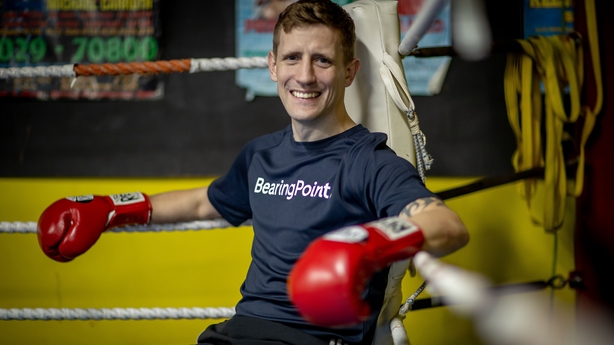 And despite four years of professional boxing behind him, Donovan is still learning this toughest of trades, where he believes an experienced coach is a vital part of the team, compared to the "instinctive" days of the three-round amateur bouts.
"In amateur boxing you can go on your instincts, and I think there is more of a role for a professional coach in a longer fight.
"You're talking a half-hour of boxing, 35 minutes, that's a story, it has different chapters, and I was fighting every chapter the same way. 
"You have to learn how to manage it, break it down. I was flying after six rounds, but I was doing the same things. And I needed someone to say, relax, pull the reins, let's tie this guy up and we'll come on strong in the end." 
And now Donovan is learning first hand in the gym under the guideance of coach Collins, where that fight management is being drilled into him with a strong focus on conservation of energy. 
"He has me doing plenty of rounds, but he has the reins pulled back, he has me off my toes, he has me fighting rounds where I'm conserving energy rather than expending energy.
"So it's like, you're in the fight, you're well in the round and you're not losing the round, you're not taking any punishment, but still you're not exerting energy, so it's like you're managing it. 
"He's showing me how to do this in a very clever and professional way. And that is adding to my game, it's giving me reassurance going forward." 
Donovan is expecting some news inside the next few weeks as to when the European title fight will be scheduled, however, the disciplined fighter has already moved into pre-camp mode, having enjoyed his Christmas at home with his family. 
"We threw out all the crap at the start of the New Year. We ate well, enjoyed a good festive season, but out of sight, out of mind," said Donovan. 
"I need to make sacrifices, because the sacrifices give me the mental strength, because if I go into a fight and I don't sacrifice enough preparing for that fight, I will be reluctant to go to a level that I need to get to to get the victory. 
"I want to make my training camp hard. Hard mentally and hard physically, because when I'm in the hard fight, I know that I'm ready, as I have sacrificed so much.
"They might be small little things, but in the grand scheme of things, they have a big impact on your performance." 
And while the goal was to become Irish champion when Donovan set out on a voyage of discovery into the paid ranks, the dream soon got upgraded once that particular belt had been obtained. 
Now the immediate focus is on dethroning the European champion, and should that be achieved, Donovan wants to bring the first defence back to Ireland and to fight live in front of the RTÉ cameras, in an attempt to recreate the glory days when Bernard Dunne achieved world glory. 
"I may have to go away somewhere in Europe to box for that title, and then it would be a dream for me, and I've always dreamed of this, to come back and defend that European title in Ireland, maybe in the second half of 2021, and to have it live on RTÉ Sport. 
"Bring back the special nights that Bernard Dunne brought, and I don't think that is too far a reach. 
"A year ago, I didn't know where my career was going, now I'm talking about title fights, different divisions and homecomings, and it's a great position to be in."