Monaghan boxer Stevie McKenna is looking to pick up where he left off as he returns to the ring on Saturday night to face Gary McGuire.
The unbeaten Smithborough native is ready to kick-start his fledgling professional career, which was stalled as a result of the ongoing coronvirus.
It's close to a year since the super-lightweight prospect fought his fourth bout in the paid ranks and the Los Angeles-based boxer will look to make it five wins in a row at Production Park Studios in west Yorkshire on Saturday.
Another behind closed doors event, McKenna is fighting on the undercard of the Hennessy Sports promoted European super-featherweight title fight between Samir Ziani and Alex Dilmaghani and is looking to make a statement on his return to the ring.
Known as The Hitman, McKenna enjoys a 100% knock-out record in his short pro career, and he will fight for the first time on this side of the Atlantic since his days as a standout amateur in Ireland.
"I'm all excited and ready for this fight. I'm going to put on a show," said McKenna, speaking to RTÉ Sport ahead of the fight.
McKenna has been back home in Smithborough throughout the Covid crisis and will return to his LA base once the travel restrictions have eased, but the 23-year-old jumped at the chance to compete on the English card, with the added incentive that the fight is been shown free-to-air on Channel 5 television, which will help boost his profile.
McKenna flew out to Manchester on Wednesday and went through his coronavirus testing on Thursday before entering the bubble of the competing card ahead of the Saturday night event in Wakefield.
"I'm grateful to Hennessy Sports and my management team for getting me the fight and I just can't wait to get back into the ring," added McKenna, who is expected to win against the late replacement Maguire.
"I can't overlook any opponent. He is there to try to win, so I will be 100% focused going into the ring."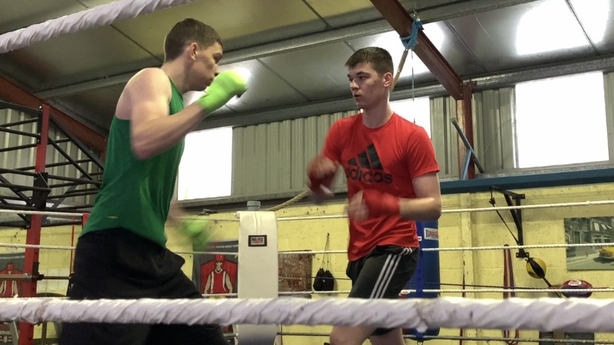 McKenna and younger brother Aaron both train at the world renowned Wild Card gym in LA, and while back in Ireland, Stevie has been enjoying some high-quality sparring with the recently crowned British title winner and former world title challenger James Tennyson as well as fellow Irish prospect and former Conor McGregor sparring partner Tiernan Bradley.
"I've done over 120 rounds of sparring and since the start of lockdown, I have been working with James Tennyson, who is doing really well and I have been getting great sparring in Belfast and in Dublin.
"James is a great fighter and is very strong with an aggressive style, so we always have some cracking sparring and he brings me on and makes me better.
"I was also sparring Tyrone boxer Tiernan Bradley, who will be making his pro debut soon and I was getting great work with him as well.
"He's a great fighter, very slick and he is a smart fighter so we were getting good work with each other."
The McKenna brothers have been working with legendary trainer Freddie Roach, who has worked with Manny Pacquiao, Miguel Cotto, Steve Collins, Bernard Dunne, Wayne McCullough and Amir Khan.
And McKenna believes that he has really helped him with his aggressive style, while getting him to use his height and long reach to his advantage.
"Freddie always wants me to work on my aggressive style, but at the same time using my reach. He loves aggressive fighters but he wants both me and Aaron to keep fighters at arm's reach, banging in the punches and hurting people.
"Every time that we are in the gym, we are always learning from Freddie, showing us wee tricks and telling us what to do and he is a great man to have in your corner. A legendary Hall of Fame coach so you couldn't get much better.
"We've been keeping in touch with Freddie and he is gutted that he can't get out for the fight. He's been wishing me the best of luck and told me to do what I do best.
"My power shots are a lot better when I get at the right range. I'm really sitting down on my punches and I'm punching a lot harder than I was before so I'm feeling stronger in the ring.
"He's a tremendous coach and I'm looking forward to get back out to LA to work with him."
Another good week sparring with @JamesT931 🥊 pic.twitter.com/qAqtkpith2

— Stevie McKenna (@stevie_mckenna) July 3, 2020
McKenna recently found himself caught up in a social media row with one of the world's top prospects, Golden Boy fighter Ryan Garcia, who is expected to fight Luke Campbell in a world title eliminator in the near future.
Campbell is an Olympic champion – beating Ireland's Joe Joe Nevin to the gold medal at the London Games - and recently put on a good show against one of the world's top pound for pound fighters Vasiliy Lomachenko.
McKenna upset Garcia with his comments in relation to the proposed bout, where he predicted that Campbell would win by knock-out, having sparred the American prospect in LA.
"I was asked by Sky Sports as to who would win the fight between Luke Campbell and Garcia and I gave my honest opinion, that I thought Campbell would stop Ryan based on having sparred Ryan and knowing what he is like.
"It was a one-off spar. After the spar we were told we were going to fight again on the Wednesday but when we got there, he wouldn't spar, he was sparring someone else, a weak, lighter guy. He didn't want it.
"Ryan started putting things up on Twitter and then started taking them down, and then he was private messaging me and he wasn't happy. He doesn't like hearing the truth and he didn't like what I said."
Garcia has an unblemished record with 20 professional wins while only 22 years old, and it is a fight that McKenna would love a bit further down the line. And a fight that he believes that he would win.
"I'd love to get a fight with him down the line within a year or two I want to be fighting the likes of him, and going in there and beating him."