Like most Irish people with an interest in boxing, Kellie Harrington was glued to the television on Saturday night as Katie Taylor made a successful defence of her undisputed lightweight crown against Delfine Persoon.
In Eddie Hearn's palatial back garden, Taylor got the nod in what was a slightly less contentious decision than the first bout between the two.
Former world amateur lightweight champion Harrington, watched on as an interested observer and someone who, in a sliding-doors type moment could have faced off with both Taylor and Persoon, but also as a fighter who is in no rush to join them in the professional ranks.
Harrington made the move to lightweight at the same time that Taylor joined the pros, while she was on the opposite side of the draw as Persoon in March's ill-fated Olympic qualifiers in London.
Persoon failed to make it past the first round in London and the event was abandoned before Harrington had a chance to make it into the ring due to the Covid-19 pandemic.
"There was a possibility [of fighting Persoon], but the possibility was very short once Delfine got beat on the opposite side of the draw," explains Harrington in a matter of face way.
"I watched the fight at the weekend and it was a fantastic fight, a very close fight. It was great for boxing and women's boxing in general."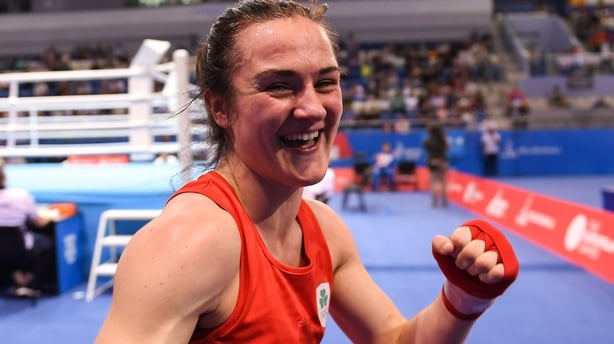 So while the Dublin fighter was a keen observer she's in no hurry to face either Taylor or Persoon and although the question about whether or not she's willing to turn professional will inevitably keep coming, Harrington won't even consider it without some pretty big financial guarantees.
"I'll only go professional if I'm getting money and that's basically it," she said.
"When I'm finished with the amateurs, if there's someone out there who wants to offer me a good contract, maybe a two to three year contract, a good fight deal and plenty of money, then I'll do it.
"But if I'm not getting that, I'm not doing it because it's a business, it's not a sport like an amateur sport. All your focus goes into the professional side of things and it's business so it would have to be worth the money for me to turn over.
"[Katie Taylor's] success wouldn't entice me to want to get up and professional, it would entice me to have a go alright, to have a scrap but not to go professional unless I'm getting paid big money for it.
"Like I said, it's a business, it's your job 24/7, you have no life basically. I'm a woman, I want to have a family as well so it's easier for a man to do both, he can have a bambino and box at the same time but a woman can't do that.
"If I get big money then I'll go, if I don't then [I won't]."
For now, Harrington is focused on getting back to fighting shape after such a long enforced lay-off and while she was able to keep in shape during lockdown, with plenty of running and home training, she admits that she has missed the in-ring action.
"Training's going great, everything is going good, I'm enjoying being able to train in my club and also the Institute," she said.
"I'm doing two sessions a day, one out in the Institute of Sport and one out in my boxing club in the evening time and once a week in strength and performance out in Blackrock so I'm enjoying it, it's good.
"All that I'm missing is the sparring aspect of it and hopefully we'll be sparring soon enough. Once we get that sparring on the road then it's great.
"I just really need to spar. For me, it's not like 'oh I can't wait to punch someone in the head', I can't wait to see where I am and am I close to where I left off?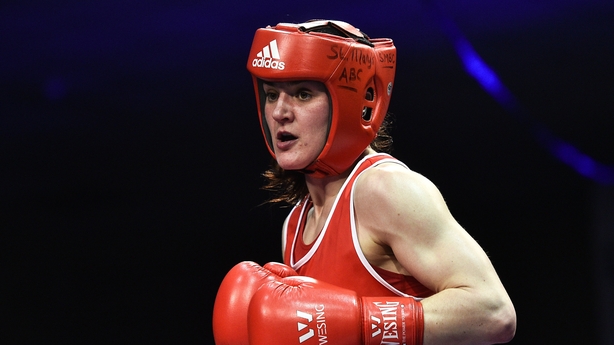 With the situation around Covid-19 causing so much uncertainty over just what the sporting calendar is going to look like over the next few months, Harrington is keeping her focus on getting back to top shape.
No dates have been set for the European Olympic qualifier yet, although February or March of next year looks the most likely and, for Harrington, any competition or tournament before that will just be an opportunity to sharpen up.
"The European qualifiers are in February or March and that's what I'm aiming for, everything else before that is just a stepping stone to prepare me for the qualifiers really and we're just using it like that.
"We don't need to get any medals this year, if we do it will be a bonus but all I'm looking for this year is performances and testing the waters to see where I'm at and what I need to improve on and what I need to fix.
"Hopefully the next competition will be in October and I'm just getting ready for that. I'm not expecting any medals, what we're out there for is a performance to check out where we're at and what needs to be fixed and improved."
Kellie Harrington was speaking at the launch of European Week of Sport 2020 at the Sport Ireland Campus. European Week of Sport is a week-long celebration of sport which promotes physical activity in people of all ages, backgrounds, or fitness levels. Sport Ireland is calling on you and your family to get out and #BeActive between the 23-30 of September and who knows, this may be the start of a new found love for sport.
Visit www.sportireland.ie/europeanweekofsport for more information.