Nearly 15 months on from that classic fight against Delfine Persoon in New York, Katie Taylor put the record straight on Saturday evening against her Belgian opponent when winning all three of the judges' scorecards to remain the undisputed women's lightweight world champion.
98-93, 96-94, 96-94 were the scores in favour of the Bray boxer at the Matchroom Fight Camp.
Much pressure then off Taylor after a gruelling bout. In analysing the fight, Eric Donovan, who eight days earlier lost his IBF Super Featherweight Intercontinental title bout to Zelfa Barrett at the Fight Camp, felt Taylor was the smarter of the two boxers.
"It was a brutal contest where Katie needed to be disciplined to run out the deserving winner and she was the deserving winner," observed the Athy fighter on 2fm's Game On.
Persoon, who many felt should have got the verdict in June of last year, has an unorthodox approach that presented Taylor with a challenge, according to Donovan.
"Delfine Persoon brings you down to a certain level but has a serious engine and incredible strength to bring you into the pocket. If she gets you in that pocket she'll chop you up.
"Katie was able to minimise the damage, while at the same time reserving energy for the home stretch.
"Persoon broke her nose in the second round because she comes in very wild and very unorthodox. Katie has her chin down and is very low. Delfine was almost jumping on to the crown of Katie's head. I'd say she smacked her nose off the crown of Katie's head.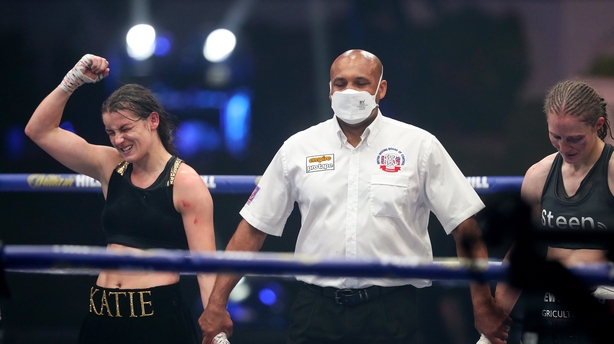 Ultimately, O'Donovan attributed Taylor's victory to what he feels was the more purer form of boxing on display from the now undisputed champion.
He continued: "In amateur boxing it's all about punches. In professional boxing a lot more things come into play like ring generalship and ring dominance.
"Who is forcing the initiative? Who's on top? Who is the more physical? All of these things are also factors. And then it's up to the judges discretion - what they do and don't like.
"For me, and it's subjective, boxing should be about boxing. Who hits the most clinical punches? Who hits the most decisive punches? I would score a lot on defensive skills. I love to see a boxer make another boxer miss in the ring. Katie did those things very well.
"Delfine Persoon's job was to stop Katie Taylor from being Katie Taylor, to upset her rhythm and routine. She didn't really have her own plan as to how to win. Katie had a plan and was good at executing that plan."