Is Katie Taylor the greatest Irish boxer of all time?
It's a question that would be answered in the affirmative by many of the current batch of Irish professionals, who witnessed first-hand how the Bray native came into the amateur game, campaigned for acceptance and eventually won the gold medal at the Olympic Games.
The record books will certainly back up Taylor's claim to be the greatest of all time with five world gold medals sitting pretty alongside that Olympic gong, with six European golds on top of that.
The professional game has merely been a continuation of the success that has followed Taylor since starting out in this toughest of combat sports.
A world title bout in just her seventh fight in the paid ranks, of course, resulting in her first belt - the WBA strap - and so it has continued throughout her next nine outings, picking up the remaining three titles to become the unified and undisputed lightweight champion.
Whether Taylor is the greatest Irish boxer in history is a debate for another day - one in which she will certainly feature - but one thing is set in stone when it comes to talking about the legacy of Katie Taylor: she is surely the most important Irish boxer to walk the earth.
Taylor is fighting on a Sky Sports Box Office event this weekend, and the fact that women's boxing has reached this current level of importance is essentially all a result of the pain and persistence of fighter and coach back in the day when acceptance was very hard to come by.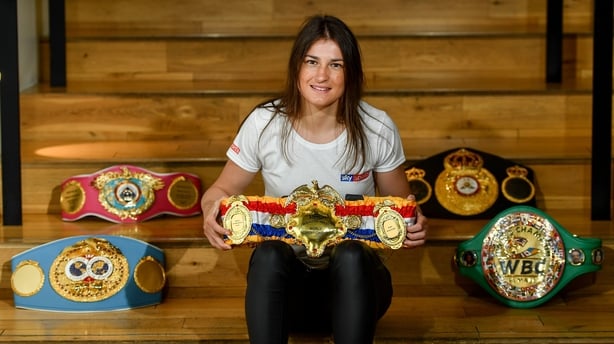 Katie Taylor came through the amateur ranks alongside her coach and father Pete Taylor and they made the breakthrough for girls and women's boxing that resulted in the sport being included in the London Olympics - the first time in the Games' history.
The sport has grown from strength to strength throughout the last decade, highlighted by the quality of the boxing on show at the last Olympic Games and the proceeding years in the paid ranks where the fighters that Taylor inspired are coming through to give real competition to every weight division.
The women's amateur game in Ireland is arguably currently stronger than their male equivalent, something that was unthinkable as Katie sailed solo alongside that great stable of Irish boxers from Keneth Egan, to Darren Sutherland and on to Paddy Barnes, John Joe Nevin and Michael Conlan.
Other women boxers have been ploughing a lone furrow in the pre-Taylor era, from the orignal trailblazer Laila Ali and the likes of England's Jane Couch, but only since turning professional following the Rio Games has the women's sport seen such exposure.
Virtually every big night of boxing both in England and now Stateside features at least one high-profile women's bout thanks to names like Claressa Shields proving that the sport is growing and gaining true recognition.
Taylor's rise through the professional ranks has come with a certain responsibility that comes with her profile, and while Taylor has cleared every hurdle placed in front of her - with just the odd wobble - there is an argument that the perceived requirement to entertain has put the Irish fighter in some difficult circumstances.
Throughout all of her 15 professional fights, there has not been one boxer who has come close to exhibiting the boxing pedigree inside the ring, which comes naturally to such a fine-schooled exponent of the sport as Taylor.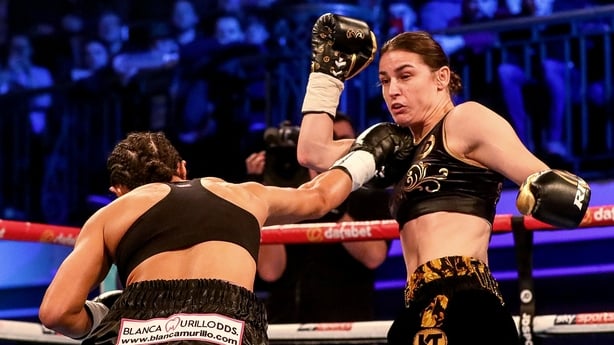 In fact, some of the encounters that Taylor has been matched in have resulted in little more that a street fight with some dangerous opponents offering very unorthodox styles.
Of course, Taylor could have bobbed and weaved, slipped and slided, and come through all these fights without as much as a scratch, outpointing any one of these opponents.
But where is the entertainment in that?
Taylor knows that she is expected to put on a show and if that means standing toe-to-toe with a pub brawler or someone coming out of a different discipline, there is no better women than the undisputed champion.
Katie Taylor loves to fight, and she is perhaps at her toughest when thrown into such situations, as she stands happy to take one punch just so she can throw and land a three, four or five-punch combination.
In a recent fight in America against Finnish star Eva Wahlstrom, late in the bout Taylor drilled around 20 consecutive punches into the body of her crumbling opponent.
That Taylor combination drew the biggest cheer of the night from the enthralled New York crowd, upstaging two of the world's best pound for pound fighters Canelo Alvarez and Tevin Farmer who were also fighting on the bill.
But then came Delfine Persoon.
A perennial champion who held the WBC lightweight title for six years and was unbeaten in nine years and 35 fights before stepping into the ring to compete for Taylor's three titles.
The Belgian policewoman came to New York to fight. A gameplan concocted to spoil the style and rhythm of the former amateur great and turn the bout into a war of attrition.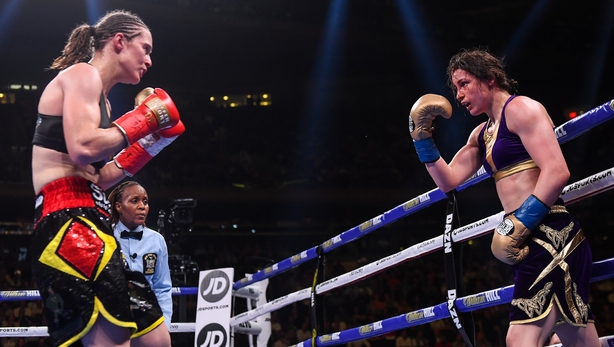 Of course, Taylor obliged, but for the first time it looked as though her opponent might prove too strong and fierce for the unbeaten Irish star.
To her credit, Taylor rallied and justifiably took the contest on points as she enjoyed a majority decision victory.
But the scorecards told the tale of the fight with so little between them as two judges scored it 96-94 with one unable to separate the fighters, scoring it 95:95.
Too close for comfort for the golden girl of Irish sport, and it is no wonder that some of those former team-mates, and in fact, male sparring partners, have been calling on Katie to box the way she was schooled to make for a more straightforward path to victory.
Speaking to RTÉ Sport earlier this week, Andy Lee said that "Katie is her own worst enemy at times" and urged her to box smart in the rematch, which takes place at Matchroom Fight Camp on Saturday night in a specially constructed ring at promoter Eddie Hearn's back garden.
"If Katie can box smart, keep her cool, doesn't get brought down to Persoon's level, she'll win quite clearly, I think. That's what I hope to see," added fellow Olympian Lee.
Lee rightly pointed out that Taylor leaves herself wide open when throwing her trademark combinations, and the former middleweight champion, who was also caught up in many a brawl, said that he had worked with his former team-mate over Christmas, working on exiting the combinations low to avoid the follow-up barrage that will surely come from Persoon.
Eric Donovan is another former team-mate of Taylor from the amateur days and has also fought at Matchroom Fight Camp, and the Kildare native also wants his old sparring partner to "do your thing Katie, nice and smart, intelligent boxing!", he said on Twitter.
I'd like to wish my old sparring partner @KatieTaylor the very best of luck tomorrow night. Do your thing Katie, nice & smart, intelligent boxing! #andstillthechamp 👊🏻☘

— Eric Lilywhite Lightning Donovan (@eric_donovan60) August 21, 2020
At this stage of her career, Katie Taylor owes nobody a single cent, including her current promoters, such is the catalogue of work done in the name of not only women's boxing, but boxing in general and women's sport worldwide.
Obssessed with the sport and the ability to compete, Taylor believes that she still has a long road ahead of her in the game, which will see her take on some of the other marquee names in the sport.
But tonight at the 'Garden', Taylor needs to look after number one.
And while we have seen Taylor the warrior, most notably in the previous fight with Persoon, how great would it be to see the Katie the boxer tonight, showcasing all those skills that she learned in the high performance unit when the Irish amateur team were top of the world.
Such a performance from Taylor tonight would show Persoon up for the brawler that she is - granted a very fine and fierce one at that - and make any other female fighter think twice about stepping into the ring with the number one name in the game.
Follow Katie Taylor v Delfine Persoon II via our live blog on RTÉ.ie/sport and the News Now app this Saturday night.