Undisputed lightweight champion Katie Taylor does not believe that the lack of a crowd on Saturday for her title defence with Delfine Persoon will have any negative effect on the bout and insists that the spartan nature of the bout will only enhance the spectacle.
Taylor takes on Persoon in a specially constructed ring in the grounds of promoter Eddie Hearn's estate as part of Fight Camp 4 this Saturday night.
The fight is a rematch of last June's clash in Madison Square Garden in New York, where Taylor narrowly edged out Persoon on points to add the WBC title to her haul.
In front of a crowd of 20,000, some felt that Persoon had done enough to get the nod from the judges. Saturday's bout will be a clear contrast to that night, with just fighters, their trainers and officials present.
For Taylor, stripping the fight back to just two competitors in the ring adds to the 'purity' of the fight and helps to distil boxing down to its very essence.
"I haven't really thought too much about boxing in front of no crowd, I don't think it's an advantage or a disadvantage." she said. "I'm just going to go in and try to produce a great performance.
"Boxing in front of no crowd with all the belts on the line, this is the purest form of boxing that you'll ever see and this is what I love this.
"You're not going to see a purer form of boxing, you've got two champion fighters stepping up and taking a huge risk in front of no crowd, it's absolutely incredible.
"I'm very excited, I said before this is why I'm in the sport of boxing, to take fights like this."
Taylor is eager to dispel any lingering doubts around the result of the first match and is looking for a convincing victory to cement her place as the best pound-for-pound fighter in the world.
"This is a legacy building fight for myself and Delphine," she said. "We're both in the sport to be the best and we have two fighters here who absolutely believe they're going to win on Saturday and that's what makes this such a fantastic fight.
"I just want to prove that I am the best. I think there's going to be criticism whether you win or lose in a fight so I don't really take too much notice of what people are saying outside of the ring but I do want to prove that I'm the best."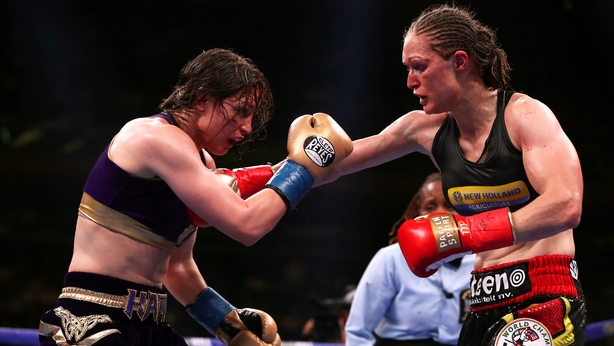 Persoon admits that she was surprised that Taylor took the rematch and did not expect to be facing the Bray woman again so soon.
The Dutch fighter had been building towards a move to super feather-weight, but paid credit to Taylor for always taking the toughest possible fights.
"We were very surprised, we didn't think Katie would take this risk because for her it is a big risk.
"It's her life, she earns her money with her boxing and if she loses it's not good for her career so I appreciate that she took this big risk."
Nevertheless, the result of their first encounter in New York still rankles with Persoon, who feels that she was robbed of a victory and she's eager to put that right on Saturday.
"This Saturday night is my chance to prove that I'm a high level female boxer. In that first fight, people thought Katie won, other people thought I won, it's for me to prove that I deserve the titles," she said.
"In New York, for us, that was not the correct decision. I think everybody sees it their way, if we see the fight we think we deserve [the win] other people think Katie deserves it, so it's good there is a rematch and you can see now who is the best fighter.
"Hopefully it's a good fight and the correct fighter can win."