Andy Lee is hoping Katie Taylor has learned from the mistakes she made in her narrow defeat of Delfine Persoon a year ago, ahead of a mouthwatering rematch with the Belgian this Saturday.
Taylor became the undisputed lightweight champion of the world in June 2019 at New York's Madison Square Garden, edging a bruising battle that went the distance.
It was the toughest test of the Bray fighter's pro career - and though Lee expects Persoon to be an awkward proposition again in Essex when they square up at Eddie Hearn's Matchroom's Fight Camp, he's confident Taylor has learned key lessons.
"I can see it going two ways," Lee told RTÉ 2fm's Game On.
"More than likely, you'll see Katie righting the wrongs of what happened in New York a couple of years ago and boxing a smart fight, not getting involved in a trade off, making it look really easy, and winning it clearly by maybe seven rounds to three.
"Or else... you know Katie is her own worst enemy at times. If she gets hit she almost gets offended and she wants to retaliate. Then she might get suckered into a fight, which I hope she doesn't, because Persoon is very tough, very strong and loves to brawl.
"If Katie can box smart, keep her cool, doesn't get brought down to Persoon's level, she'll win quite clearly, I think. That's what I hope to see."
"Katie is professional, dedicated and a dream athlete really to coach."
Lee spent some time over Christmas training Taylor and said he offered some advice on how to avoid taking unnecessary punishment.
The Limerick man pinpointed one particular habit he believes she needs to be aware of.
"Katie's biggest flaw since turning pro is, she still has an amateur style of throwing four fast punches - which is great - but when she finishes punching she pulls out high, with her head in a high position," he said.
"It gives opponents an opportunity, especially someone like Persoon, who'll tuck up behind a high guard, Katie will throw her fast punches, and when Katie pulls out Persoon will come marauding forward with four or five big long shots herself.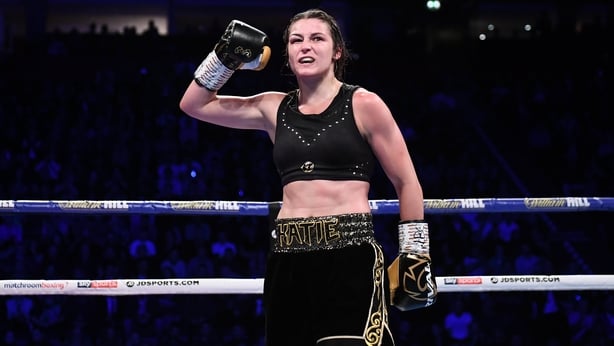 "What happened in the first fight was, Katie was getting caught on the end of those punches because she was pulling out high. What I'd like to see her do now is get her shots off - maybe not as many as four, maybe two or three - and then rolling out and exiting the trade low.
"I had the pleasure of working with Katie over Christmas. It's something that we worked on, something she agreed that would be effective if she was to fight Persoon again. Hopefully it's something she's continued doing in training."
Lee piled praise on Taylor, and said the 34-year-old still has tonnes of potential to get even better.
"Katie is professional, dedicated and a dream athlete really to coach," he said.
"She has so much potential still. After all these years and all this success, she still has so much potential. I'm sure she will fulfil it.
"If she boxes smart she'll be dominant Saturday."
Follow Katie Taylor v Delfine Persoon II via our live blog on RTÉ.ie/sport and the News Now app this Saturday night.