Eric Donovan has a lot to learn in the professional game, but his "heart" and "courage" are qualities nobody can teach and he has done more than enough to get another big fight.
That's the opinion of former world champion Andy Lee, who watched his compatriot suffer an eighth-round knockout against Zelfa Barrett that ended Donovan's hopes of winning the IBF Super Featherweight Intercontinental title.
Donovan, 35, went down but he's certainly not put after receiving lots of praise for his performance and conduct in the build-up all week. He stepped up in weight to face a quality opponent, and that's earned him respect across the board.
"I don't think it's as devastating a loss as it could have been simply because of the circumstances," Lee told RTÉ 2fm's Game On.
"He took a chance and faced a guy who not many people had wanted to fight.
"I think Eddie Hearn appreciated that, and then also the way Eric carried himself before and after the fight. I think Eddie took a shine to him and he's promised him a return fight.
"Normally it'd be quite devastating to lose a fight by knockout but under the circumstance, especially when you consider he stepped up in weight to take on Zelfa Barrett. I think he deserves a second chance - at his own weight, which is featherweight. Hopefully he'll fare better."
"I know Eric had a long amateur career but he's not long in the pro game and he wouldn't have trained long as a pro."
Donovan enjoyed a sparkling amateur career, winning a bronze medal for Ireland at the 2010 European Amateur Championships in Moscow as well as five national Elite titles.
He made the decision to turn professional in 2016, when he was nearly 31, after three years out of the ring.
The Athy man will have learned an enormous amount from his loss to Barrett, Lee stressed.
"It was a big step up in terms of experience. I know Eric had a long amateur career but he's not long in the pro game and he wouldn't have trained long as a pro.
"Even in terms of pacing himself in a fight like that, and picking his spots... he was winning rounds quite clearly but I don't know if you felt he was in total control of the fight. Barrett was always there and was always inching closer in some way. It was a huge learning experience for Eric. It's something he will improve from.
"The weight was huge. He just didn't have the power to hold Barrett off. His punches weren't really deterring Barrett from walking forward, except for that one really crisp left hand that the caught him with, I think it was in round five. There just wasn't enough of that in the fight to keep Barrett off."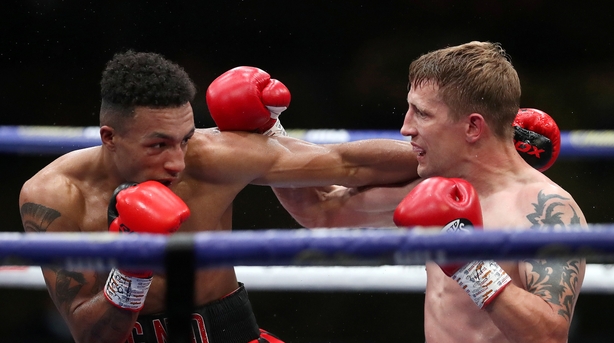 Lee expanded on the intricacies of competing in the ring at the top level against high-class opponents, and highlighted eras Donovan can work on.
"Being able to take a break in a round, to control an opponent without having to punch... when you're an experienced pro you learn those things," he said.
"It's all about preserving energy because it is a long, long fight in terms of ten three-minute rounds. I know it doesn't sound a lot but it really is long when you're in there.
"I don't think there'll be a rematch but if he was to fight a guy of a similar ability in his own weight division, I think he showed skill, bravery, heart... heart and courage, those are things you can't teach.
"I think he could keep his chin down a little bit more, learn how to steal a break in terms of being able to tie his man up. There's small little things you can do to get a rest within a round.
"But look, when you're fighting somebody who's bigger than you and heavier than you, it is energy sapping as well. You know when you're a kid and you're messing around with your older brothers? They can always control you.
"No matter what you do, you can't really keep them off you because they're so much bigger. They have weight divisions in boxing, and I know it might be only two or three kilos, but they make a huge difference in a fight."
Follow Katie Taylor v Delfine Persoon II via our live blog on RTÉ.ie/sport and the News Now app this Saturday night.