Kellie Harrington says it was frustrating not to have had a shot at qualifying for Tokyo prior to the lockdown restrictions coming in.
But the 2018 World Champion said that if the Toyko Olympics are ultimately cancelled, she would be happy to walk away from boxing. 
The arrival of coronavirus restrictions occurred at a particularly sensitive stage for Harrington as she was due to mount her qualifying attempt in London the day after the competition was suspended. 
Prior to that, as Harrington detailed in an interview with RTÉ for 'Toyko 2020: One Year To Go', a training camp in Italy had to be cut short as the virus was already beginning to hit that country hard. 
"We went out to Italy and... I can't remember if we knew if the virus was there or not... because it feels like a lifetime ago," Harrington recalled. 
"But when we were out there, we heard that one of the towns in Italy had been really affected by it. So, they wanted to get everyone out of the training camp before the flights had been cancelled. 
"So, we were flown home. We were only out there a couple of days, I think I just had one or two spars. We were supposed to have five spars. And this was our final preparation before going over to the qualifiers. We came home early and we continued the preparation in the high performance (unit) in Abbotstown."
The Olympic qualifiers were held in London, due to run from 14-24 March. However, on the third day, the organisers called a halt as the pandemic restrictions kicked in. 
Harrington, who had been due to fight the following day, outlines how reality dawned on 16 March. 
"The draw was done and I was to box (the competitor from) Poland then. It was on Paddy's Day so I was looking forward to having a fight on Paddy's Day.
"My room-mate Christina Desmond had boxed two days before me so the competition was up and running and I was itching to get in. But I was still wary thinking - it's going to get pulled, is it going to get pulled?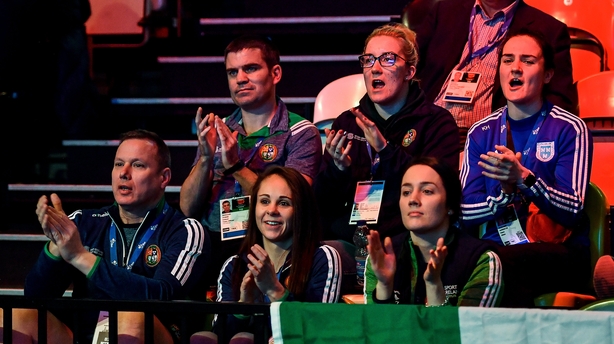 "I had done the last training session, I had got the weight down. But on the way back to the hotel, the bus driver had said 'Ah, ye're all going to the airport in the morning.' We knew the bus driver from going back and forth and the banter was always going. So, I said, 'Shut up you and don't be messing, I'm starving, I don't need you winding me up.'"
"And he said 'No love, I wouldn't lie to you'. And we were still thinking, 'Yeah, whatever'. At this stage, we still had two boxers in position to qualify and they were boxing that evening. I rang one of the team managers and they told me not to say anything because we still had two boxers competing and we wanted to keep them away from hearing anything and in tunnel vision. And so, yeah we were told and I said 'ah here, give me those Cadbury's Creme Eggs!" 
Harrington admits that not getting the chance to book her spot prior to the pandemic is an irritant.
"I didn't have any feelings. I just thought they're postponed until 2021. And even if they were cancelled, what can you do? There's nothing you can do. By me being disappointed and keeping my head down, are they going to say, we'll put them back on because Kellie Harrington is disappointed? 
"Obviously I really wanted it to happen. The main thing for me was I really wanted to box, to get a competition out of the way. To have a shot at trying to qualify so I don't have to do it again next year.
"A lot of people in other continents have qualified already, and now they don't have that hanging over their head. And I feel I've that hanging over my head. I just wanted that out of the way and hopefully I'd have qualified. So, that's where I am at the moment.
"The first goal is qualifying. Once I get there, it's one fight at a time, one round at a time. As soon as I get to the medal stages, hopefully I'll get a medal. But I wouldn't be looking at myself saying, I'm going out there to get a gold medal. That's not me as a person." 
On the possibility - still being touted in some quarters - of the Games being cancelled altogether, Harrington is rather sanguine and philosophical, saying she'd have little problem hanging up her gloves right now if the challenge of Toyko was taken off the table. 
"If Tokyo didn't happen, I'd be happy to hang up my gloves right now. But who knows? Tokyo could happen and I'm saying I'm happy hanging up my gloves - parting with them at the time might be a different situation. 
"These last couple of months have tasted a bit like retirement. So I'm not really afraid of what's next after boxing.
"For me, there's life after boxing. Outside of sport, we're people, not just athletes. Whatever will be, will be.
"There's so much more going on in the world just now that I'm just happy to be healthy and giving a hand out to those who need a hand." 
Watch Toyko 2020: One Year To Go on Thursday at 10.15pm (RTÉ1)
Evanne Ní Chuilinn and Peter Collins look at the impact the Olympic and Paralympic postponement has had on athletes, coaches and organisers. Those involved reveal how they are affected on a sporting and personal level, and how they have redrawn their plans for the coming 12 months.