A silver medal at the 2016 World Championships was where Kellie Harrington really started to believe she was good.
In her own words, she "started to smell the roses".
More medals were subsequently won at various championships, including the gold she took home from the Worlds in November 2018.
And while the dream of competing at the Tokyo Olympics remains, Harrington exhibits an air of satisfaction from what she has achieved in the ring so far. 
Boxing was very much her salvation. Speaking on The Ryan Tubridy Show, the Dubliner freely admitted that she was a brat as a youngster. "I was heading down the wrong road," she revealed, while describing her formative years in the north inner city.
"I was just doing things kids wouldn't really do - no sense of direction in my life. I was very confused, and when I say the world was against me, well everybody was against me, but when you're that age and your brain is developing you do really think that. I was that kind of child and became a thorn in my Ma and Da's side. Everybody knew what I was up to.
"Eventually I knew what I was doing was wrong. I had to change. 
"I just then got into boxing because it was only thing around in the community. There were boxing clubs around every corner in Dublin 1."
It took a while for Harrington to find a club, because none wanted to take girls. A year of pestering a particular coach eventually saw her gain admission. The then 15-year-old had found something that was "cheap and cheerful". She now had a boxing family and her life changed.
"I had a natural ability to be light on my feet and fast," was Harrington's assessment of what she could offer early on. 
"Coaches then added their little bits in here and there and made me a different type of boxer."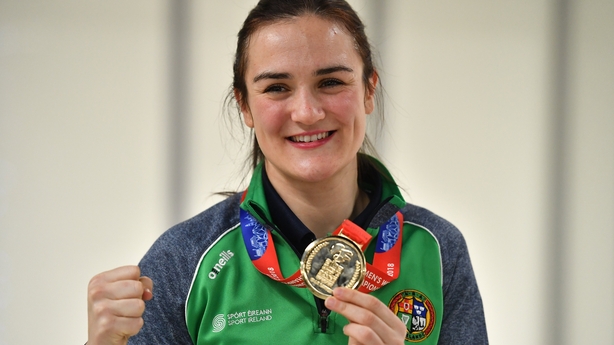 And so to 2016 and the medal won in Kazakhstan - very much a make-or-break year on the Harrington boxing journey.
"I decided to put everything into it for a few months and if I medal, great. If not, well at least I gave it everything.
"I got the medal and it felt so good."
The next target is to represent Ireland at the Tokyo Games next summer and so add to the many special moments that boxing has afforded here.
"I got into boxing to get me out of trouble and I know now when I stop boxing I'm not going to back to that life.
"If I was to walk away from boxing now I feel like I have accomplished a lot. The dream now is to get to the Olympic Games - it wasn't always the dream - the dream back in the day was to get out of trouble.
"Look, if I didn't make the Olympics, I still feel that I have accomplished a lot. I'm still happy. I'm not afraid to walk away from boxing because I know I'm not going to go back to the way I was.
"Everything is a bonus from here out."
LISTEN TO THE FULL INTERVIEW
We need your consent to load this SoundCloud contentWe use SoundCloud to manage extra content that can set cookies on your device and collect data about your activity. Please review their details and accept them to load the content.Manage Preferences