As Olympic years go, 2016 will remain one of the least memorable for Irish boxing, however, for one former amateur champion, that year proved the start of a very exciting chapter in their career.
By the time the Rio Games came around, Eric Donovan's Olympic hopes had long gone; five years gone by that stage, as the London prospect broke his hand at a house party in 2011, which called time on his hopes of representing Ireland on the big stage.
Donovan had worn the Green singlet with pride throughout his career, securing a bronze medal for Ireland at the 2010 European Amateur Championships in Moscow.
Add to that, five national Elite titles, appearances at the World Series of Boxing, while sharing the ring with many stars of the amateurs circuit and some who would go on to challenge for world honours in the professional ranks.
When the Kildare native hung up his gloves, there was a lot to be proud of.
By the turn of the New Year in 2016, Donovan was almost three years out of the ring, having last fought for the Astana Arlans in the WSB, while living and training in Kazakhstan.
Yet the fire was never fully extinguished and Donovan, now pushing 31, decided to see what was left in the tank, and set sail for the professional ranks.
"Three years out of the ring, but I was full of life, full of energy, I felt like I had a lot left to offer the game," said Donovan, speaking to RTÉ Sport.
"I was keeping fit and healthy, but I just wasn't competing."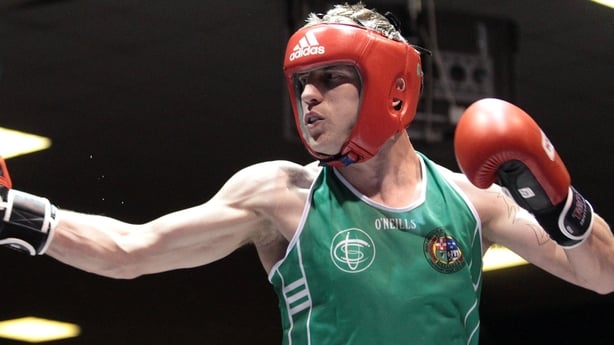 Boxing Ireland Promotions' Leonard Gunning, provided Donovan with a path to follow his dream.
"I got speaking to Leonard, and I said 'I don't want to live the rest of my life with these regrets, is there anything you can do?'
"He told me, it's a tough game, you've been out of the ring."
Yet boxer and promoter plotted a path to announce the stylish featherweight onto the pro scene, and with age being a factor, the plan was to fast-track Donovan to an Irish title fight.
"Leonard said he would manage me and get me up to five or six fights, hopefully make an impression and maybe get signed up with Eddie Hearn or Frank Warren or whoever."
And so it began.
Four fights in the first 12 months, all at the Stadium, and Donovan held up his end of the bargain by returning four victories, three by way of knock-out.
"I had a goal in my mind to become the Irish champion, but once I got up and running, and starting training and sparring again, things started to go really well for me," said Donovan.
"And I started to show signs that there was loads left in me, and probably even better than before. maybe the rest was actually a good thing, and I came back with a different perspective.
"Before I knew it I was sparring world champions.
"Simpiwe Vetyeka who was very competitive against Nolita Donaire, and then I went over to Ryan Burnett's training camp to spar with him for his world title fight against Lee Haskins.
"I was sparring others like Anthony Cacace, James Tennyson, and I was handling myself with all these guys.
"And I starting thinking that I was setting my sights and targets very low, and I thought maybe I could challenge for the European title."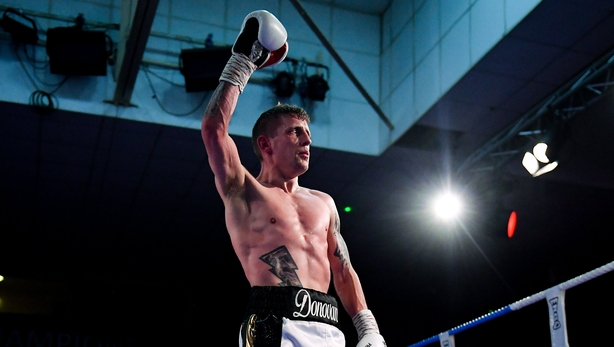 Four more fights, four more wins over the next twelve months took Donovan to 8-0, while picking up the vacant BUI Celtic Featherweight title.
By March 2019, Donovan had already reached his initial goal of fighting for an Irish title as the match was made with Stephen McAfee with the bout taking place at the Stadium, live on national television.
Donovan put on a show that night and produced a near flawless performance to end the contest with a fourth round knockout.
Boxing appeared to be back in Dublin after several years soul searching since the Regency Hotel shooting in 2016, and Donovan believed that he would prove the perfect poster boy for an exciting new era of fight nights in the Republic.
"I got the crack at the Irish title, and it was a great success. It was live on television, there was massive viewers, and a knock-out finish – it couldn't have gone any better," recalls Donovan.
"And I just thought, 'this is my breakthrough, this is what I have been waiting for', and I thought that maybe now I could be the pull in the south of Ireland to bring boxing back to the mainstream and maybe even to RTÉ.
"If I could get a European title shot, I'm sure RTÉ might be interested in getting involved, and bring back some of the glory days.
"But it just stalled. And every conversation I had with my manager was about the Boxing Union of Ireland, pricing venues and insurance, and that's not what I wanted to be talking about.
"I wanted to be talking about career trajectories, plans, visions, goals, but all the talk was about money and setbacks, so it was just frustrating."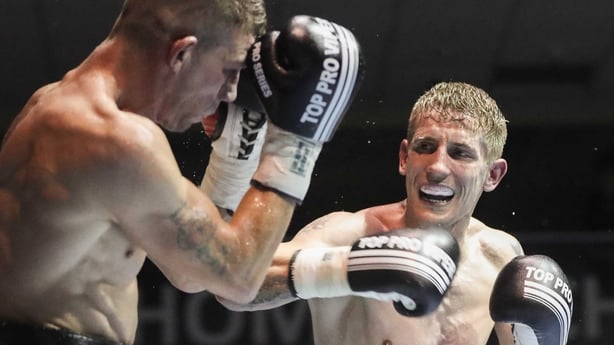 Donovan and Gunning would stick together for three more fights, but the newly crowned Irish champion had to go on the road to box, as conditions for promoting a boxing night in Dublin proved too costly.
Fight number ten would take place at the iconic York Hall in Bethnal Green, London, before two more wins would follow in Glasgow and at the Devenish in Belfast just before the sport went into lockdown as a result of the coronavirus pandemic.
More soul searching would follow, but this time it was an internal examination to work out the best strategy for the boxer, knowing that the clock was ticking.
Donovan opted to sign for a new promoter and linked up with the well-connected Mark Dunlop, who had strong ties with Eddie Hearn and looks after Belfast fighters Tennyson and Tommy McCarthy.
"I could have stayed and been the big fish and the main event around Ireland in small hall shows.
"Or I could take a chance with a new manager and see if I could get a breakthrough on one of the big cards. So that was my decision why I signed with Mark Dunlop.
"The fights that Mark was talking of getting me, I knew that if he could get me even one of them, it would give me a chance to make my breakthrough."
You know... ? pic.twitter.com/f9TdNJsAg9

— Eric Lilywhite Lightning Donovan (@eric_donovan60) June 26, 2020
Donovan has kept himself ready throughout the ongoing pandemic and with talk of boxing starting to come back, he knew that there was a chance of getting on one of the upcoming boxing cards, taking place in Eddie Hearn's back garden, and live on Sky Sports.
And sure enough, new promoter Dunlop was true to his word as Donovan was announced on the card for the 14 August event, taking on British prospect Zelfra Barrett on the undercard of the clash between Felix Cash versus Jason Welborn.
The breakthrough that Donovan thought would come following the Irish title victory has come in a different guise but it is one that he is ready to grab with both hands.
Donovan agreed to fight at the heavier weight, if was for a world ranking title, and that is expected to be announced in the build-up to the fight with Barrett who is the reigning Commonwealth title holder and has previously fought for the European title, losing a tough bout with Ronnie Clark from Scotland - his only defeat in 24 fights.
"This is going to be my biggest fight, my toughest fight. He has more knockouts than I have professional fights.
"But I believe that I deserve to be there, and I believe I'm good enough to be there, and to get the win."