With the Irish public being urged to maintain social distancing and self-isolate if required, we are increasingly looking for movies to watch, books to read and rooms to clean.
RTÉ Sport is speaking to our sports stars and asking how they're using their time and tweaking their training routines to stay fit and healthy.
Today, it's the turn of Donegal boxer Jason Quigley.
What's the first thing you do in the morning?
Make my bed, start the day with a task completed and then go for a training session.
What's your favourite exercise?
Pad work with my coach Andy.
Is there one particular skill you practice every day?
Try to be as positive as I can and be grateful for everything I have.
Netflix and chill or a nice evening jog?
In the evening Netflix and chill with a big cup of tae, as we say in Donegal, I like running early in the morning or sometimes 2-3am!
Name one book you want to read.
I started the Jim McGuinness book and forgot it on a plane and am determined to finish that.
On a scale on 1 to 10, how good are your DIY skills?
Me, I think 10, but my partner April might disagree.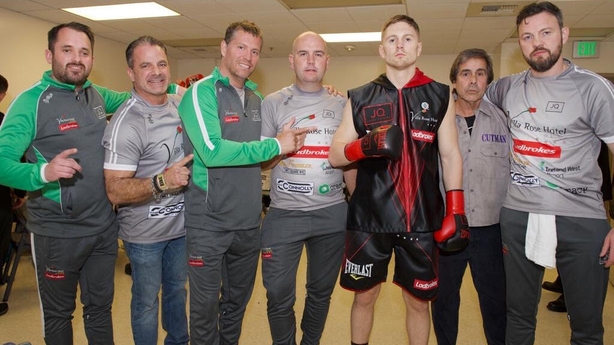 Have you a favourite pre-training meal to help you through a tough session?
Rice cakes with peanut butter and banana with a drizzles of honey, boom.
Name one movie you want to watch.
Watched that many on lockdown I'm open to suggestions so people hit me up on Twitter. 
What's the best way to stave off boredom?
Join TikTok. It's lethal, I'm hooked.
Have you any tips for training at home?
Do yourself out a schedule, what type of session you will do and set times that you going to do them at, break your way into it easy with 20-minute sessions.
Name one documentary to watch.
I've just finished the F1 documentary on Netflix. From knowing zero about it, I'm buzzing for the season to start this year.
Have you discovered any new music or podcasts?
I listen to everything from RnB, Rap, Rock, Pop, Irish and even some classical.
Podcast has to be The 2 Johnnies, lethal.
Is there one piece of housework you can no longer avoid?
April wants the kitchen painted and this lockdown gives me no more excuses.
Favourite room of the house to spend time in?
Sitting room, with a big fire on, cup of tae and a good movie.