Dublin fighter Jono Carroll claimed the biggest win of his career when he stopped Scott Quigg in the 11th round of their super-featherweight bout in Manchester.
Carroll dominated the fight from start to finish and when Quigg's corner threw the towel in, towards the end of the 11th round, the only question was why had they not done so earlier?
Former WBA Super-Bantamweight champion Quigg was out-fought and out-boxed and there will be real questions about his future after the nature of the defeat.
From the first round to the finish, Carroll was in complete control and while questions still remain over his punching power and KO ability at the highest level, he won every round.
The writing was on the wall from the first exchanges with Carroll setting up behind an effective jab, working Quigg's body and putting together some neat combinations to boss the opening round.
Those expecting a response from Quigg were left disappointed as he looked unusually flat-footed and his efforts to offer anything other than token resistance met with failure.
The third, fourth and fifth rounds all followed a similar pattern with a confident Carroll increasing his work-rate and landing seemingly at will and even if he didn't always have the power to rock Quigg, the cumulative effect of such punishment began to tell.
Quigg did manage to rally briefly in the sixth when he appeared to have some success with a couple of body shots that gave his opponent pause but again it was Carroll who took the round and that was as good as things were to get for the Manchester fighter.
Carroll ramped up the pressure and his work-rate in the seventh and by the eighth round questions were being asked of Quigg's corner and whether or not they should pull their fighter out.
It took another three rounds for them to make that call as when Carroll rocked Quigg with a thunderous left to the body and forced him back up against the ropes to tee-up further punishment, trainer Joe Gallagher threw in the towel to bring proceedings to a close.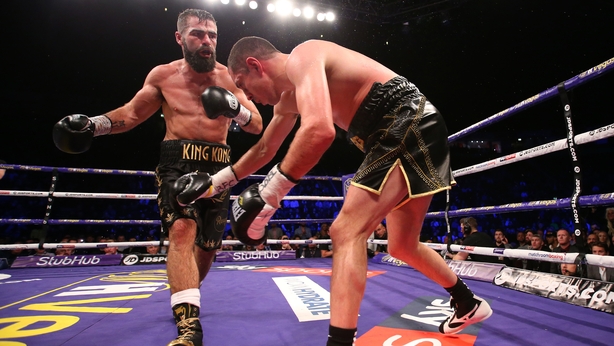 Carroll's performance comes as he continues to rebuild after last year's IBF junior-lightweight title defeat to Tevin Farmer in Philidelphia and the Dubliner believes that he's not just learned from that defeat but is now ready for another title shot.
"In the build-up I have always said this was my time to shine," he said afterwards. "I was here when Scott knocked out Kiko Martinez [in 2015] wishing I could be up on the big stage.
"This is what dreams are made of. When I was a kid growing up Scott Quigg was one of my idols, he has been in many fantastic fights.
"I've been settling down in the gym more, using my jab and not throwing silly shots. I had a lot of pot shots today, but I didn't throw a lot of combinations that had no power. Even when I was pot-shotting, it had snap, it had power. If we didn't have power in this fight, Scott was just going to walk through my shots.
"There wasn't one time when I felt I was gassing or was tired and you saw when I had him on the ropes, I still had the power to whack those shots in. Tonight I showed quality."