"Forget the beast from the east, this man will be the best in the west."
Announcer Mike Goodall made Tyson Fury smile in September 2009 as he was introduced to the crowd at the Point Depot in Dublin on the way to becoming two-time heavyweight champion.
Fury was about to seal a ninth professional win in a six-rounder against Tomáš Mrázek on the undercard of Bernard Dunne's loss to Poonsawat Kratingdaenggym.
Andy Lee - now part of Fury's training team - tells the story of how they had just discovered they were related and that he would be animated watching from the studio.
Coming to the ring to a live version of Rocky Road to Dublin by The High Kings - which was somewhat different to entering on a throne to Patsy Cline's Crazy on Saturday in Las Vegas - Fury received a big ovation as Jimmy Magee and Dave McAuley spoke about his potential and his Galway roots.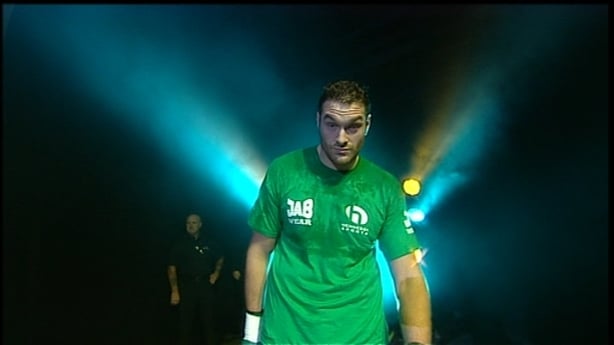 His performance was disappointing after injuring his right hand in the second round that left him just using his left for the remaining 12 minutes.
It's part of a regular switch to south paw that has become a staple of Fury's career.
Jimmy Magee then said after the fight: "The next act in Tyson Fury's career is going to be at catchweight with Marty Morrissey."
Fury told RTÉ's GAA correspondent: "What an atmosphere, what a place to box. There is like nowhere I've boxed before. I'm looking forward to boxing here again.
"[As well as Galway], my grandad's people were from Roscommon and my granny's people are from Tipperary. I'm an all-rounder really.
"One day I'll come back here with a world title and defend it at Croke Park."
Marty let out a small chuckle and told the then 21-year-old that he loved his name.
Fury has now at least completed part of his goal twice, it's only the GAA Headquarters promise left to fulfill.
Remarkably as Fury was creating headlines around the world with his stunning win over Deontay Wilder on Saturday night, his opponent from 11 years ago Mrazek was having his 88th professional fight at the age of 39 in Vienna and a 72nd defeat.
Fury had the world at his feet in Dublin at the conclusion of that card in 2009, it was indeed a rocky road but a story like no other as he became the sport's biggest star.